Andrew Fountain - Two Simple Keys for Living in the World
---
Colossians 3:22–4:18
Bondservants

, obey in everything your

masters

according to the flesh,
    not with good appearances, as people-pleasers,
    but with a dedicated heart, fearing the Master.
    And whatever work you do, do it with all your soul,
        as if working for the Master and not for men,
    knowing that from a master you will receive an inheritance as the reward;
        for you serve the Master—Christ.
    for the one who does wrong will be repaid for the wrong,
        and there is no favouritism.

Masters

, treat your

bondservants

justly and fairly,
    knowing that you also have a Master in heaven.
Living in the World: Pray, Walk and Talk
In prayer

giving constant attention

, keeping alert in it with thanksgiving;
    praying at the same time also for us too,
        that God would open to us a door for the message,
            to speak the mystery of Christ, for which I am also in chains,
        that I may reveal it, as I ought to speak.
In wisdom

walk

, toward those who are outside, redeeming the time.
Let your speech always be

with grace, seasoned with salt

,
    that you may know how you ought to answer each one.
Concluding Greetings
All the things concerning me will be made known to you by Tychicus,
    a beloved brother, faithful minister, and fellow servant in the Lord.
I am sending him to you for this very purpose,
    that he may know the things concerning you and comfort your hearts,
with Onesimus, a faithful and beloved brother, who is one of you.
They will make known to you all things which are happening here.
 
Greetings to you from Aristarchus my fellow prisoner,
    and Mark the cousin of Barnabas
    (about whom you received instructions: if he comes to you, welcome him),
and Jesus who is called Justus.
These are my only fellow workers for the kingdom of God who are of the circumcision;
they have proved to be a comfort to me.
 
Greetings to you from Epaphras, who is one of you, a bondservant of Christ,
    always labouring fervently for you in prayers,
    that you may stand perfect and complete in all the will of God.
For I bear him witness that he has a great zeal for you,
    and those who are in Laodicea, and those in Hierapolis.
14. Greetings to you from Luke the beloved physician and Demas.
Greet the brethren who are in Laodicea, and Nymphas
    and the church that is in his house.
Sign-off
Now when this epistle is read among you,
    see that it is read also in the church of the Laodiceans,
    and that you likewise read the epistle from Laodicea.
And say to Archippus,
    "Take heed to the ministry which you have received in the Lord,
    that you may fulfill it."
This salutation by my own hand—Paul. Remember my chains.
Grace be with you. Amen.
Sermon notes - Two Simple Keys for Living in the World
In this passage, Paul gives us two simply keys

a simple key to the workplace
a simple key to evangelism

This is the end of the book, but the keys are rooted in the beginning

The keys flow from the truth:
0. Review of the Book
Truth
that brings
Life
The first ½ of the book is teaching (Truth)

The second ½ is application (life)

The climax of this first ½ is the idea that we are

"United with Christ" in his death and resurrection
We died with him
we were raised from the dead with him into a new existence

But we are still living in this world. We're living in two worlds at the same time

The age to come, and this present world
Here lies our problems

I've tried to sum it up in a picture:
The second ½ of the book is the implication

How this truth brings life

This second ½ spreads out into four areas
1. Our inner world, and our temptations
Boston Cream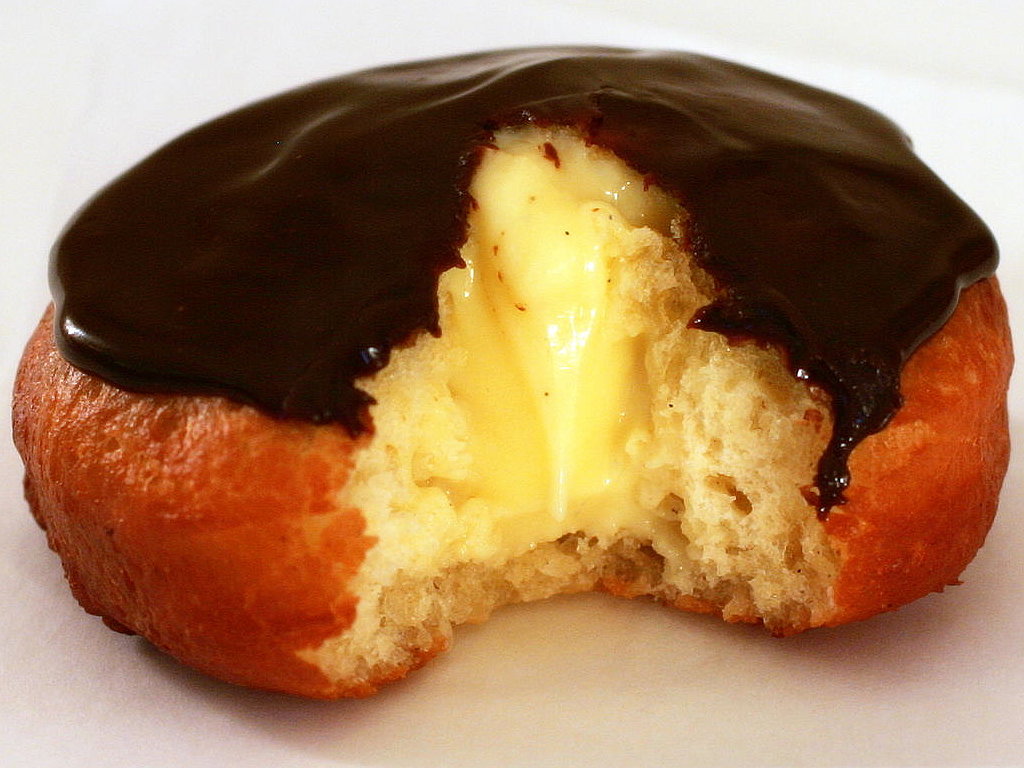 Image source: Vanessa Ravencroft
The Boston Cream Donut: chocolatey outside and yellow sweet creamy middle

I could shout very loudly about them! (as some preachers do)
I could plead with you and weep, and try and put emotional pressure on you

How could you have eaten those 15 donuts..., it grieves me so much, after all the time we spent trying to deal with this issue you let me down!

I could terrify you with threats of judgement to come

I could go on and on trying to play with your imagination till you were scared

I could move you with some tragic stories of the effects of sin

The terrible tale of Mr. Tim Horton who couldn't resist his own donuts and exploded in one of his own restaurants

I could try and logically reason you out of sin

Those donuts actually have very little food value, and each one takes 1 week off your life

Paul says: "Who are you?"

You're so much more than a donut eater.

You are the pinnacle of God's new creation
What God has for you in these next few years is so exciting—don't let donuts get in the way
You have a destiny that even now you are beginning to live in

So if it's Truth that brings Life

The truth is our new destiny, our new identity

Then we looked at:
How we relate within our Christian family
We dressed Cam up in new clothes
The key idea is that the inner you is already new—you are a new creation in Christ

You need to throw off the old habits that don't fit
Put on your new clothes
Anyone remember any of the old clothes?

tender mercies, kindness, humility, gentleness, longsuffering

Anyone remember any of the new?
Colossians 3
But now you yourselves are to strip off all these:
anger, rage, malice, slander, filthy language out of your mouth. 9Do not lie to one another
Therefore, as the chosen of God, holy and beloved, clothe yourself with tender mercies, kindness, humility, gentleness, longsuffering; 13bearing with one another, and forgiving one another,
if anyone has a complaint against another; even as Christ forgave you, so you also must do;
and of top of all these things adding love, which is the bond of perfection.
So if it's Truth that brings Life

The truth is that the core you is new, and you actually can discard old habits like old clothes
Don't be trapped by thinking that you can't

Larry's goldfish
Last time we talked about submitting to one another in family relationships and in the church

The New Creation is about how Christ submitted his own interests to our best interests
By submitting to one another, we are able to bring the future into the present

The Age to come into the now
The New Creation into our daily lives

We walk out the submission of Christ in our relationships

This week we are going to look at how we relate to those who are outside

We'll see two simple keys
1. The Passage
2. The Workplace
We are going to go back to the last section and read from 3:18 onwards

partly because we didn't look at these verses last time
but mainly because in Paul's day these words related to the home

but now they are more appropriate to the workplace

Before we do, a note about the translation:

The word in Greek for Lord (as in Lord Jesus) is the same as for Master —Kurios
This enables Paul to make a play on words, which is lost in many translations

First a few notes of explanation

This is literally talking about slaves, but slavery was very different in those days

In the worst case of course there was abuse and cruelty
In the best case the slaves were treated just like the real children

job for life, care and protection, and may even be adopted as a son

But also remember that in general life was very hard for everyone in those days

most people had to work extremely long hours with no day off or vacation, whether slave or free

In a minute I am going to talk about how these words might apply to our workplace situation today

Masters "according to the flesh"
Paul has this image of The Two Worlds in mind
Problem is that we are living in the old as well as the new

How then do we live on a Monday morning in the flesh? We reflect the realities of the world of the Spirit back into this one

There is a master in both dimensions of reality

we serve the flesh-master as if we were serving the Master
"People Pleasers"

do you ever notice how when the boss walks in, people stop chattering about what they did last night and start focusing on work?
Have you ever seen people whose main aim is to get the credit for what is going well
It is all about giving a good impression to the boss, and not the actual work
e.g. I used to be a university lecturer and had a lot of big projects to grade, which I didn't enjoy

nobody would ever know how carefully I graded them
Some people joked that the best way to grade them was to throw them (heaviest went further)

Literally this is "eye-service"

How would it be different if you were doing it for someone who noticed all those extra little things you did to do a good job

someone who valued the care you took, even when nobody else notices
the word "soul" has many meanings, but here we can best think of it as life energy

"doing it with all your life's energies"
pour everything you have into it

Now Paul tells them that the reason they should do it as to Christ, is that

they actually are serving him
In the end, he will be the one who pays them (see image)
The reward is actually closeness to Jesus himself.

Then masters have their turn

They must be just and fair because they are accountable to a greater master
v.25 applies to both—God will judge slave and master alike. They cannot bribe him.

Interesting question: Why is there so much here addressed to bondservants, compared to the other five

Maybe most of the people in the church were in that category

How does this apply to the modern workplace?
First, I don't think we can just draw a straight line and say

employees must never complain about pay or conditions, but just slave away

The model we have today is that there is a working agreement between an employer and employee

May be a written contract, or may be implied
It is essentially a trading agreement —hours of effort in exchange for money

This agreement should be fair and not exploiting the workers

We have a right to negotiate a good agreement and protest about bad agreements
Unions are a necessity in a fallen world
There are bad unions around, but if you look, bad management often gets the unions they deserve.
unfortunately mostly it is about greed on both sides, but I am not trying to make a political statement here so I won't say anything more

Now, once you have agreed to a contract (written or otherwise), then this passage applies much more to you

During the time you are supposed to be working, this is how you should work!
This doesn't mean you have to work all hours of the week like a slave

or unsafe working practices etc.

But the promise of a reward from Jesus will still apply to you.

Double pay: at the end of the week or month, and in eternity!!

This is the Key

the most important thing you can do is to understand the principle:
we are living in the physical world, according to the principles of the Spiritual World
3. Those who are outside
We have three things we can to that relate to those outside Christ:
And Paul says something about each one
Pray v2–4
"giving constant attention" —this is the same word used for the personal servants of the Roman general Cornelius who waited on him continually
In Luke 11 we have a parable about how to pray

The man who banged on his neighbour's door and just wounldn't let up!
The word can be translated "shameless persistence" —most people would be embarrassed to keep on so long
But not an attitude of being peeved at God, but "thanksgiving"

Not "God, why haven't you saved them yet..."

But in this case, the context is the Gospel

What are the two requests? —opportunity and faithfulness
Door: a favourite metaphor for Paul and others

Acts 14:27 And when they arrived and gathered the church together, they declared all that God had done with them, and how he had opened a door of faith to the Gentiles.
1 Cor. 16:9 for a wide door for effective work has opened to me, and there are many adversaries.
2 Cor. 2:12 When I came to Troas to preach the gospel of Christ, even though a door was opened for me in the Lord,

And this is a great message—that the door is for the message to go through.

Then he prays that he will speak "as he ought to" —he'll actually say what he should say
This is a good way to start your day:

Lord, give me opportunities, and make me faithful when I get them
Give me open doors, and the boldness to walk through them

So this is the first point about how we relate to unbelievers
Walk: v5
concept of "those who are outside" outside of what? the new creation, the body
redeeming: (1:14 redemption) literally to buy up at a market (agora) snap up every bargain

Who likes shopping for bargains? (just had Black Friday)
Anne bought a food mixer

What are they outside of? —The kingdom
Wisdom

Jesus is the one in whom all wisdom is hidden (1:?)
We don't have to somehow work up this wisdom—he is living in us and freely shares it

What does this mean in practice?

being ready! (Chris has his personal tract)
not behaving in a way that brings dishonour to Christ, but the opposite
Talk: v6
Grace (ambiguous)... beauty (graceful) or free (gratuity)
Salty speech? ... and interesting and flavourful way of speaking, not dull and boring

not like the guy who shouted "are you ready to die?"
Paul at Mars Hill. "I see an alter to an unknown God" ...
My Mum taking the assembly at school, brings a real lamb!
We have to be interesting

Conversation with an atheist couple on a train: "We're the kind of church that only believes things there is evidence for."
Conversation with a man at a party: "We're the kind of church that has no rituals"

Christians are very much stereotyped in the world today
Jesus was not boring and predictable!: Woman of Samaria, Nicodemus

Pray for his innovating wisdom

Think out in advance how a conversation might go.
4. Quick overview of the rest of the book
v7-9 Back in those days you could "tell a message to the postman"!
Onesimus is also carrying another letter!! (?)

Interesting to see a slice of church life going on
only place in the Bible where we know that Luke is a doctor!
Two Keys – 1: Workplace:
You have two bosses!
Bring the future into the present
2: Evangelism
Pray: "Give me open doors, and the boldness to walk through them"
Walk: Look for the opportunities you prayed for!
Talk: words that are "tasty" and interesting
(Wisdom from Christ)
Demo of walking through a door carrying tasty food
Updated on 2016-11-29 by Andrew Fountain
Login to post comments

26 downloads

1 plays