2013 Christmas Food On Dec 8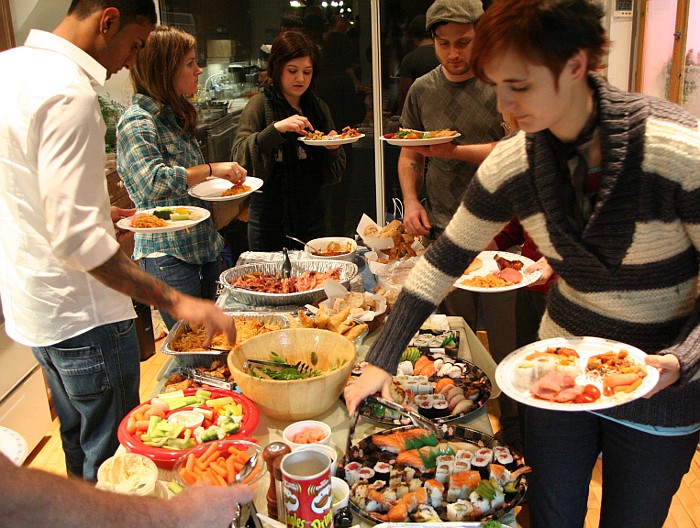 More than enough for seconds
Next Sunday, Newlife Church is having a "bring and share" Christmas meal in the school gym, immediately following the service.
PLEASE sign up, as soon as possible so we can plan food.
To sign up:
Go to "Sign up here:" at the bottom of the page
Put what you are planning to bring in the Comment box.
Go right to the bottom and click (Save).
Check back as this page will be updated and items still needed are in bold:
Main/Savoury Dish
Dessert
Drinks, Misc


(good for those who don't have a kitchen)

Other stuff

●Meat (Anne & Eva)

●Dressing/stuffing (Jorge & Natalie)

●Potato salad (Bimbo)

●Potato salad

●Bean salad (Denise)

●Mixed/Green salad (Ranjeetha)

●Mixed/Green salad (Jorge & Natalie)

●Mixed/Green salad

●Dessert (Amanda)

●Dessert (Olesia & Sofiia)

●Dessert (Melinda)

●Juice (1 carton) (Priskilla)

●Juice (1 carton) (Tafari)

●Juice (1 carton) (Heather)

●Juice (1 carton) (Evert & Sandra)

●24 Dinner rolls (Dan)

●24 Dinner rolls (Suraj and Reena)

●Cranberry Sauce (Evert & Sandra)

●Butter (1 pack) (Priskilla)

●Paper plates (Anne)

●Cups (Anne)

●Napkins (Ainsley)

●Plastic utensils (Anne)

●Single use tablecloth (Anne)

●Garbage bags (Anne)

●Coffee (Anne)

●Tea (Anne)

●Milk (Anne)
If you have any questions you can email Anne at: anne@nlife.ca