When God doesn't seem to keep his promises
How is it that the events of our lives don't always seem to match up with the promises of God?
It turns out that this is not just a personal struggle for a few, but one of the central themes of the Bible.
If you have trouble viewing this video, you can try watching it directly on Vimeo
Sermon Slides - When God doesn't seem to keep his promises (pt.1)
The problem with following God is that his words do not always seem to match up with his actions.
Goal
How do we handle it when God doesn't seem to keep his promises?
When God's Works don't seem to match his Words
Habakkuk's (and Abraham/Sarah's) problem with God
The answer that Habakkuk gets
Our problem with God
1. Habakkuk's (and Abraham/Sarah's) problem with God
---
Habakkuk 1:1–13
---
So Habakkuk had a dilemma when he compared God's Words with his Works – they didn't seem to match up.
We can experience times like this in our own lives.

We would like our circumstances to be something like this:
A Fulfilling Life
Personal enjoyment of:
Material blessings:

friends
kindness
faithfulness
family

health
prosperity
security
satisfying work
When this is the case, then being a Christian is easy.

God's promises all come true immediately.

There is no reason to doubt.

But what about when it looks more like this:
Problems in Life
Personal experience:
Material problems:

loneliness
hostility
betrayal
bereavement

sickness
poverty
disaster
unemployment
Abraham & Sarah
Abraham had trouble matching up God's Words with his Works.
God's Words were: I will give you a son.
God's Works were: no son.
Genesis 12
Now the LORD said to Abram,

"Go out from your country, your relatives, and your father's household

to the land that I will show you.

Then I will make you into a great nation,

and I will bless you,
Genesis 13
I will make your descendants like the dust of the earth,

so that if anyone is able to count the dust of the earth,

then your descendants also can be counted.
The years went by. Abraham got older, Sarah was nearly 100. No son. There seems to be a gap between the Words and the Works
This is one of the biggest problems that Christians have: Can I really trust God? Will he be faithful to ME?
Genesis 15
After these things the word of the LORD came to Abram in a vision:

"Fear not, Abram! I am your shield and the one who will reward you in great abundance."

But Abram said, "O sovereign LORD,

what will you give me since I continue to be childless, and my heir is Eliezer of Damascus?"

Abram added, "Since you have not given me a descendant, then look, one born in my house will be my heir!"
But look, the word of the LORD came to him:

"This man will not be your heir, but instead a son who comes from your own body will be your heir."

The LORD took him outside and said, "Gaze into the sky and count the stars — if you are able to count them!" Then he said to him, "So will your descendants be."
Abram believed the LORD, and the LORD and he counted his faith as righteousness.
What did Abraham need in order to bridge this gap? He needed faith
Faith bridges the gap between God's Words and his Words
The Gap of Faith
But in Genesis 16 the faith weakens and Abraham decides he has to force the issue, and Ishmael is born.
after Another 13 years more waiting...
Genesis 17
Abram bowed down with his face to the ground, and God said to him,
"As for me, this is my covenant with you: You will be the father of a multitude of nations.
No longer will your name be Abram. Instead, your name will be Abraham because I will make you the father of a multitude of nations.
I will make you extremely fruitful. I will make nations of you, and kings will descend from you.
Genesis 17 cont'd
Then God said to Abraham, "As for your wife, you must no longer call her Sarai; Sarah will be her name.
I will bless her and will give you a son through her. I will bless her and she will become a mother of nations. Kings of countries will come from her!"
Then Abraham bowed down with his face to the ground and laughed as he said to himself, "Can a son be born to a man who is a hundred years old? Can Sarah bear a child at the age of ninety?"…
God said, "No, Sarah your wife is going to bear you a son, and you will name him Isaac.
Genesis 18
Abraham looked up and saw three men standing across from him…
Then they asked him, "Where is Sarah your wife?" He replied, "There, in the tent."
One of them said, "I will surely return to you when the season comes round again, and your wife Sarah will have a son!" (Now Sarah was listening at the entrance to the tent, not far behind him.
Abraham and Sarah were old and advancing in years; Sarah had long since passed menopause.)
So Sarah laughed to herself, thinking, "After I am worn out will I have pleasure, especially when my husband is old too?"
The LORD said to Abraham, "Why did Sarah laugh and say, 'Will I really have a child when I am old?'
Is anything impossible for the LORD? I will return to you when the season comes round again and Sarah will have a son."
Hebrews tells us that Sarah did believe, and she is one of the heros of faith
Finally, after 25 years:
Genesis 21
The LORD visited Sarah just as he had said he would and did for Sarah what he had promised.
So Sarah became pregnant and bore Abraham a son in his old age at the appointed time that God had told him.
Abraham named his son — whom Sarah bore to him — Isaac.
2. The answer that Habakkuk gets
This theme comes up dozens of times in Scripture, because this test is the essence of faith.

=What is remarkable is that God is no afraid of us asking this question, in fact it was God who decided to put Habakkuk in the Bible!

Here in Habakkuk, the prophet pleads with God for an explanation.
In 2:1 he has said his piece and he sets himself to wait for God's answer
---
Habakkuk 2:1–2:4
---
I will stand at my watch post;
I will remain stationed on the city wall.
I will keep watching, so I can see what he says to me
and can know how I should answer
when he counters my argument.

 

The L

ORD

responded:
"Write down this message! Record it legibly on tablets,
so the one who announces it may read it easily.
For the message is a witness to what is decreed;
it gives reliable testimony about how matters will turn out.
Even if the message is not fulfilled right away, wait patiently;
for it will certainly come to pass — it will not arrive late.
Look, the one whose desires are not upright will faint from exhaustion,
but the person of integrity will live because of his faithfulness.
based on NET Bible
---
The answer comes from God in v.2–4...
If you wait, then you will see that my works WILL match my words
The wicked will be punished
Those who do not turn away from God's words but hold onto them in FAITH, will live
It is only through trials like this that our faith can be built up
Summary of these verses: My words will come to pass—the faithful will stay the course!
Habakkuk's third chapter is full of declarations of his firm faith. He says in Habakkuk 3:17–19:
Habakkuk 3
Though the fig tree may not blossom, Nor fruit be on the vines;
Though the labor of the olive may fail, And the fields yield no food;
Though the flock may be cut off from the fold, And there be no herd in the stalls;
(in other words God's Works all seem to be against him)
Yet I will rejoice in the L

ORD

, I will joy in the God of my salvation.
The L

ORD

God is my strength; He will make my feet like deer's feet, And he will make me walk on my high hills.

(he will nevertheless put his confidence in God's promises.)
It is only faith that can bridge this gap. I picture it like this:
The Gap of Faith
We are caught in the middle and are trying to hang on to God's Word and believe him, but there is a gap that stretches longer and longer as time goes on.
3. Our problem with God
There is only one answer to this problem and that is Jesus Christ living in us.
1 Peter 4
"Beloved, do not think it strange
concerning the fiery trial which is to try you,
as though some strange thing happened to you;
but rejoice to the extent that
you partake of Christ's sufferings,
that when his glory is revealed,
you may also be glad with exceeding joy."
When you are faced with this test, you have two choices
Fork in the road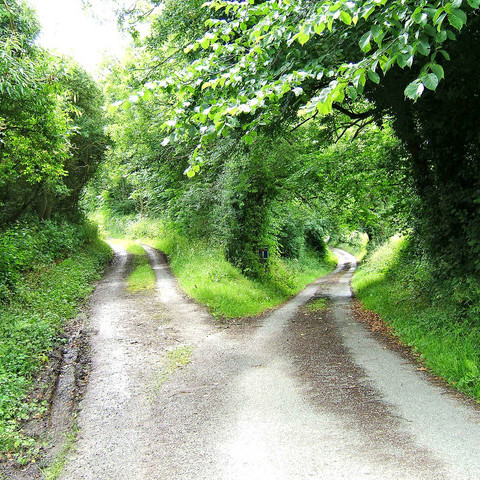 Image source: "P L Chadwick"
Believe Satan's lies and say "God, if there really is a God, doesn't care about me"
Recognize Satan's lies for what they are.
Ephesians 3:18–19
"be able to comprehend with all the saints what is the width and length and depth and height;
to know the love of Christ which passes knowledge;
that you may be filled with all the fullness of God."
Updated on 2022-05-08 by Andrew Fountain