Trusting Jesus in the Storms
Are you going through a storm?
This is one of the most encouraging stories I have ever read.
Even with little faith you can survive the worst storms in your life.
If you have trouble viewing this video, you can try watching it directly on Vimeo
Sermon Slides - Trusting Jesus in the Storms
I want to tell a story from Mark and see how it spoke to me and can speak to you.
First Century Boat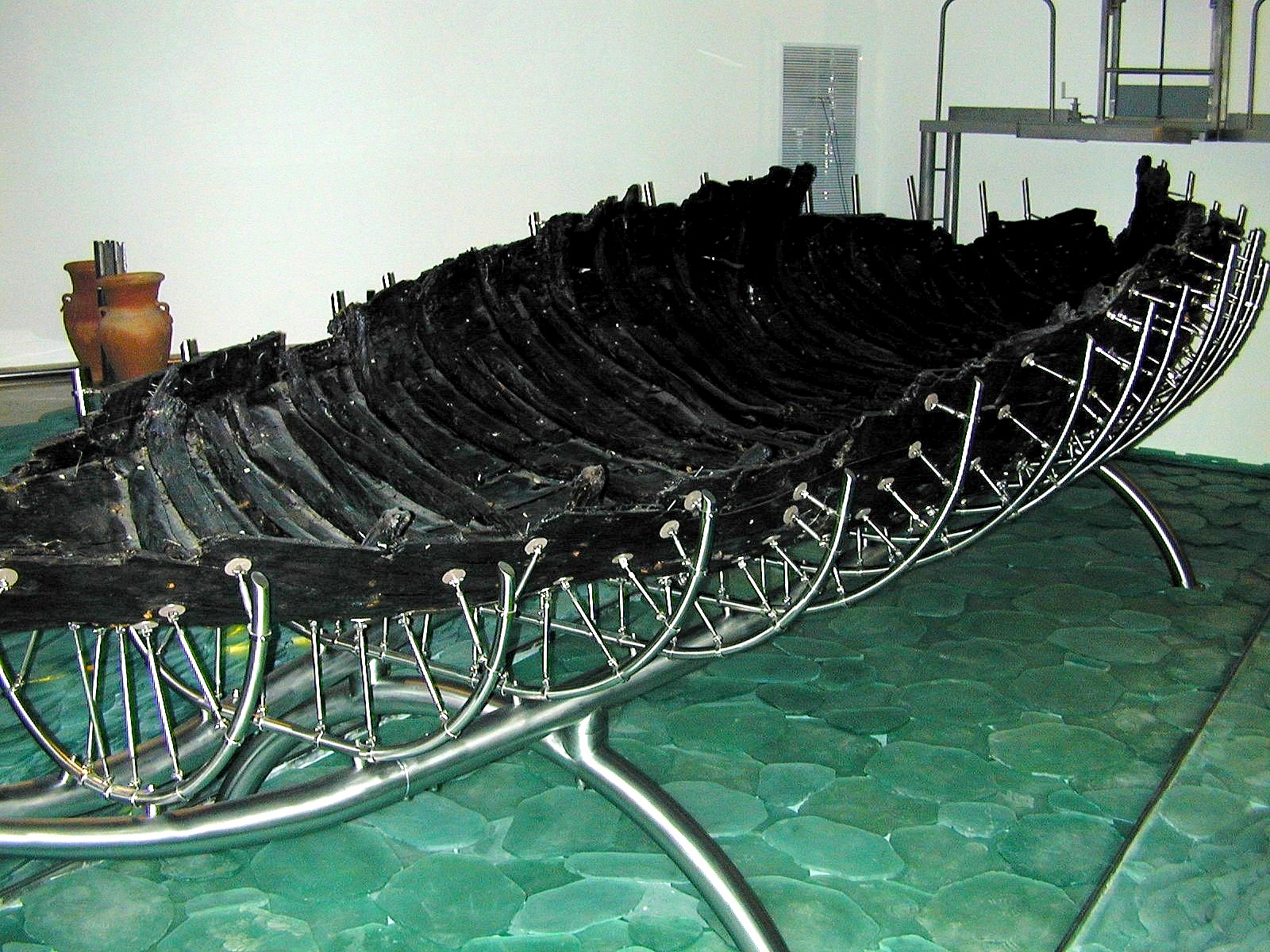 Image source: Konrad Summers
Mark 4:35–41
On the same day, when evening had come, he said to them,
"Let us cross over to the other side."
Now when they had left the multitude, they took him along in the boat as he was. And other little boats were also with him.
And a great windstorm arose,
and the waves beat into the boat,
so that it was already filling.
But he was in the stern, asleep on a pillow…
"Christ in the Storm on the Sea of Galilee - 1695 by Ludolf Bakhuizen"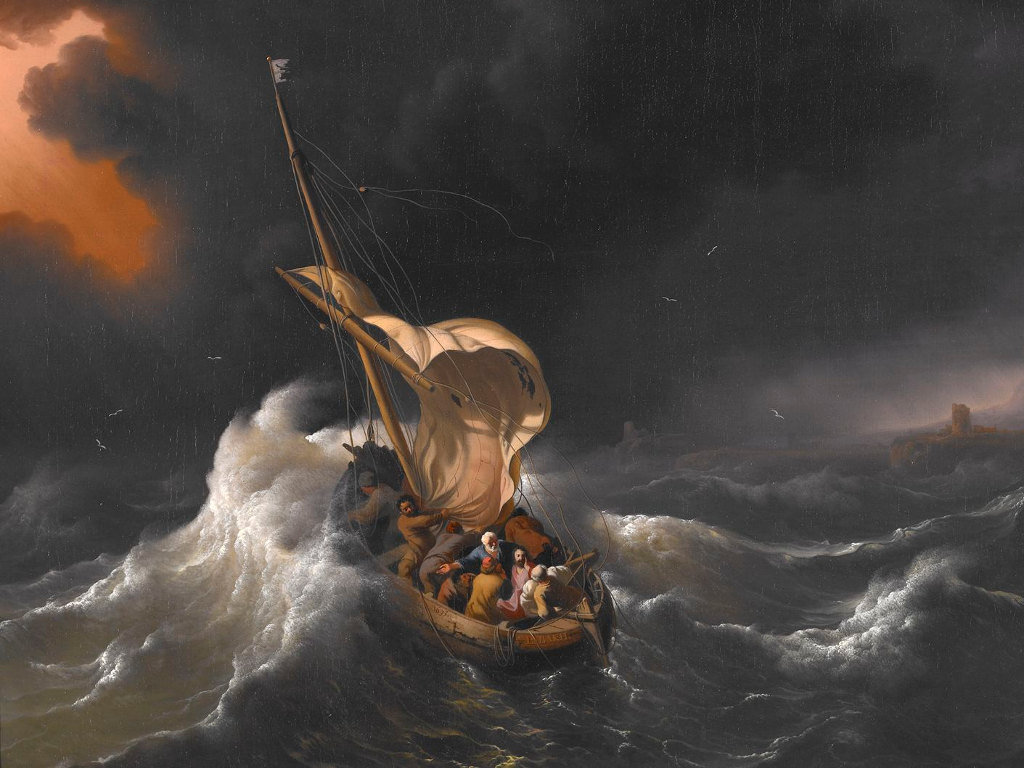 Image source: link
1. The Story
Mark 4:35–41 cont'd
…And they awoke him and said to him,
"Teacher, do you not care that we are perishing?"
Then he arose and rebuked the wind, and said to the sea, "Peace, be still!"
And the wind ceased and there was a great calm.
But he said to them, "Why are you so fearful? How is it that you have no faith?"
And they feared exceedingly, and said to one another,
"Who can this be, that even the wind and the sea obey him!"
Questions...
What would you have done??
What did they do that was so wrong??
What should they have done??
2. What are storms for us?
early church, persecution symbol:
We may have dramatic storms

Physical Storms -
•Sickness or Injury,
• Death (my Brother's wife)
Relationship problems -
•Unfair treatment from others
•Unpleasant boss at work, or teacher who makes things hard for us
•devastating marriage break-ups (parents)
•painful break-up of a friendship
Persecution because of what we believe

Some storms are not so dramatic, but can cut us very deeply, maybe over a long period of time, eating into us
3. Christian's problems in Storms
We have seen what the disciples did, and we have seen the kinds of storms that we have in this life.
Now I want to look at what we should do in storms.
When these trials of life come upon us, what do we do ??
Almost all Christians pray—I'm sure you pray, but what sort of prayer is it?
If God doesn't answer straight away, then our prayer may become

resigned,...
or desperate...
or demanding
or even accusing God... [as here]
Romans 8:31–32
What then shall we say to these things? If God is for us, who can be against us?
He who did not spare his own Son, but delivered him up for us all, how shall he not with him also freely give us all things?
Mark's Big Story
Each part starts with a theme story for that section
The end is marked with a similar story
A. The Kingdom Launched in Power
1:1–6:29
John the Baptist & the first followers

Kingdom Power & Conflict
Kingdom Teaching

-Parables of the sower, the lamp, the mystery of growth & the mustard seed

-Four miracles: storm, legion & the pigs, Woman who is sick 12 years…

Culminates with raising the dead

Followers sent out & John dies
B. Greater miracles & more challenging teaching
6:30–8:21
Jesus feeds 5000

Walks on water
Declares all food clean
Heals in a Gentile city!
Dramatic healing of deaf man

Feeds 4000, but disciples "still do not understand"
How Mark fits together
Greater miracles, challenging teaching
B. 6:30–8:21
Kingdom Launched in Power
A. 1:1–6:29
C. From blindness to seeing—The Big Revelation
8:22–10:52
Blind man receives sight in two stages

Peter sees that Jesus is the Messiah
Disciples see Jesus' glory
Sell everything and follow Jesus
Jesus reveals three times that he is going to die and rise again but the disciples don't get it

Blind Bartimaeus receives sight
How Mark fits together
The Big Revelation
C. 8:22–10:52
Greater miracles, challenging teaching
B. 6:30–8:21
Kingdom Launched in Power
A. 1:1–6:29
D. Jesus visits the Temple, predicting he'll replace it
11:1–13:37
Jesus comes to the temple and finds no fruit

Parable of the fruitless vineyard. Jesus is the new cornerstone
Two attempts to trap Jesus with words
Jesus responds, pointing out some good fruit
The Temple will be destroyed

Jesus will return one day, so stay alert!
E. "Truly this man is the Son of God"
14:1–16:8
A woman comes to anoint Jesus

Last supper, and betrayal
Prayer and betrayal in Gethsemane
Jesus is tried and Peter denies him
Jesus is tried by Pilate
Jesus is crucified and a centurion believes

Women come to anoint Jesus, but he has been raised from the dead
How Mark fits together
This man is the Son of God
E. 14:1–16:8
Replacing the Temple
D. 11:1–13:37
The Big Revelation
C. 8:22–10:52
Greater miracles, challenging teaching
B. 6:30–8:21
Kingdom Launched in Power
A. 1:1–6:29
6. But what if Jesus is not in your boat?
What if you have never trusted him?
What if you think your life is far too important to trust everything to some invisible being ?
Well, the news is very bad
Your ship will sink
But Jesus offers:
to be in your ship -> unsinkable
even in the storm of death —He died and rose again
even in the storm of judgement —He has already paid the penalty on the cross-

, and the resurrection was a declaration of vindication

-Do you intend to weather life's storms alone?

-Do you reject his kind offer?

-to be with you through thick and thin

don't reject him
ask him to come and take over your boat
trust him that he is good and loving as well as infinitely powerful
pray to him and don't give up till you know he is within you with his resurrection power.
Updated on 2021-08-22 by Andrew Fountain