Prophecies and Preparations for Jesus's Coming
It is good to take some time to explore the huge number of prophecies which were fulfilled in the coming of Jesus.
The timing could not have been more perfect historically
and the richness of the "servant songs" in Isaiah are a deep blessing to the soul.
If you have trouble viewing this video, you can try watching it directly on Vimeo
Sermon Slides - Prophecies and Preparations for Jesus's Coming
Prophecies
and Preparations
for Jesus's Coming
Preparation of the World
Prophecies from Genesis to Malachi
Focus on Isaiah
1. Preparation of the World
Galatians 4
But when the fullness of time had come, God sent forth his Son, born of woman, born under the law,
to redeem those who were under the law, so that we might receive adoption as sons and daughters.
Spiritual Preparation
Prophetic expectation
The Law had failed
Pax Romana (Latin for 'Roman peace')
Wikipedia: The Pax Romana (Latin for 'Roman peace') is a roughly 200-year-long timespan of Roman history which is identified as a period and as a golden age of increased as well as sustained peace and order, prosperous stability, hegemonial power, and regional expansion. It is traditionally dated as commencing in 27 BC and concluding in 180 AD.
Wikipedia continued
"The Pax Romana is said to have been a "miracle" because prior to it there had never been peace for so many years in a given period of history."
Language
Philip II hired Aristotle to tutor Alexander at age 14 in Greek, Hebrew, Babylonian and Latin, rhetoric and justice." Aristotle taught young Alexander to accept all religions and educated him about the world. Joshua Mark claims, "...as Alexander traveled, he spread Greek thought and culture in his wake, thus "hellenizing" (to make `Greek' in culture and civilization) those he conquered." IPL.org
Incredible Travel opportunities
Ancient Roman road of Tall Aqibrin, Syria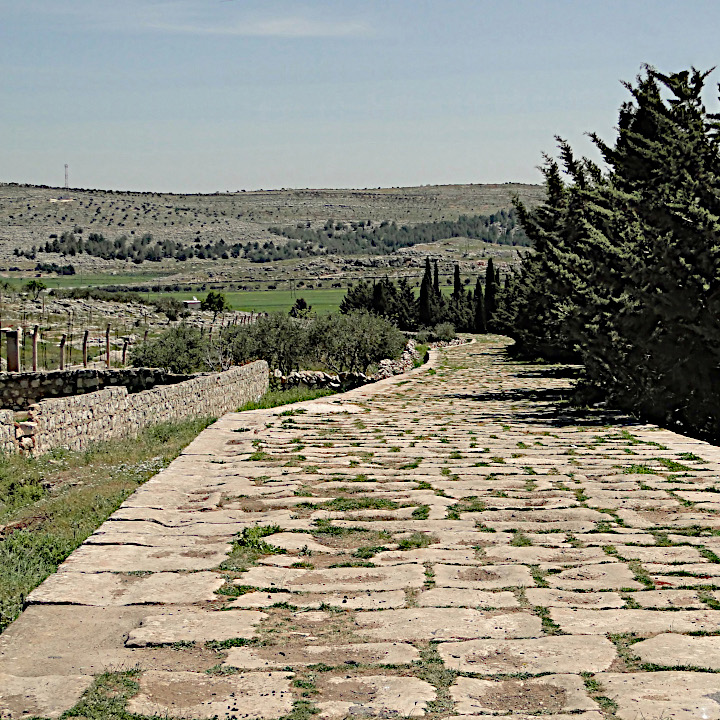 Image source: Bernard Gagnon
Roads of the Roman Empire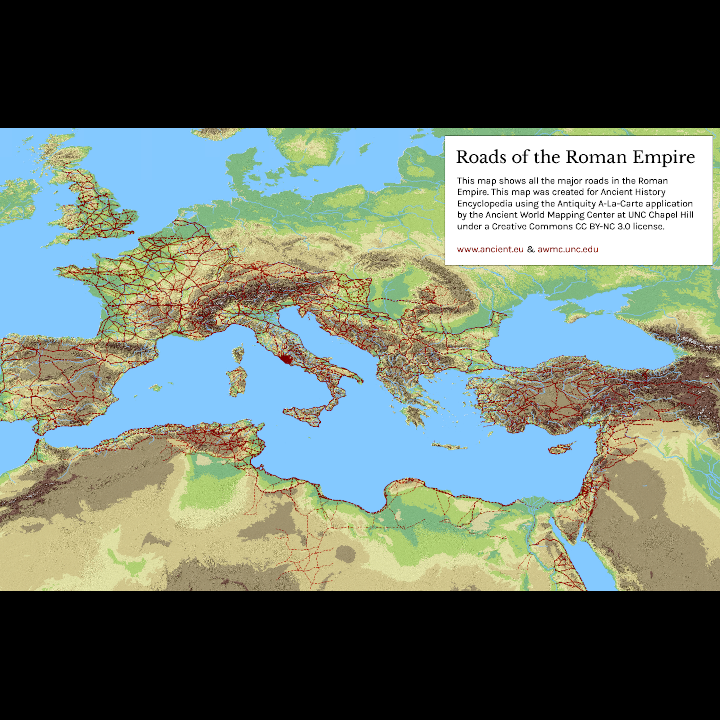 Image source: CC BY-NC 3.0
2. Prophecies from Genesis to Malachi
Genesis 3
The LORD God said to the serpent…
I will put enmity between you and the woman, and between your offspring and her offspring; he shall bruise your head, and you shall bruise his heel."
Deuteronomy 18
A prophet "like Moses"
And the LORD said to me, 'They are right in what they have spoken.
I will raise up for them a prophet like you from among their brothers. And I will put my words in his mouth, and he shall speak to them all that I command him.
The Psalms are a special case.
David himself was chosen by God to live a live that in itself was prophetic
Psalm 22
A Psalm of David. My God, my God, why have you forsaken me? Why are you so far from saving me, from the words of my groaning?
All who see me mock me; they make mouths at me; they wag their heads;
"He trusts in the LORD; let him deliver him; let him rescue him, for he delights in him!"
I am poured out like water, and all my bones are out of joint; my heart is like wax; it is melted within my breast;
my strength is dried up like a potsherd, and my tongue sticks to my jaws; you lay me in the dust of death.
For dogs encompass me; a company of evildoers encircles me; they have pierced my hands and feet—
I can count all my bones— they stare and gloat over me;
they divide my garments among them, and for my clothing they cast lots.
Psalm 41
Even my close friend in whom I trusted, who ate my bread, has lifted his heel against me.
Psalm 118
The stone that the builders rejected has become the cornerstone.
This is the LORD's doing; it is marvelous in our eyes.
Micah 3 
But you, O Bethlehem Ephrathah,
     who are too little to be among the clans of Judah,
from you shall come forth for me
   one who is to be ruler in Israel,
whose coming forth is from of old,
    from ancient days.
Zechariah 9
Rejoice greatly, O daughter of Zion!
   Shout aloud, O daughter of Jerusalem!
Behold, your king is coming to you;
   righteous and having salvation is he,
humble and mounted on a donkey,
   on a colt, the foal of a donkey.
Zechariah – other references
11:12,13 The Messiah will be sold for 30 pieces of silver
13:7 The Messiah will forsaken by His disciples
Malachi 3
(the very end of the Old Testament)
Behold, I send my messenger, and he will prepare the way before me. And the Lord whom you seek will suddenly come to his temple; and the messenger of the covenant in whom you delight, behold, he is coming, says the Lord of hosts.
3. Isaiah
Isaiah 7
Therefore the Lord himself will give you a sign. Behold, the virgin shall conceive and bear a son, and shall call his name Immanuel.
Isaiah 9
…now he brings honor
to the way of the sea,
the region beyond the Jordan,
and Galilee of the nations.
The people walking in darkness
see a bright light;
light shines
on those who live in a land of deep darkness.
Servant Songs
Isaiah 42 – Song 1
Behold my servant, whom I uphold, my chosen, in whom my soul delights; I have put my Spirit upon him; he will bring forth justice to the nations.
He will not cry aloud or lift up his voice, or make it heard in the street;
a bruised reed he will not break, and a faintly burning wick he will not quench; he will faithfully bring forth justice.
He will not grow faint or be discouraged till he has established justice in the earth; and the coastlands wait for his law.
Thus says God, the LORD, who created the heavens and stretched them out, who spread out the earth and what comes from it, who gives breath to the people on it and spirit to those who walk in it:
"I am the LORD; I have called you in righteousness; I will take you by the hand and keep you; I will give you as a covenant for the people, a light for the nations,
to open the eyes that are blind, to bring out the prisoners from the dungeon, from the prison those who sit in darkness.
I am the LORD; that is my name; my glory I give to no other, nor my praise to carved idols.
Behold, the former things have come to pass, and new things I now declare; before they spring forth I tell you of them."
Sing to the LORD a new song, his praise from the end of the earth, you who go down to the sea, and all that fills it, the coastlands and their inhabitants.
Isaiah 49 – Song 2
Listen to me, O coastlands, and give attention, you peoples from afar. The LORD called me from the womb, from the body of my mother he named my name.
He made my mouth like a sharp sword; in the shadow of his hand he hid me; he made me a polished arrow; in his quiver he hid me away.
And he said to me, "You are my servant, Israel, in whom I will be glorified."
he says: "It is too light a thing that you should be my servant to raise up the tribes of Jacob and to bring back the preserved of Israel; I will make you as a light for the nations, that my salvation may reach to the end of the earth."
Thus says the LORD, the Redeemer of Israel and his Holy One, to one deeply despised, abhorred by the nation, the servant of rulers: "Kings shall see and arise; princes, and they shall prostrate themselves; because of the LORD, who is faithful, the Holy One of Israel, who has chosen you."
Thus says the LORD: "In a time of favor I have answered you; in a day of salvation I have helped you; I will keep you and give you as a covenant to the people, to establish the land, to apportion the desolate heritages,
saying to the prisoners, 'Come out,' to those who are in darkness, 'Appear.' They shall feed along the ways; on all bare heights shall be their pasture;
they shall not hunger or thirst, neither scorching wind nor sun shall strike them, for he who has pity on them will lead them, and by springs of water will guide them.
And I will make all my mountains a road, and my highways shall be raised up.
Behold, these shall come from afar, and behold, these from the north and from the west, and these from the land of Syene."
Sing for joy, O heavens, and exult, O earth; break forth, O mountains, into singing! For the LORD has comforted his people and will have compassion on his afflicted.
But Zion said, "The LORD has forsaken me; my Lord has forgotten me."
"Can a woman forget her nursing child, that she should have no compassion on the son of her womb? Even these may forget, yet I will not forget you.
Behold, I have engraved you on the palms of my hands; your walls are continually before me.
Isaiah 50 – Song 3 (extract)
I gave my back to those who strike, and my cheeks to those who pull out the beard; I hid not my face from disgrace and spitting.
Isaiah 52–53 – Song 4
Behold, my servant shall act wisely; he shall be high and lifted up, and shall be exalted.
As many were astonished at you— his appearance was so marred, beyond human semblance, and his form beyond that of the children of mankind—
so shall he sprinkle many nations; kings shall shut their mouths because of him; for that which has not been told them they see, and that which they have not heard they understand.
Isaiah 53 – Song 4 cont'd
Who has believed what he has heard from us? And to whom has the arm of the LORD been revealed?
For he grew up before him like a young plant, and like a root out of dry ground; he had no form or majesty that we should look at him, and no beauty that we should desire him.
He was despised and rejected by men; a man of sorrows, and acquainted with grief; and as one from whom men hide their faces he was despised, and we esteemed him not.
Surely he has borne our griefs and carried our sorrows; yet we esteemed him stricken, smitten by God, and afflicted.
But he was wounded for our transgressions; he was crushed for our iniquities; upon him was the chastisement that brought us peace, and with his stripes we are healed.
All we like sheep have gone astray; we have turned—every one—to his own way; and the LORD has laid on him the iniquity of us all.
He was oppressed, and he was afflicted, yet he opened not his mouth; like a lamb that is led to the slaughter, and like a sheep that before its shearers is silent, so he opened not his mouth.
By oppression and judgment he was taken away; and as for his generation, who considered that he was cut off out of the land of the living, stricken for the transgression of my people?
And they made his grave with the wicked and with a rich man in his death, although he had done no violence, and there was no deceit in his mouth.
Yet it was the will of the LORD to crush him; he has put him to grief; when his soul makes an offering for guilt, he shall see his offspring; he shall prolong his days; the will of the LORD shall prosper in his hand.
Out of the anguish of his soul he shall see and be satisfied; by his knowledge shall the righteous one, my servant, make many to be accounted righteous, and he shall bear their iniquities.
Therefore I will divide him a portion with the many, and he shall divide the spoil with the strong, because he poured out his soul to death and was numbered with the transgressors; yet he bore the sin of many, and makes intercession for the transgressors.
Updated on 2022-11-27 by Andrew Fountain