An Honest look at some Surprising Scriptures
Sermon Outline - An Honest look at some Surprising Scriptures
Links to audio of talks on this subject by Dr. Carl Mosser
Goal
There is a teaching in Scripture that is generally overlooked because it seems too dangerous
We will point out the risks, and try to take in the huge benefits
Overview
5 mins introducing the topic, + visual object lesson with a volunteer
2 min overview of what we are not talking about
Look at Scriptures for about 15 mins
Try to formulate an answer, and demonstrate with volunteer again
1. Introduction
2. What it is not
Greek mythology: humans could become gods
Mormon teaching: that Jesus was just a man, and became God, and so can we
New age: We all have to realize the "god" in us
Eastern Orthodox teaching: mystical participation in the sacraments, experiences of "light", climbing a ladder of rigorous devotional practices to reach the divine
The Ladder of Divine Ascent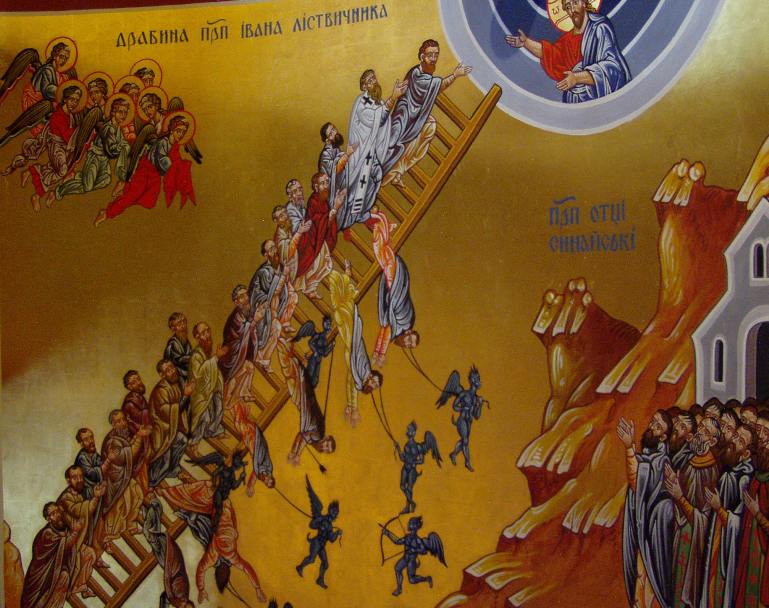 Image source: orthodoxwiki
3. Scriptures
John 17:21–23
that they may all be one, just as you, Father, are in me, and I in you, that they also may be in us, so that the world may believe that you have sent me.
The glory that you have given me I have given to them, that they may be one even as we are one,
I in them and you in me, that they may become perfectly one, so that the world may know that you sent me and loved them even as you loved me.
2 Peter 1
by which he has granted to us his precious and very great promises, so that through them you may become partakers of the divine nature
John 1
But to all who did receive him, who believed in his name, he gave the right to become children of God,
who were born, not of blood nor of the will of the flesh nor of the will of man, but of God.
1 John 3:9,24 & 4:7–8
No one born of God makes a practice of sinning, for God's seed abides in him, and he cannot keep on sinning because he has been born of God.
Whoever keeps his commandments abides in God, and God in him. And by this we know that he abides in us, by the Spirit whom he has given us.
Beloved, let us love one another, for love is from God, and whoever loves has been born of God and knows God.
Anyone who does not love does not know God, because God is love.
Col 2:9–10 & 2 Cor 3:18
For in him the whole fullness of deity dwells bodily,
and you have been filled in him, who is the head of all rule and authority.
And we all, with unveiled face, beholding the glory of the Lord, are being transformed into the same image from one degree of glory to another. For this comes from the Lord who is the Spirit.
1 John 2:29–3:2
If you know that he is righteous, you may be sure that everyone who practices righteousness has been born of him.
See what kind of love the Father has given to us, that we should be called children of God; and so we are. The reason why the world does not know us is that it did not know him.
Beloved, we are God's children now, and what we will be has not yet appeared; but we know that when he appears we shall be like him, because we shall see him as he is.
Philippians 2; 3:21
who, though he was in the form of God, did not count equality with God a thing to be grasped,
but made himself nothing, taking the form of a servant, being born in the likeness of men.
And being found in human form, he humbled himself by becoming obedient to the point of death, even death on a cross…
…who will transform our lowly body to be like his glorious body…
-No problem till v.21 Exchange language but here somewhat surprising. Morphe is same word
1 Cor 15
The first man was from the earth, a man of dust; the second man is from heaven.
As was the man of dust, so also are those who are of the dust, and as is the man of heaven, so also are those who are of heaven.
Just as we have borne the image of the man of dust, we shall also bear the image of the man of heaven.
4. Formulating an answer
Summary
Filled with God
Taking on the character of God
Our mortal bodies replaced with bodies like Jesus
"We will always remain creatures, but we are destined to become creatures so filled with God that his very glory radiates from us." —Carl Mosser
Why it matters
We live out of our identities
The very life of God is in you

Your destiny is to shine like the sun
But even now, you have his glory in you

The most important thing you can do this week is to keep reminding yourself of who you are,

choosing to live out of that identity
Updated on 2018-09-25 by Andrew Fountain