Andrew Fountain - Jude: The book you never hear preached
---
Sermon notes - Jude: The book you never hear preached
now to him who is able to keep you from stumbling,

and to present you faultless

before the presence of his glory

with exceeding joy,

To God our Savior who alone is wise

Be glory and majesty, Dominion and power,

Both now and forever. Amen.
Jude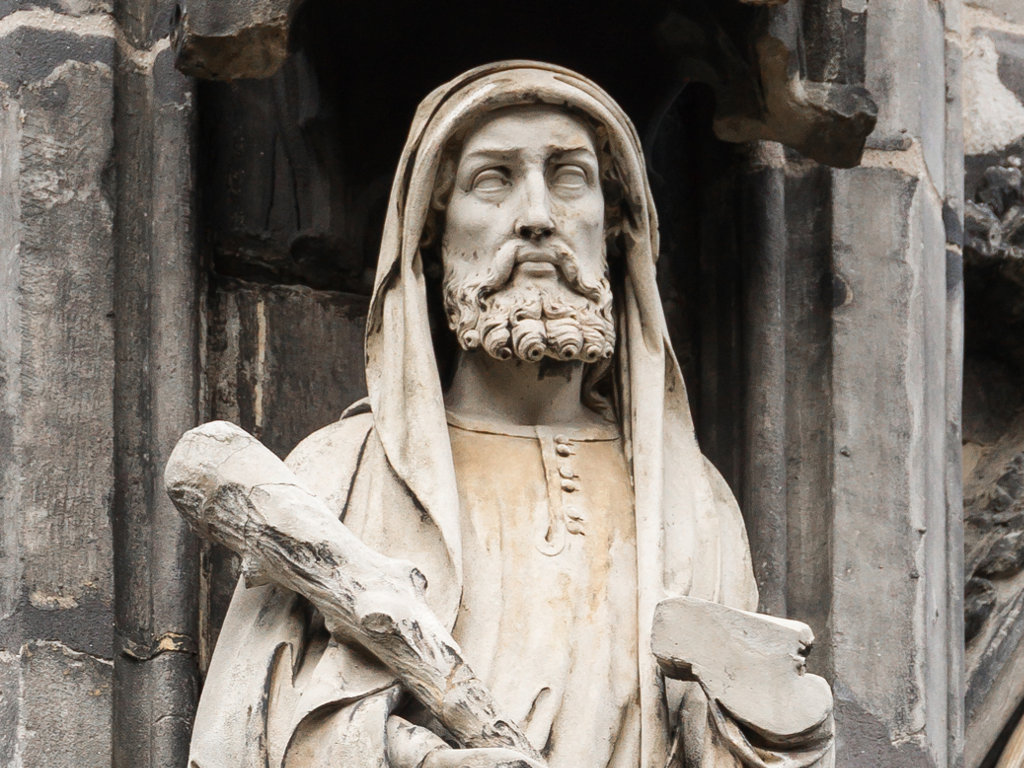 Image source: Jebulon
The most neglected book in the New Testament
Almost never read through entirely in church
Almost never preached on

Donald J Rowston, NTS, 1975
Goal
Not to neglect this part of God's word
To hear what he has to say to us today
Brother of Jesus (story of his grandsons & emperor Domitian)
Jude
From Jude, a servant of Jesus Christ and brother of James, to those who are called, wrapped in the love of God the Father and kept for Jesus Christ.
May mercy, peace, and love be lavished on you!
Dear friends, although I have been eager to write to you about our common salvation, I now feel compelled instead to write to encourage you to contend earnestly for the faith that was once for all entrusted to the saints.
For certain men have secretly slipped in among you – men who long ago were marked out for the condemnation I am about to describe – ungodly men who have turned the grace of our God into a license for evil and who deny our only Master and Lord, Jesus Christ.
Now I desire to remind you (even though you have been fully informed of these facts once for all) that Jesus, having saved the people out of the land of Egypt, later destroyed those who did not believe.
You also know that the angels who did not keep within their proper domain but abandoned their own place of residence, he has kept in eternal chains in utter darkness, locked up for the judgment of the great Day.
So also Sodom and Gomorrah and the neighboring towns, since they indulged in sexual immorality and pursued unnatural desire in a way similar to these angels, are now displayed as an example by suffering the punishment of eternal fire.
Yet these men, as a result of their dreams, defile the flesh, reject authority, and insult the glorious ones.
But even when Michael the archangel was arguing with the devil and debating with him concerning Moses' body, he did not dare to bring a slanderous judgment, but said, "May the Lord rebuke you!"
But these men do not understand the things they slander, and they are being destroyed by the very things that, like irrational animals, they instinctively comprehend.
Woe to them! For they have traveled down Cain's path, and because of greed have abandoned themselves to Balaam's error; hence, they will certainly perish in Korah's rebellion.
These men are dangerous reefs at your love feasts, feasting without reverence, feeding only themselves. They are waterless clouds, carried along by the winds; autumn trees without fruit – twice dead, uprooted;
wild sea waves, spewing out the foam of their shame; wayward stars for whom the utter depths of eternal darkness have been reserved.
Now Enoch, the seventh in descent beginning with Adam, even prophesied of them, saying, "Look! The Lord is coming with thousands and thousands of his holy ones,
to execute judgment on all, and to convict every person of all their thoroughly ungodly deeds that they have committed, and of all the harsh words that ungodly sinners have spoken against him."
These people are grumblers and fault-finders who go wherever their desires lead them, and they give bombastic speeches, enchanting folks for their own gain.
But you, dear friends – recall the predictions foretold by the apostles of our Lord Jesus Christ.
For they said to you, "In the end time there will come scoffers, propelled by their own ungodly desires."
These people are divisive, worldly, devoid of the Spirit.
But you, dear friends, by building yourselves up in your most holy faith, by praying in the Holy Spirit,
maintain yourselves in the love of God, while anticipating the mercy of our Lord Jesus Christ that brings eternal life.
And have mercy on those who waver;
save others by snatching them out of the fire; have mercy on others, coupled with a fear of God, hating even the clothes stained by the flesh.
Now to the one who is able to keep you from falling, and to cause you to stand, rejoicing, without blemish before his glorious presence,
to the only God our Savior through Jesus Christ our Lord, be glory, majesty, power, and authority, before all time, and now, and for all eternity. Amen.
based on NET Bible
---
1. The Passage
Introduction and Purpose
What he wanted to do
What he ended up doing
Story of Bible College professor who challenged his students to read all the N.T. and find the most common warning

They were shocked to find it was false teachers

This is not a popular message today

It's seen as negative and not uplifting

Who were they?

Deliberately unspecified (we can't identify them from church history)

Not so specific that it might not be relevant for us

Hyper-grace: not under law so I can do anything
Claimed to be Spirit-filled with prophetic dreams

Marked out long ago: They had a long-term plan. God had seen them long ago
These are not Christians who have drifted away, but evil men
2. First three examples
Unbelief
Pride & power-seeking
Sexual immorality
e.g. Children of God
Quote from the Assumption of Moses

Explanation of problem of the quote
What was this about? (suggestion of story)
What's the problem with this. Does the Devil deserve respect?

Michael was not to respect the Devil, but not to take authority into his own hands: the Lord was the judge
3. Second three examples
Chosen to focus in on the kind of false teaching

Cain: Not just that he killed his brother—it all started with him switching to a different way of worshipping, that cost him little

Hey, you don't need a lamb. God's ok with just a few vegetables
The key is false teaching

Story of Balaam (prophecy for money)
Challenge to unity, stirring up dissent

The horror of church splits

These are pretty dark condemnations. Isn't he going over the top?
Quote from the book of Enoch

Never considered by the Jews as part of Scripture
This is the only quote
Not inspired, but at least this quote must be accurate

Justice will be done in the end
4. Appication
Finally we get to some positive stuff :)

Are we in the last times?
Does Jude think he is? —actually the N.T. does refer to these last days that we are all in

Be the opposite to these people!
Jude's Message
Warning: You must judge leaders by their fruit.

Are they out for personal gain?

Pray in the Spirit (Rom 8 says this is means receiving the Father's love) in order to keep yourselves in the love of God

Compassion spilling out to others, as you are filled with this love
Rescue those caught up in bitterness, protecting your own heart

Receive this blessing
5. Closing Blessing
This is the context!
Pray it together
Updated on 2017-08-11 by Andrew Fountain
Login to post comments

66 downloads

4 plays