Andrew Fountain - Jesus Sets his Followers a Challenge

---
Full sermon notes - Jesus sets his Followers a Challenge
Today we are going to look at a couple of very short parables in Luke about understanding the demands of following Jesus
Not thinking out future consequences can be fatal

Story: burning old cabinet at the back of the house

First let's set the scene
Luke 14:25–37 Intro
Now large crowds were accompanying Jesus, and turning to them he said,
"If anyone comes to me and does not hate his own father and mother and wife and children and brothers and sisters, yes, and even his own life, he cannot be my disciple.
Whoever does not carry his own cross and follow me cannot be my disciple.
What does it mean to "carry our own cross" —back to that question later
Luke 14:28–30 Parable of the Tower
For which of you, wanting to build a tower, doesn't sit down first and compute the cost to see if he has enough money to complete it?
Otherwise, when he has laid a foundation and is not able to finish the tower, all who see it will begin to make fun of him.
They will say, 'This man began to build and was not able to finish!'
v.29 "none of us of course"
Folly
National Monument of Scotland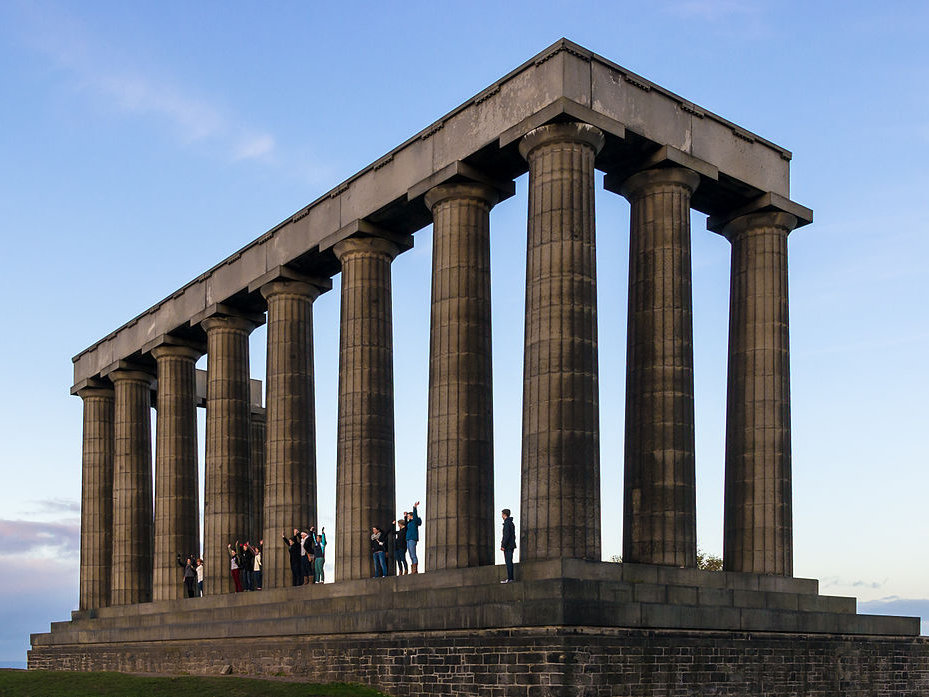 Image source: Colin
Construction started in 1826 and, due to the lack of funds, was left unfinished in 1829. This circumstance gave rise to various nicknames such as "Scotland's Disgrace", "Edinburgh's Disgrace", "the Pride and Poverty of Scotland" and "Edinburgh's Folly".
Hoogstraten's £40m folly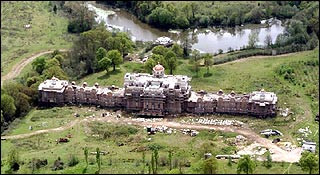 Image source: Telegraph
Construction of the country's most expensive private home, which has been standing half-built for five years, might never be completed, a confidential report says.
Does anyone want to have a go at explaining this parable?
Do you think that this parable would incread the number of people following Jesus?

Was Jesus' goal merely to gain as large a following as possible
Why not?

Taking on a commitment without thinking it through

Story: Tumblestone jewelry at Young Enterprise -did not evaluate our capabilities
Luke 14:31–33 Parable of King at War
Or what king, going out to confront another king in battle, will not sit down first and determine whether he is able with ten thousand to oppose the one coming against him with twenty thousand?
If he cannot succeed, he will send a representative while the other is still a long way off and ask for terms of peace.
In the same way therefore not one of you can be my disciple if he does not renounce all his own possessions.
"No king of course"
How can we explain this parable?

Is it saying the same as the previous?

In A. M. Hunter's words, "On the forst Parable Jesus says. 'Sit down and reckon whether you can afford to follow me.' In the second he says: 'Sit dowm and reckon whether you can afford to refuse my demands.'"
Thinking through the commitment of following Jesus
The Battle of Svensksund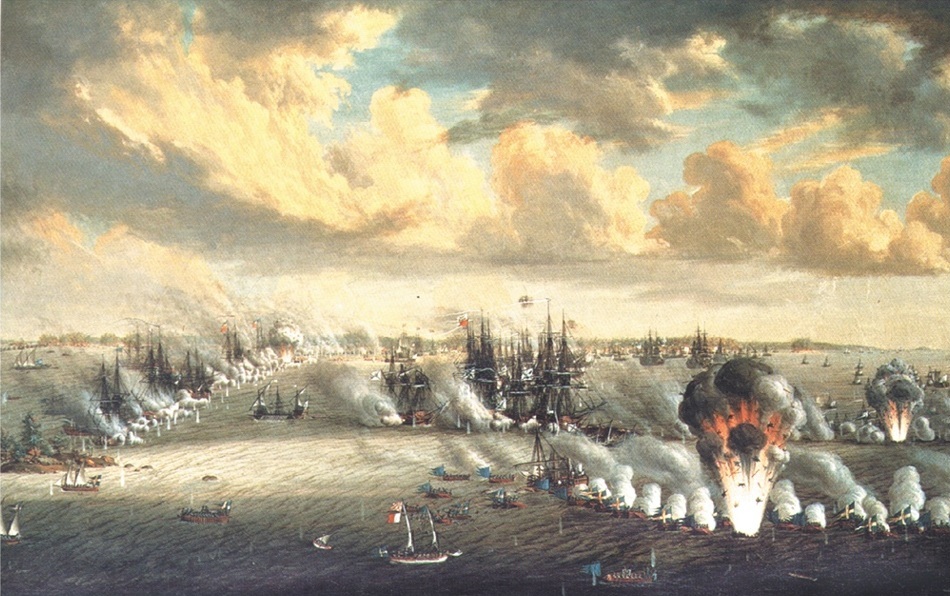 Image source: Johan Tietrich Schoultz
Petter Hagberg (Brita Nilsdotter) was born in 1756 in Finnerödja, Sweden. In 1785 she married Anders Peter Hagberg who was a soldier of the guard. Shortly after the marriage he was called away to participate in the Russo-Swedish war (1788 – 1790). At a loss without her husband, Brita dressed herself as a man and enlisted in the army to find him. She participated in the Battle of Svensksund (pictured above) and the Battle of Vyborg Bay as a marine. During her time there her commanding officer called out the name "Hagberg" and both she and her husband stepped forward – she found him at last. The two kept her sex a secret. Later, at the battle of Björkö Sund, Brita was wounded and ordered below deck to have her wounds taken care of. She went unwillingly and her sex was revealed. After the war she was given a pension (unheard of at the time) and was granted a license to trade (also unheard of for a married woman). She was awarded a medal of bravery and given a military funeral.
Commitment

Woman who became a soldier to find her husband: Britta Hagberg
Luke 14:34–35 Conclusion: Parable of the Salt
"Salt is good, but if salt loses its flavor, how can its flavor be restored?
It is of no value for the soil or for the manure pile; it is to be thrown out. The one who has ears to hear had better listen!"
Need examples of what it means in practice today.
What it means in practice today
Time
Money (problem of tithing)
Ambitions & aspirations
Relationships
Thoughts (mindshare)
Emotional focus (love)
Examples

Carpet in the hall and stairs (Calvin—God has given variety of food)
Jesus took his disciples away for a while to rest
Jesus, All for Jesus
Jesus, all for Jesus
Jesus, all for Jesus
All I am and have, and ever hope to be
All of my ambitions, hopes, and plans
I surrender these into your hands
For it's only in your will that I am free
For it's only in your will that I am free
Jesus, all for Jesus
All I am and have, and ever hope to be
Jennifer Atkinson & Robin Mark ©1991 Word's Spirit of Praise Music
Updated on 2014-11-09 by Andrew Fountain
Login to post comments

140 downloads

1 plays