Andrew Fountain - The Dirge, the Dance, and the End of the World

---
"John the Baptist"
Image source: -
As I said last week, by looking at the teaching of Jesus in the Gospels, we are going back to the basics

The rest of the New Testament is built on this
It is so important that you know what I am preaching is Jesus's words, not mine

The message today is not a nice happy one, so don't blame me—blame Jesus!

That is why I always make sure the words I am preaching from are up on the screen
I hope you all have your Bibles with you
But I want to put the words up because it's Jesus words, you need to hear
---
Matthew 11:7–19
As they went away, Jesus began to speak to the crowds concerning John: "What did you go out into the wilderness to see? A reed shaken by the wind?
What then did you go out to see? A man dressed in soft clothing? Behold, those who wear soft clothing are in kings' houses.
What then did you go out to see? A prophet? Yes, I tell you, and more than a prophet.

 

This is he of whom it is written, "'Behold, I send my messenger before your face, who will prepare your way before you.'
Truly, I say to you, among those born of women there has arisen no one greater than John the Baptist. Yet the one who is least in the kingdom of heaven is greater than he.
From the days of John the Baptist until now the kingdom of heaven has suffered violence, and the violent take it by force.
For all the Prophets and the Law prophesied until John,
and if you are willing to accept it, he is Elijah who is to come.
He who has ears to hear, let him hear.

 

"To what should I compare this generation? They are like children sitting in the marketplaces who call out to one another,
'We played the flute for you, yet you did not dance;
we wailed in mourning, yet you did not weep.'
For John came neither eating nor drinking, and they say, 'He has a demon!'
The Son of Man came eating and drinking, and they say, 'Look at him, a glutton and a drunk, a friend of tax collectors and sinners!' But wisdom is vindicated by her deeds."
Version: based on NET Bible
---
Some children want to play but they are having trouble getting the others to join in

Let's play funerals... (No! We don't want to play funerals!)
Let's play weddings then... (No, we don't feel like it)

God is about the most amazing project

to turn mourning into dancing,
to turn death into life
to turn funerals into a wedding

But this is not the kind of God people want

People say "My kind of God would do this... or do that..."

God is calling out to them but they won't listen
"If there's a God, why does he allow earthquakes and death"

There's a song about that, John the Baptist sang it.
It's called "Repent and turn back to God"

"Christians are a happy-clappy bunch who are out of touch with reality"

"They think they are in love with God and are going to a place called heaven"

So the song of mourning is John the Baptist. He is a forerunner, preparing the way for Jesus
You actually have to play both games

You accept the forerunner's warnings, and you can go to the party
There is a death, and then a wedding

We could end the sermon here

And talk about the amazing party that Jesus has prepared for us
Jesus is the bridgroom, and all of God's people who have ever lived, are somehow united into the bride
And he will wipe all the tears from our eyes.
but we are not going to stop, we are going to continue...
Matthew 11:10–15 cont'd
This is he of whom it is written, "'Behold, I send my messenger before your face, who will prepare your way before you.'
Truly, I say to you, among those born of women there has arisen no one greater than John the Baptist.
Yet the one who is least in the kingdom of heaven is greater than he.
From the days of John the Baptist until now the kingdom of heaven has suffered violence, and the violent take it by force.
For all the Prophets and the Law prophesied until John,
and if you are willing to accept it, he is Elijah who is to come.
He who has ears to hear, let him hear.
John was the last of the Old Testament prophets

He did what they all did—call the people to turn away from sin and turn back to God
In other words, "Repent!" —and John was very practical in terms of what this meant
So John was the last and greatest of the old
But what about v.11?

This seems like a strange way of putting it

How can John the Baptist be the greatest, and yet be less than the least?

The clue is in the expression "among those born of women"
If we go over to John's gospel, we see it put in starker terms:
John 1:12–13
But to all who did receive him, who believed in his name, he gave the right to become children of God,
who were born, not of blood nor of the will of the flesh nor of the will of man, but of God.
Later on it is even clearer:
John 3:5–8
Jesus answered, "Truly, truly, I say to you, unless one is born of water and the Spirit, he cannot enter the kingdom of God.
That which is born of the flesh is flesh, and that which is born of the Spirit is spirit.
Do not marvel that I said to you, 'You must be born from above.'
The wind blows where it wishes, and you hear its sound, but you do not know where it comes from or where it goes. So it is with everyone who is born of the Spirit."
cf Matt 11:11 "Truly, I say to you, among those born of women there has arisen no one greater than John the Baptist. Yet the one who is least in the kingdom of heaven is greater than he. "
Now John had the Holy Spirit, but not in the same way that he is available to us

Everything after John is different
We are now in a totally new era

In God's grace we have a gift that they did not enjoy—the presence of the Kingdom, the indwelling presence of the King

Jesus' coming brought a new level of indwelling. The Spirit is now our

comforter
encourager
the channel of the Father's love to us
the felt presence of Jesus

EVERY SINGLE ONE of us has more than John the Baptist

I could stop here and make this a very encouraging message about the blessings of being in the Kingdom

Even though John was so great, we have more!!
The honour and blessing of being in the Kingdom is so wonderful!
Elijah
But I am going to go on and take this message to another level, that we might not find so comfortable
What is the connection between John the Baptist and Elijah?
Now I want to look at John the Baptist for a few minutes and compare him with the Old Testament prophet Elijah
"Elijah with Ahab & Jezebel"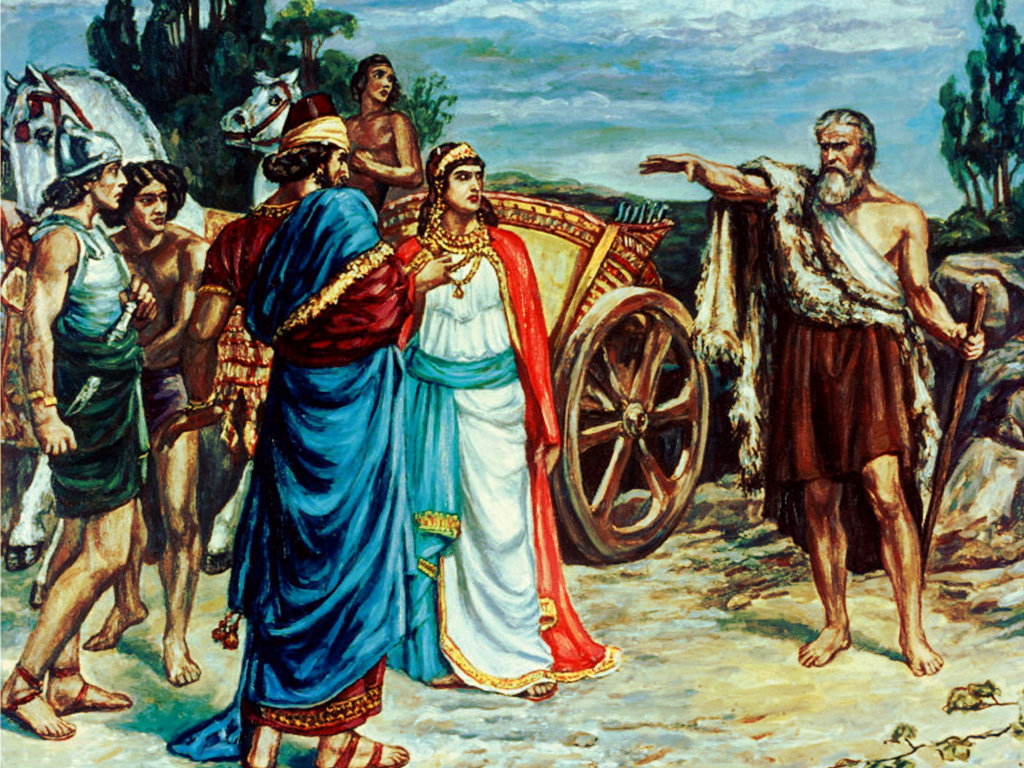 Image source: -
Elijah appeared at a very bad time in Israel's history
The nation was ruled by the notorious pair, Ahab and Jezebel
Both preached a message of warning people to turn back to God
Just like John, the Spirit was on him powerfully and he lived in the wilderness (not desert)
"River Jordan"
Image source: -
He worn rough clothing and lived a very basic lifestyle "Clothes made of camel's hair and a leather belt"
There's a story back in the Old Testament about the king's servants who encountered a prophet.

When they got back to the king he said:

"What kind of man was he who came to meet you and told you these things?"

"He wore a garment of hair, with a belt of leather about his waist."

And he said, "That would be Elijah!" 2Ki 1:7,8

But John was preparing the way for Jesus, who was Elijah preparing the way for?

Just as John pointed out Jesus, and then baptized him, launching his ministry,
So Elijah commissioned Elisha ("God is my salvation")
Elisha was a "Jesus" figure.

He made food multiply, healed lepers, raised the dead, opened blind eyes

Now Elijah called fire down from heaven and destroyed his enemies (A very John the Baptist thing to do)
But Elisha was very different. Story of a great Syrian army, he prayed they would be blind, told them to get down off their chariots and he led them into the city

Shall we kill them all? No, give them a great feast. God opened their eyes they ate the feast, went home, and never again raided the nation.

Wow! How like Jesus! If you are not a follower of Jesus this afternoon, this is what he offers... (forgive)
Moses
In this passage we only have the connection between John the Baptist and Elijah mentioned

But very often in the Bible, Moses and Elijah are put together
Moses, Elijah & John
|   |   | prepares the way for | from | to |
| --- | --- | --- | --- | --- |
| Moses | -> | Joshua (=Saviour) | Slavery | Promised land |
| Elijah | -> | Elisha (=My God Saves) | judgement | grace |
| John | -> | Jesus (=Saviour) | Old Kingdom | New Kingdom |
Each one is going up a level from the previous
But Jesus takes us to a new order
There are some remarkable parallels between Moses and John the Baptist as well

Supernatural events at birth
Preached prophetic warnings
Spirit on him
Lived in the Wilderness
Had a king as arch-enemy
Successor was "saviour"
Prepared the way for successor
Heard from God about successor and commissioned him
Lived at the end of era
Next era was a "new order"
Didn't live to see new era
The Two Witnesses
We are now going to look at a passage in Revelation

This is a notoriously hard book, but I have had the joy of teaching courses on Revelation on many occasions and have been able to study it in depth.
Although on the surface it seems hard, and even weird, when you study it in depth you see that virtually all the images are build on other parts of God's Word,

and the meaning in Revelation can be understoon from what it means in the rest of Scripture

That is not to say there are still many difficulties, but I like to concentrate on what is clear and not get sidetracked by the elements that are obscure

In Revelation 11, we have a pictorial parable of the last days
Jesus is about to return

Just as John the Baptist prepared the way the first time, there will be a preparer the second
People sometimes use the word "forerunner" (careful about...)
Who will it be? Can you guess?
Moses, Elijah, John & ?
|   |   | prepares the way for | from | to |
| --- | --- | --- | --- | --- |
| Moses | -> | Joshua (=Saviour) | Slavery | Promised land |
| Elijah | -> | Elisha (=My God Saves) | judgement | grace |
| John | -> | Jesus (=Saviour) | Old Kingdom | New Kingdom |
| ? | -> | Return of Jesus | Old creation | New Creation |
Finally we go beyond time and into eternity
It will be all of God's people!

There is a passage in Revelation where the forerunners are pictured as two witnesses (two because of O.T. courtroom)
What is a witness in a law court?
Let's look at John as a witness, and then our comissioning
Witnesses
A man came, sent from God, whose name was John.
He came as a witness to testify about the light, so that everyone might believe through him…
On the next day John saw Jesus coming toward him and said, "Look, the Lamb of God who takes away the sin of the world!"
Acts 1:8 "But you will receive power when the Holy Spirit has come upon you, and you will be my witnesses in Jerusalem, and in all Judea and Samaria, and to the farthest parts of the earth."
Why two? "…at the testimony of two or three witnesses every matter may be established." Mat 18:16
Now let's look at the witnesses of the end times

They are a composite of all the forerunners before them...
In particular they are filled with the Spirit and can do signs and wonders
Satan tries to stamp them out, but just when they think they are gone, they rise up again
This culminates in Jesus returning in power and glory and us ascending to meet him
We are them!
---
Revelation 11:3–15
And I will give power to my two witnesses to prophesy… dressed in sackcloth…
They have the power to shut the sky so that it does not rain during the time they are prophesying.
They have power to turn the waters to blood and to strike the earth with every kind of plague whenever they want.
When they have completed their testimony, the being that comes from the abyss will make war on them and conquer them and kill them…
And those who live on the earth will rejoice over them and celebrate, even sending gifts to each other, because these two prophets had tormented those who live on the earth.
But after a short time a breath of life from God entered them, and they stood on their feet, and tremendous fear seized those who were watching them.
Then they heard a loud voice from heaven saying to them: "Come up here!"
So the two prophets went up to heaven in a cloud while their enemies stared at them…
Then the seventh angel blew his trumpet, and there were loud voices in heaven saying:
"The kingdom of the world
has become the kingdom of our Lord
and of his Christ,
and he will reign for ever and ever."
Version: based on NET Bible
---
Revelation 11 tells us that even as

Moses prepared the way for Joshua
Elijah prepared the way for Elisha
and John the Baptist prepared the way for Jesus first coming
so God's people in the end times are to prepare the way for his return

11:5, 6 Moses & Elijah imagery
11:7–10 Persecution and martyrdom
11:11,12 Resurrection and welcoming the returning Jesus

Please remember that this is a parable

In some ways it has been happening since Jesus commissioned us to be witnesses
The enemy has tried and tried to stamp out the church
It has come back stronger every time

But I believe that this will be intensified at the end of the age

And that is where we come in
"John the Baptist"
Image source: -
I think that the return of Jesus will probably be in our lifetimes (because the rate of change is unsustainable)
We are probably the generation that will welcome Jesus's return
The negative:

Be prepared—there are tough times ahead!
some of us may be called to suffer (although none of us can truly be hurt)

The positive

Increasing empowerment in signs, wonders and prophecy
Then we will move from this old earth, to a new heaven and a new earth

The calling—a new identity!

There is a special calling on us to be a testimony to the power of Jesus
We prepare the way by pointing out Jesus
We prepare the way by gathering a people for Jesus' return

You might say "I didn't sign up for this! I was just told that being a Christian took away your problems and gave you a nice happy life"

I would not be a faithful pastor if I didn't warn you, and teach you about what is coming!

This old earth is getting worn out

The New Creation is coming
This generation, I believe, is called to prepare the way for the new

Prepare for empowerment by the Spirit greater than Moses, greater than Elijah, greater than John
Prepare to be faithful as witnesses
Some of us may suffer, some even die (for a brief time—we can't be permanently killed)

But what is coming will be so amazing, so bright and full of joy

All our mourning will be turned into dancing!

What should I do?

Step into your identity as a forerunner
Get serious about your mission!
Get serious about empowerment
Updated on 2014-01-20 by Andrew Fountain
Login to post comments

147 downloads

1 plays