Andrew Fountain - Anxiety, Fear & Security - the Rich Fool

---
Full sermon notes - Anxiety, Fear & Security—the Rich Fool
"Anxiety & Fear – The Rich Fool"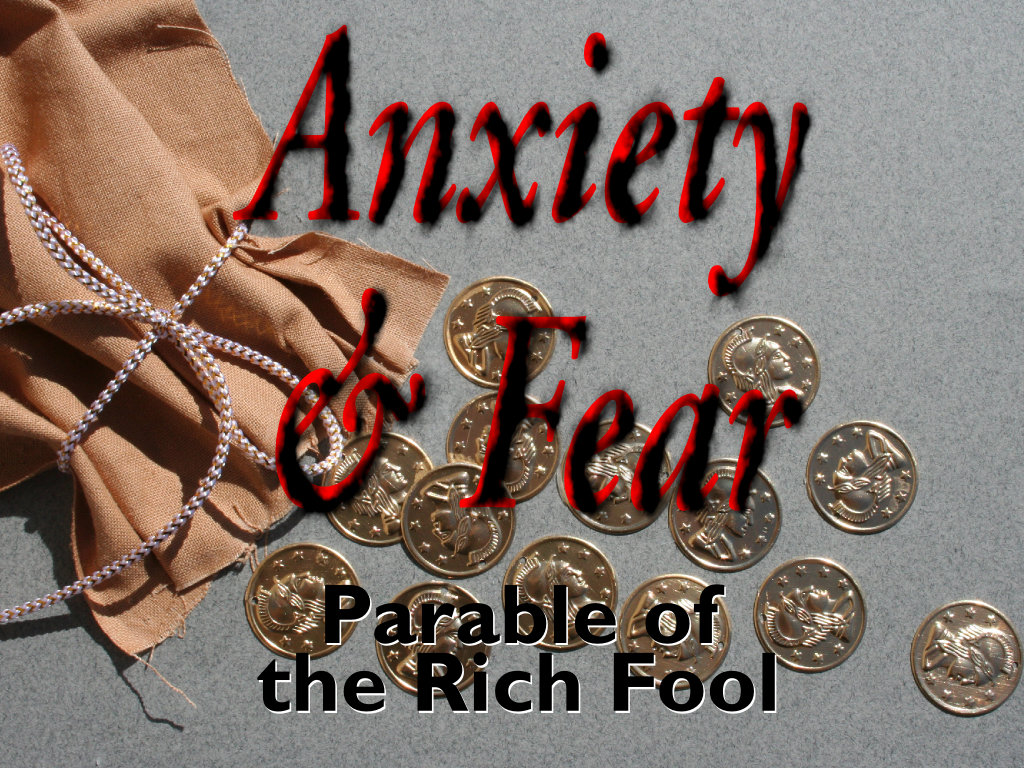 Image source: Lars Hammar
By looking at the teaching of Jesus in the Gospels, we are going back to the basics

The rest of the New Testament is built on this

Jesus said that the one who hears his words and does them is like a man who builds his house on the rock.

Notice he does not say "Hear's Andrew Fountain's words"
It is so important that you know what I am preaching is Jesus's words, not mine
I have no authority apart from Jesus
That is why I always make sure the words I am preaching from are up on the screen
Ideally you would all have your Bibles with you
But even if you did, I would still do this, because it is a metaphor for what is happening

I am not preaching, Jesus is!
I am just the channel
This is the preacher (the screen)

There are many preachers that are more inspiring communicators than me!

But that doesn't bother me, because if you are convinced because my skill to inspire you, then you are building on me, not on the rock!
Fear and Anxiety
"Anxiety disorders are the most common of all mental health problems." Health Canada
"Everyone feels anxious at certain times. Workplace pressure, planning a big event or writing an exam can cause feelings of wariness, or even fear…"
"Anxiety… affects children as well as adults."
"Anxiety… affects behavior, thoughts, emotions and physical health."
"Those with anxiety… often suffer from depression, eating disorders or substance abuse as well."
Luke 12
4–12 Don't fear people!
13–21 Parable of the Rich Fool
22–34 Don't be anxious about food or clothing!
Most preachers avoid this parable—applying it is uncomfortable
Those who do preach it, usually don't take account of the setting, the context
12:4–12 Don't fear people!
Don't fear physical harm
God is the only one anybody should be afraid of
God values you, so don't fear!

 

Be proud of Jesus—don't be afraid to tell people you follow him

 

Don't be anxious—Jesus will give you the words to say
The main application in Jesus's day was persecution, but still very relevant
---
Luke 12:4–34
Don't Fear People
"I tell you, my friends, do not fear those who kill the body, and after that have nothing more that they can do.
But I will warn you whom to fear: fear him who, after he has killed, has authority to cast into hell. Yes, I tell you, fear him!
Are not five sparrows sold for two pennies? And not one of them is forgotten before God.
Why, even the hairs of your head are all numbered. Fear not; you are of more value than many sparrows.

 

"And I tell you, everyone who acknowledges me before men, the Son of Man also will acknowledge before the angels of God,
but the one who denies me before men will be denied before the angels of God.
And everyone who speaks a word against the Son of Man will be forgiven, but the one who blasphemes against the Holy Spirit will not be forgiven.

 

And when they bring you before the synagogues and the rulers and the authorities, do not be anxious about how you should defend yourself or what you should say,
for the Holy Spirit will teach you in that very hour what you ought to say."
Parable of the Rich Fool
Someone in the crowd said to him, "Teacher, tell my brother to divide the inheritance with me."
But he said to him, "Man, who made me a judge or arbitrator over you?"
And he said to them, "Take care, and be on your guard against all covetousness, for one's life does not consist in the abundance of his possessions."

 

And he told them a parable, saying, "The land of a rich man produced plentifully,
and he thought to himself, 'What shall I do, for I have nowhere to store my crops?'
And he said, 'I will do this: I will tear down my barns and build larger ones, and there I will store all my grain and my goods.
And I will say to my soul, Soul, you have ample goods laid up for many years; relax, eat, drink, be merry.'
But God said to him, 'Fool! This night your soul is required of you, and the things you have prepared, whose will they be?'
So is the one who lays up treasure for himself and is not gathering riches to God."
Don't be anxious about food or clothing
And he said to his disciples, "Therefore I tell you, do not be anxious about your life, what you will eat, nor about your body, what you will put on.
For life is more than food, and the body more than clothing.
Consider the ravens: they neither sow nor reap, they have neither storehouse nor barn, and yet God feeds them.

Of how much more value are you than the birds!

And which of you by being anxious can add a single hour to his span of life?
If then you are not able to do as small a thing as that,

why are you anxious about the rest?

Consider the lilies, how they grow: they neither toil nor spin, yet I tell you, even Solomon in all his glory was not arrayed like one of these.
But if God so clothes the grass, which is alive in the field today, and tomorrow is thrown into the oven,

how much more will he clothe you, O you of little faith!

And do not seek what you are to eat and what you are to drink, nor be worried.
For all the nations of the world seek after these things, and your Father knows that you need them.

 

Instead, seek his kingdom, and these things will be added to you.
"Fear not, little flock, for it is your Father's good pleasure to give you the kingdom.
Sell your possessions, and give to the needy. Provide yourselves with moneybags that do not grow old, with a treasure in the heavens that does not fail, where no thief approaches and no moth destroys.
For where your treasure is, there will your heart be also.
Version: based on ESV
---
You have nothing to fear from people

They ultimately have no power—only God does
So concentrate on your relationship with him!

Are you afraid of anyone right now who has power to do you harm?

Jesus says "don't be!"
v.7 The hairs of your head are numbered

Now Christians have often been put in prison for what they believe, and some are right now

Notice that Jesus does say he will get them out
But most of the problem is fear
The fear is worse than the actual suffering
ex. of being at dentist (depends on your perspective)

If you are not following Jesus, then actually your fear is justified!
A much bigger problem in Canada is fear of what people think of us

We can be more afraid of what others think that of what God thinks
In fact that fear can control us
Are you more worried about what others think of you than what God thinks of you?

The solution to this is to set your mind on God's valuation of you.

Read v.6,7 again
Parable of the Rich Fool
Received a gift of goods
Problem of goods
Present plan for goods
Future plan for goods
Goods have to be left behind
---
Luke 12:4–34
The problem is that on the face of it, it seems like he is doing the right thing.
Suppose your friend comes to you and says

I have just had a massive inheritance from family I didn't even know about
What should I do with it?
Then we might well advise them to invest it well, maybe invest in a new home

So what is the problem??
v.21 He is gathering for himself and not for God

Behaving as if it belongs to him

This is his security
So why is this parable here in the middle of a section on fear and anxiety?

If you ask people what would be the solution to their anxiety problems and bring security?

Many would agree that a huge gift of wealth would go a long way.

But actually the reverse is true!

Wealth often brings more anxiety and does not give us the slightest bit of real security.

The chapter gives two answers to security:

Trust in massive wealth
Day-by-day trust in a God who loves and values you
Don't be anxious about food or clothing!
Don't be anxious about food or clothing (22–23)
  God feeds the birds (24)
    Can you even add a single hour to your life? (25)
    No, so why be anxious? (26)
  God clothes the lilies and grass (27–28)
So Don't be anxious about food or clothing (29–30)
Instead, put the Kingdom first and everything else will be given to you (31–34)
---
Luke 12:4–34
Does this mean we should not have possessions?

Some have interpreted it this way

Does this mean we should not have retirement savings?

Proverbs 6:6 praises the ant who prepares in the summer for the winter

My Grandfather's investments
Where are you investing?
How do you do this?

Sometimes it is financial, like he says
Not a communist system
Does not always help people to give (Paul says if they don't work they shouldn't eat)
But nevertheless, giving to the kingdom is a good investment
Jesus' Solution to Anxiety
Don't fear others, focus on pleasing him
Don't be anxious about possessions: invest your time and energy in the Kingdom
Updated on 2013-12-16 by Andrew Fountain
Login to post comments

74 downloads

4 plays