Gratitude is Good (very, very good)
No Audio download available.
Sermon Outline - Gratitude is Good (very, very good)
Outline
God loves Gratitude
Gratitude is Good for you (very good)
A Practical Plan
At the end of this talk my goal is that you will be:
more thankful
as a result you will be happier
and less likely to be depressed
people will like you more
but much more than any of that

God loves us to be thankful
so you will increase his pleasure in you.
We are just finishing a series on Philippians, and here are a couple of examples of gratitude:
Philippians 1 & 4
I thank my God every time I remember you.
Be anxious about nothing, but in everything

by prayer [worshiping]
and petition [expressing need]
with thanksgiving [gratitude]
      let your requests be made known to God.

And the peace of God [his own peace]

      which surpasses all understanding
            will stand guard over your hearts and your minds
            in Christ Jesus
All Paul's writings, and in fact all of the Bible is full of encouragements to be thankful
Colossians 3:15–17
And let the peace of Christ rule in your hearts,
      for which purpose you were chosen in one body;
      and be thankful [to God].
Let the word of Christ dwell in you richly:
      in all wisdom, teaching and admonishing one another
      in psalms and hymns and spiritual songs, singing with thanks in your hearts to the Lord.
And whatever you do in word or deed,
      do all in the name of the Lord Jesus,
      giving thanks to God the Father through him.
Occurs three times in these verses

Our hearts (a continual spirit of thankfulness)
The way we talk to each other
Doing whatever we do in a spirit of thankfulness
2. Gratitude is Good for you (very good)
Thankfulness makes us happier

One of the single most effective ways of being happy is to increase your level of thankfulness
Here are some of the advantages that science has discovered:
A. Thankfulness makes us happier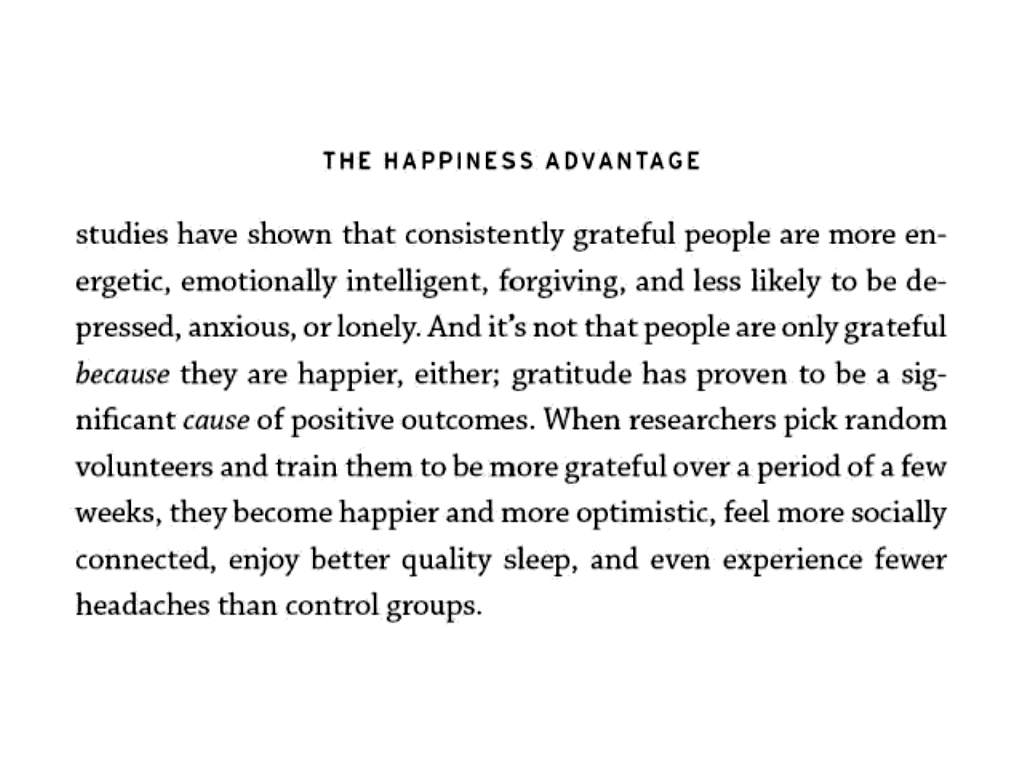 Image source: Shawn Achor
B. Thankfulness makes us healthier.
16% fewer physical symptoms
10% less physical pain
8% more sleep, with improved quality
Depressive symptoms reduced 30%
Blood pressure reduction
Even studies that suggested an increase in lifespan
C. Thankfulness helps us socially
Studies have shown that increasing thankfulness has the results:
More Friendly
Better Marriage
More Respect
More Friends
Deeper Relationships
D. Numerous other benefits
Personality

More Optimistic
More Self-Esteem

Emotional

More Resilience
More Good Feeling
Less Depression

Career success
3. A Practical Plan
God gave us a plan in Ephesians 5:20
"…giving thanks at all times and for all things to God the Father in the name of our Lord Jesus Christ"
What did Jesus do?
Here is a suggestion from Shaw Achor:
Three Good Things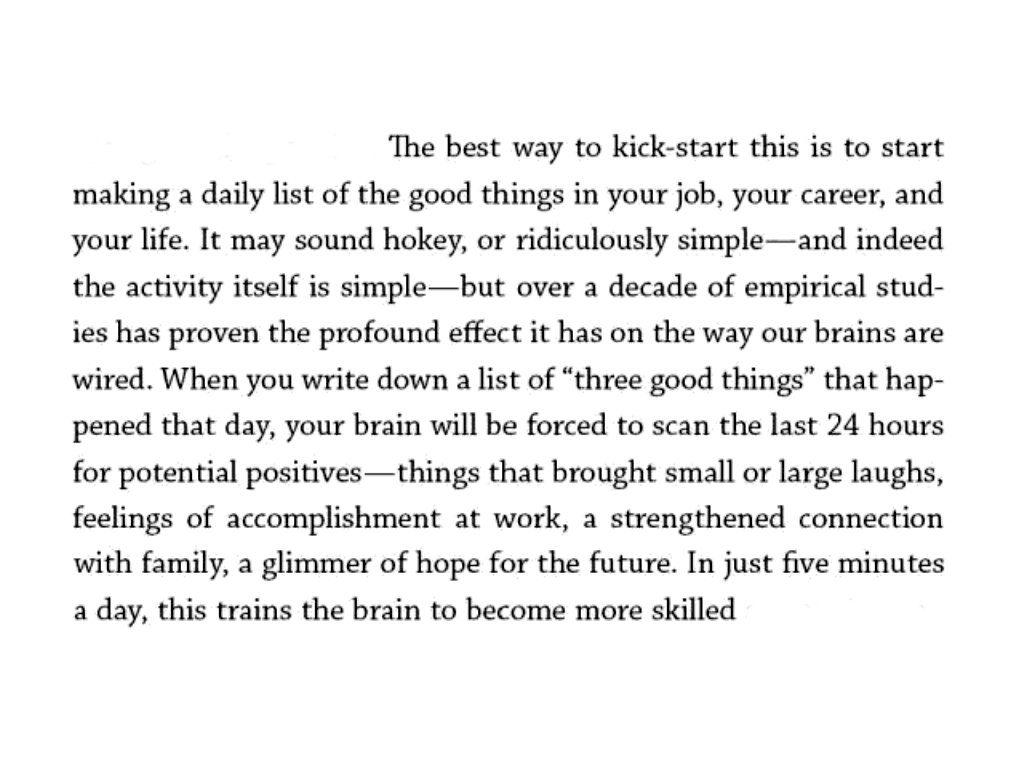 Image source: Shawn Achor
This exercise works!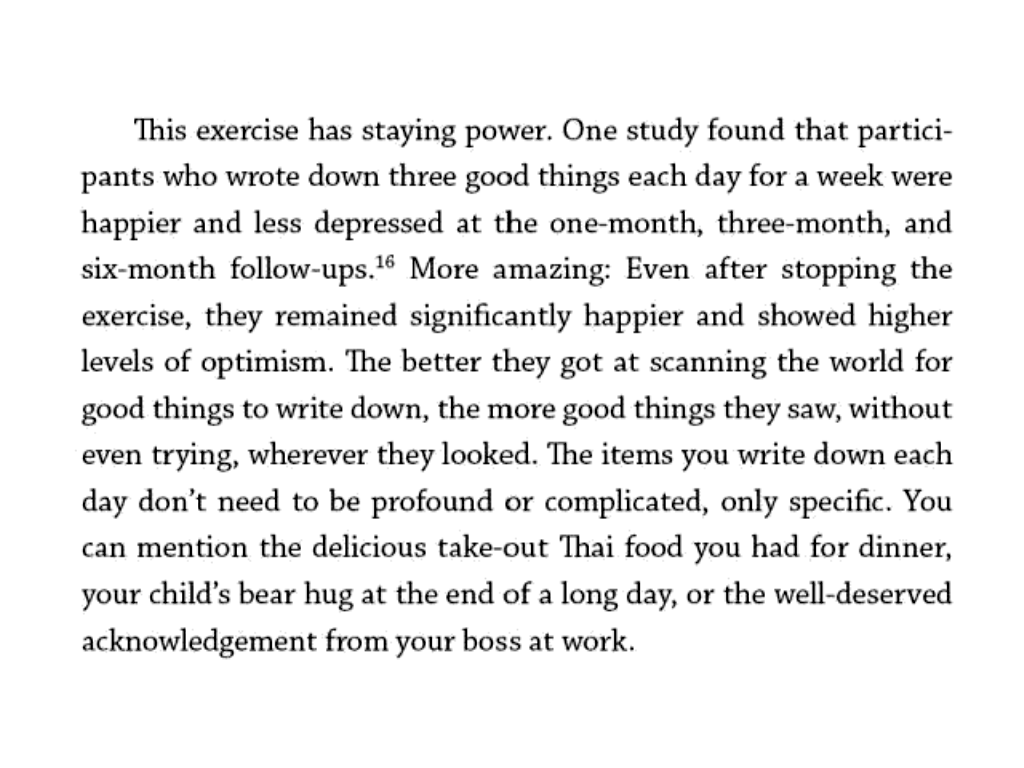 Image source: Shawn Achor
Studies have shown that three months or more can give you 10% across the board increase.

Same as doubling your salary
One study showed 26% increase!

Try to make it a "ritual" (example of the family who did it before dinner and the kids wouldn't eat until...)
Thankfulness for basic necessities?
Food
Shelter
clothing
Safety and Security
Freedom from physical pain
Access to healthcare
Hygiene
Stability of life
Thankfulness for added blessings?
Excellent food
Beautiful and comfortable homes (comparatively)
Wonderful freedom of choice of clothing
Free time—don't have to work 24/7
Access to culture and entertainment
Education
Easy transport
Communication with friends and family
Opportunities to make a difference to the lives of others
Spiritual Blessings Now?
Forgiveness of sin
Peace with God
Loved and adopted by God
God's care over our lives now
The gift of his Spirit within us
An opportunity to significantly serve God
The community of Christ
In Eternity?
Secure for eternity
A future inheritance which is unimaginably wonderful
To reach the potential God has for each of us
To experience the love of Christ in its full intensity
2 Corinthians 9:15
"Thanks be to God for his indescribable gift!"
Thanks for salvation (It is a gift that you can receive!)
Video taken from Louie Schwartzberg's TED talk Creative Commons
Useful resource for finding out more:
Updated on 2018-05-31 by Andrew Fountain