Parable of the Seed that Dies
— John 12:24 — Andrew Fountain: Oct 27, 2013
How come the early church spread so quicky?

Within a generation they were reaching out to the edges of the known world

If they had continued at the same rate, then in just a few generations every man, woman and child would have been saved!
So what was different about them compared with us?
Question

We are supposed to be like Jesus, both in character and in gifting
We are supposed to be his voice, his hands, his life lived out
He was the light of the world, and his light shines through us
If every single Christian on this planet right now, was 100% like Jesus, how long would it take to evangelize the world?
If we were even 1% like Jesus, it would make a massive difference.

Two ways they were much more like Jesus than us:

The level of empowerment of the Spirit
The self-sacrificial commitment to one another

So how do we have the life of Jesus flowing out of us?

We have to die!
We have to be born of God
The life of Jesus has to be in us and flowing through us
John 12:24
"Truly, truly, I say to you,
unless a grain of wheat falls into the earth and dies, it remains alone;
but if it dies, it bears much fruit."
And whoever does not take up his cross and follow me is not worthy of me.
Whoever finds his life will lose it, and whoever loses his life because of me will find it.
Not technically a parable, but more of an extended metaphor
But it is an underlying theme that gets repeated many times throughout Jesus' ministry
Matthew, Mark and Luke report Jesus repeating a similar saying:
Joe Crummey Video
What does it mean to die??
Primarily this death results in loving others sacrificially

Just as Jesus died for those the Father loved, so must we

John wrote a whole letter to unpack Jesus' teaching on death and life

we die to the old, and then receive new life from Jesus
1 John 3:14,16
We know that we have crossed over from death to life because we love our fellow Christians…
We have come to know love by this: that Jesus laid down his life for us; thus we ought to lay down our lives for our fellow Christians.
So going back to the early church
Acts 2:43–47
Reverential awe came over everyone, and many wonders and miraculous signs came about by the apostles.
All who believed were together and held everything in common,
and they began selling their property and possessions and distributing the proceeds to everyone, as anyone had need.
Every day they continued to gather together by common consent in the temple courts, breaking bread from house to house, sharing their food with glad and humble hearts,
praising God and having the good will of all the people. And the Lord was adding to their number every day those who were being saved.
We love the supernatural gifts given at Pentecost

But are we prepared to die to self like they did?

Note that this was an emergency situation

Later Paul talks about those in the church of Thessalonica who didn't work and expected other Christians to feed them

He says, "If anyone is not willing to work, neither should he eat."
This was an emergency...

We are not called here to never have private possessions and always have everything in common
But in a sense our possessions are never private—they are always to be shared

See the close connection between v.43—signs and wonders, and v.44 love for one another

We see exactly the same thing the next time it refers to supernatural power
Acts 4:33–35
With great power the apostles were giving testimony to the resurrection of the Lord Jesus, and great grace was on them all.
For there was no one needy among them, because those who were owners of land or houses were selling them and bringing the proceeds from the sales
and placing them at the apostles' feet. The proceeds were distributed to each, as anyone had need.
"great grace was on them all" —not "they motivated themselves to be more loving"
Examples
"Amy Carmichael"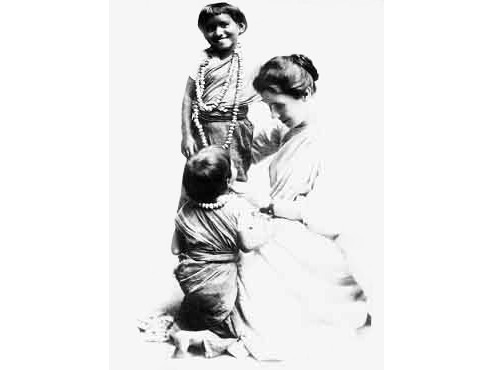 Image source: unknown
The story
A Chance to Die, or The Story of a Lover and her Beloved
Much of what this looks like comes under "Hospitality"

Heb 13:2 Do not neglect hospitality, because through it some have entertained angels without knowing it.
One example was Abraham (at least to start with)
Mat 25:34–36
Then the king will say to those on his right, 'Come, you who are blessed by my Father, inherit the kingdom prepared for you from the foundation of the world.
For I was hungry and you gave me food, I was thirsty and you gave me something to drink, I was a stranger and you invited me in,
I was naked and you gave me clothing, I was sick and you took care of me, I was in prison and you visited me.'
1 John 3:23–24, 4:12–13
Now this is his commandment: that we believe in the name of his Son Jesus Christ and love one another, just as he gave us the commandment.
And the person who keeps his commandments resides in God, and God in him. Now by this we know that God resides in us: by the Spirit he has given us.
No one has seen God at any time. If we love one another, God resides in us, and his love is perfected in us.
By this we know that we reside in God and he in us: in that he has given us of his Spirit.
So have I made you all feel really guilty now?

Can you guilt people into loving more?
Not genuine love!!

So how does it happen?
Jesus' words create life

As we receive his words, the Spirit causes them to germinate like seeds and create life
John 6:63 "The Spirit is the one who gives life; human nature is of no help! The words that I have spoken to you are spirit and are life."

The words that I have spoken to you are spirit and are life.!!!!

That is why we are studying the parables

Jesus spoke the words at creation: "let there be light" —his words are not just words, they have creative power

It's Jesus words that create the new creation inside you.

What are you going to do this afternoon with Jesus's words?

If you receive them, they are life, they are Spirit and power, they transform
New creation life grows up in you

Jesus said that he is our food and drink
What can I do? I don't have a home to invite people to?
Something very simple

One of the biggest scourges in our city is lonliness

Find a couple of people here who you think might be lonely

Die to your own shyness and call them

Ask Jesus for his life to flow out through you

Or just ask him

Say "Jesus I am totally committed to following you and dying to myself
I am not sure what this will look like, but I am committed to your life not mine."
Galatian 5:22–24
But the fruit of the Spirit is love, joy, peace, patience, kindness, goodness, faithfulness,
gentleness, self-control; against such things there is no law.
And those who belong to Christ Jesus have crucified the flesh with its passions and desires.
It's the flesh or the Spirit

To be filled with the Spirit, the flesh needs to die (v.24)
And the Spirit in you looks like 22-23

Which is the same as saying Jesus in us

If all of us are just 1% filled with Jesus, we can turn this city upside down!
Updated on 2013-12-05 by Andrew Fountain