Eating Christ's Flesh and Drinking His Blood pt.2
— John 6:32-63
Andrew Fountain — Jan 23rd, 2011
Review: John 6
"…it is not Moses who has given you the bread from heaven, but my Father is giving you the true bread from heaven.
For the bread of God is the one who comes down from heaven and gives life to the world."
So they said to him, "Sir, give us this bread all the time!"
Jesus said to them, "I am the bread of life. The one who comes to me will never go hungry, and the one who believes in me will never be thirsty.
John 6 cont'd
I am the living bread that came down from heaven. If anyone eats from this bread he will live forever. The bread that I will give for the life of the world is my flesh."
Then the Jews who were hostile to Jesus began to argue with one another, "How can this man give us his flesh to eat?"
Jesus said to them, "I tell you the solemn truth, unless you eat the flesh of the Son of Man and drink his blood, you have no life in yourselves.
The one who eats my flesh and drinks my blood has eternal life, and I will raise him up on the last day.
John 6 cont'd
For my flesh is true food, and my blood is true drink.
The one who eats my flesh and drinks my blood resides in me, and I in him.
Just as the living Father sent me, and I live because of the Father, so the one who consumes me will live because of me.
Then many of his disciples… said, "This is a difficult saying! Who can understand it?"
Jesus… said to them, "Does this cause you to be offended? …The Spirit is the one who gives life; the flesh is of no help at all! The words that I have spoken to you are spirit and are life.
We saw that v.57 is a key verse to understanding this passage
Jesus compares our relationship with him to his relationship to the father
We must feed on him as he feeds on the Father.
He does this by utter submission and dependence, just as we should submit to Christ and depend on him.
Pattern of relationship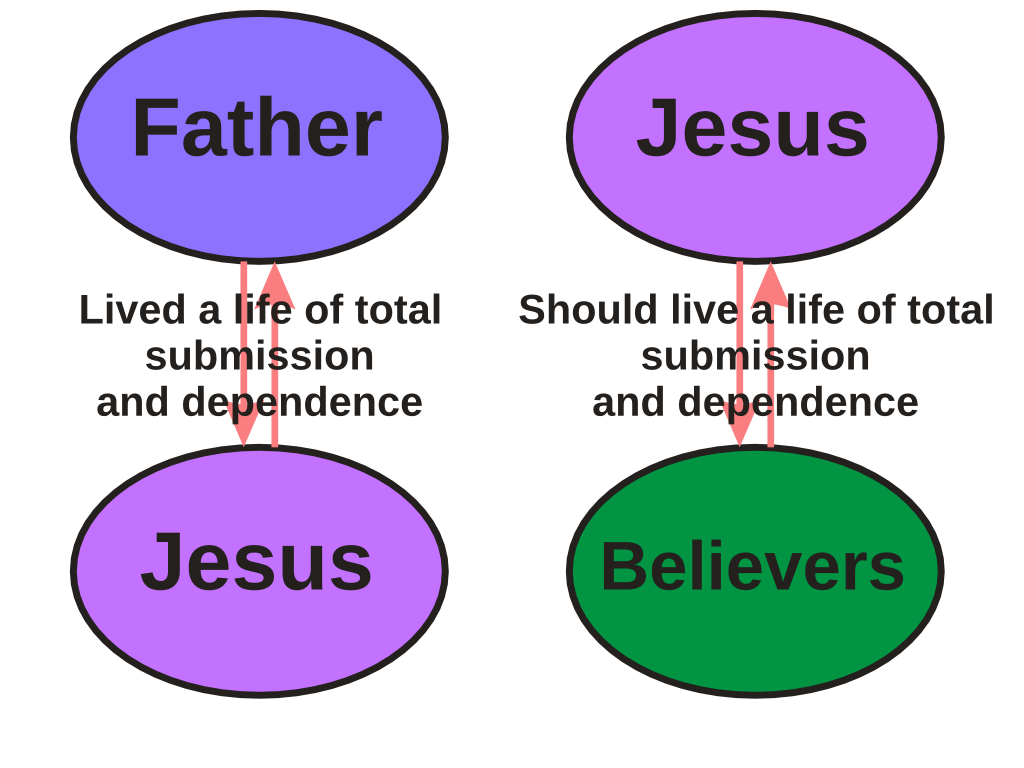 Jesus placed himself into a relationship with the Father which is a pattern for our relationship with him.
Key: John 4:32-34
But he said to them, "I have food to eat that you know nothing about."
So the disciples began to say to one another, "No one brought him anything to eat, did they?"
Jesus said to them, "

My food is to do the will of the one who sent me and to complete his work

."
We saw the same imagery when Jesus talked to the woman at the well:

There a pattern in these verses.
Jesus describes our relationship with him in the same terms as his relationship with the Father.
In chapter 4, Jesus had been so busy serving his Father that he had not eaten.
Doing the Father's will, was his food, because his obedience was so complete that it amounted to a moment by moment dependence.
Summary: How Jesus relates to his Father
Jesus lived every moment and breathed every breath to obey the will of the Father.
To do the Father's will was his drink, his meat. It was everything to him.
He did not do anything in his own strength but did everything by the power that flowed from the Father.
He is calling us to relate to him in the same way
This might seem like

death

, but actually it is the way to

life
Battleship
---
I want to spend some time now looking at the image of eating...
Light from the Old Testament
The word blood is used frequently in the Bible to mean violent death. 2 Sam 3:28 "Afterward, when David heard it, he said, "My kingdom and I are guiltless before the

Lord

forever of the blood of Abner the son of Ner." and Psalm 30:9: "What profit is there in my blood, when I go down to the pit? will the dust praise You?" There are many places where we read of someone having a man's blood on their head. It means they are guilty of the death of that man. When the Bible refers to blood being poured out or being spilt, or blood anytime outside of the body, it is usually a graphic metaphor for violent death. Two very relevant stories:
"When the wicked came against me to eat up my flesh, my enemies and foes, they stumbled and fell." -Ps 27:2
David was on the run from Saul, he remarked how much he would love a drink from the well of Bethlehem…

he was fighting the Philistines at the time who had captured the town of Bethlehem

"Far be it from me, O my God, that I should do this!
Shall I drink the blood of these men who have put their lives in jeopardy? For at the risk of their lives they brought it." -1 Chron 11:19
Does David literally mean that these are cannibalistic enemies or is he using picture language?

He is talking here about the wicked who want to profit from his death.
They want to kill David because they want to obtain some kind of benefit from his death, e.g. money or power
This example from the Old Testament gives us an insight into what Jesus means by eating his flesh—it means to benefit from his death on the cross.

Interestingly enough, there is an occasion in David's life where he also uses the image of drinking blood.

he gathered a group of mighty men around him

At one point and he remarked how much he would love a drink from the well of Bethlehem.

Three of his mighty men heard this and took him seriously.

They fought their way through the Philistine lines, got water from Bethlehem and brought it back to David.

He says that to drink this water would be like drinking the blood of these men,

not literally their blood, but it would be like profiting from their near death, since they risked their lives for him.

You could say, enjoying the benefits which came at the expense of their lives.
Our Food and Drink
Perhaps the most powerful image that these words have is simply that of the food and drink that sustains our lives.
Food is something we all need moment by moment to sustain us.
We cannot go long without a drink because liquid is vital for our bodies.
Jesus is teaching us that
We need to depend on him utterly,
moment by moment,
in order to survive
Our Food and Drink
There is another place in John's Gospel where Jesus uses an image to demonstrate how the believer is sustained moment by moment from himself.

It is the image of the vine and the branches.
A branch, cut away from the vine, is cut away from the sap—that source of nourishment and fluid flowing up—and would die straight away.
We must be joined to Christ and constantly feeding from him and drawing sustenance from him in order to be sustained.

That is the idea behind this passage, but we must ask
Four Parallels
"Eating and drinking Christ" results in everlasting life
Is there anything else that does?
Trusting/Believing Christ So whatever he means by eating and drinking, it is the same kind of thing as believing because both of them lead to everlasting life.
I am trying to build up a picture here of the images that are used to mean the same thing as eating and drinking.
Coming to Christ

Here, believing and coming are used in a parallel fashion. Their meanings are not identical, but the comparison sheds light on how we should understand each individual image.

obeying Christ's words and abiding in them.
Parallel images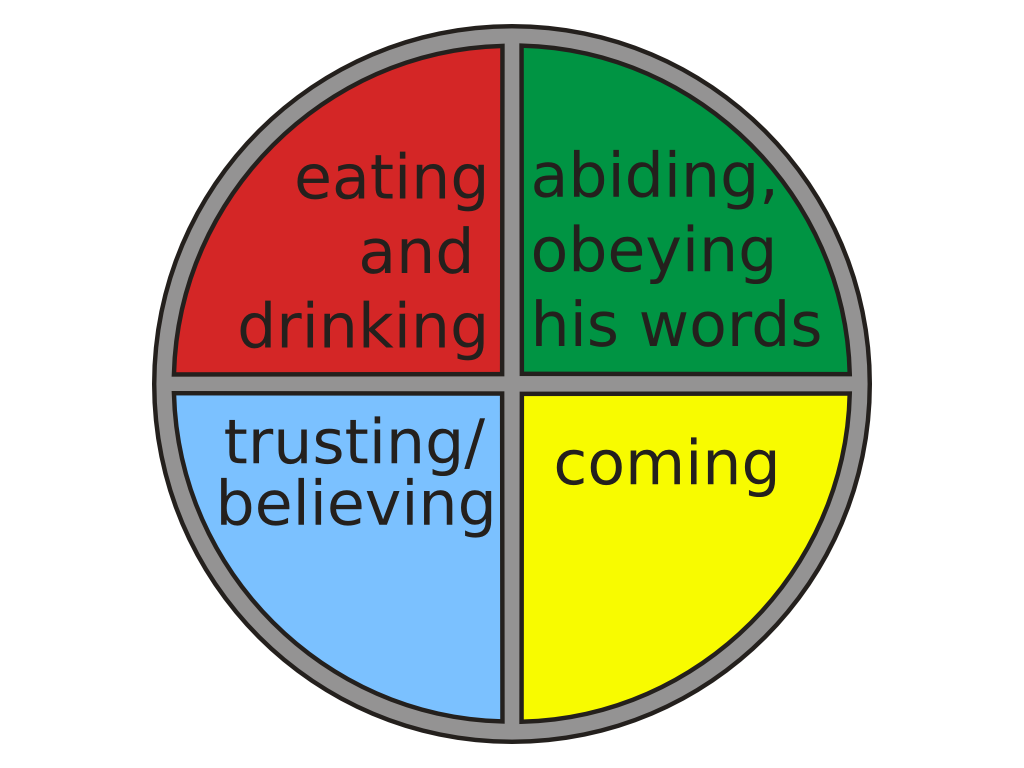 Looking at these references allows us to build up an image of what Jesus is talking about.
Here, quite clearly, eating his flesh and drinking his blood is equivalent to abiding in him

which we learned from chapter 15 is obeying his words.

practical examples

Used to be very shy—new person in church
This is moment by moment
I knew someone was spreading stories about me. Jesus said to go to them.

Very hard to do
Pioneer
pioneer

In Southern Ontario, along the shores of Lake Erie, there is a highway called the Talbot Trail. At the beginning of the last century, it was all just wilderness and Mr. Talbot was commissioned by the government to sell tracts of land. Sales were very poor until it dawned on him that people would not buy land that they could hardly even get to—there were no roads in this wilderness. He decided that he would cut a trail through the forest to open up the interior. Many people followed him and sales prospered. The road is still there and has now grown into a highway which is still called the Talbot Trail.

Jesus has done the same thing. He is the pioneer.

He has cut a trail through this impossible forest so that we can follow him and we can obey.
He is the obedient one, who has lived a life of submission, of dependence, and of following the Father.
His life was not merely a good example to us. By means of our union with him in the Spirit,

his victory becomes ours and we fight a battle that he has already won.

a combination of trust and dependence

example of being in a strange city—trust/follow/depend on someone

If you are not a Christ follower, this is exactly for you as well!
life of God in us by the Spirit
Updated on 2011-01-31 by Andrew Fountain