Online streaming and communion this Sunday, plus other upcoming events
We are praying that we well be back to meeting in person in February, but for now the school is closed and we are back to meeting online only.
This Sunday: live streaming
Join us for our online meeting this Sunday.
David Campbell will be speaking on part 2 of the Holy Spirit and the coming of Jesus.

During worship we will break bread together to remember Jesus' gift of his life and celebrate his presence with us,
so please

have some bread/crackers and juice/wine

ready during worship.
We wish we could all physically meet together, but we can still experience unity in the Spirit!
To join us this Sunday at 11:00am go to our LiveStream channel by typing go.church.to/now in your browser.
It helps our YouTube status if you subscribe to the channel, thanks!
After church fellowship time
After church we have a fellowship time on Zoom. If you've not joined us yet, why not try us out this Sunday? We would love to see you!
You can join us on go.church.to/after
Last Sunday's sermon: "The Holy Spirit in the Old Testament and the Coming of the Messiah"
Rather than being someone who was hidden till Pentecost,
the Holy Spirit was an active agent in the Old Creation,
worked tirelessly to prepare the way for Jesus,
and is now working in us,
bringing dry bones to life in the New Creation.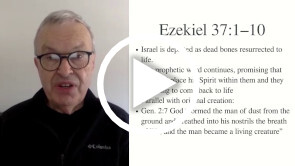 "The Holy Spirit in the Old Testament and the Coming of the Messiah"
Can we pray for you?
Our prayer team would normally be praying for people after church on Sunday
Since many of us can't gather, they are ready to pray for any personal needs you may have.
A good number of people are emailing in their prayer requests and our prayer team are really glad to pray for them.
Please send them to: prayer@nlife.ca
All requests will be kept in strictest confidence and known only to those praying for you.
Offerings Online
You can give your church offering through Interac very simply by sending it to give@nlife.ca
No password is needed, and you will get a tax receipt, as usual, at the end of the year.
Save the Date
Don't forget to put these exciting events in your calendar
Jan 16 11:00am: Sunday morning church online only
Jan 18 (Tues) 7:30pm: Downtown East & Central combined homegroup (meeting on Zoom + in person)
Jan 19 (Wed) 8:00pm: Northwest homegroup (meeting on Zoom)
: Women's Tea, Talk and Truth
: Church Prayer Meeting
Facebook and Twitter
---
This Sunday
This Sunday morning 11am, we're meeting online at go.church.to/now
During worship we will be breaking bread together to celebrate Jesus' sacrifice on our behalf.
11:00

Worship led by Dan
David Campbell will be preaching on part 2 of the Holy Spirit and the coming of Jesus

12:15
Gathering on Zoom for fellowship
Tuesday Homegroups
| Time | Homegroup | Location |
| --- | --- | --- |
| 7:30pm | Downtown East & Central combined | meeting online + in person |
Wednesday Homegroups
| | | |
| --- | --- | --- |
| 8:00pm | Northwest | meeting online |