Resources on Guilt and Self-Compassion
Hi *|FNAME|*,
Here are some resources on guilt and self-compassion relating to the sermon on Sunday:
Last Sunday's sermon: "When our Conscience Turns Rogue - The God of all Comfort"
Are you constantly beating yourself up for your mistakes and failings?

Self-compassion is touted as the route to productivity, health and compassion for others
but in some cultures this evidently does not happen!
We look at a broader Biblical framework to explain this discrepancy
and learn what true self-compassion really is.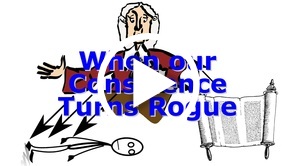 When our Conscience Turns Rogue - The God of all Comfort
(If you can't see any pictures then see here )
Newlife Days Out this Summer
During July and August, instead of having men's and women's brunches we'll be having days out for everyone, including kids.
The first of these is planned to be at High Park on July 15
More details TBA
Save the Date
Don't forget to pencil these exciting events into your calendar
Check out the planning calendar here
Facebook and Twitter
---
This Sunday
This Sunday morning we're at our regular location, St Joseph's College.
Meeting at St Joseph's College, see here for directions
10:30–10:50
Pre-service Prayer Meeting
11:00

Worship led by Dan, Heather, Oksana, Mark, Miles
Andrew will be preaching

12:30–1:30
Refreshments
Tuesday Homegroups: Everyone is welcome
More about homegroups: here
Wednesday Homegroups
Hope to see you on Sunday!
Newlife Church
If you don't want to receive email from Newlife Church in the future, simply click on unsubscribe and your name will be removed.
*|REWARDS|*