Men's brunch, Women's Christmas party, plus other upcoming events at Newlife
We are slowly increasing our Sunday numbers
If you are interested in joining us, please hit reply to this email and we will send you the information
Hopefully it won't be too long before everyone is invited.
Men's Brunch this Saturday
Jithin will be leading the discussion
All Newlife men are welcome!
Suggested contribution: $5
Open to all men who come to Newlife, this is a great opportunity to build relationships and grow as men.
Women's TTT Christmas party on
Join us for an evening to celebrate Christmas and hang out together!
We will share some tasty festive snacks and desserts, listen to Christmas carols and have a number of simple and fun festive crafts to engage in at your leisure.
All welcome!
Please RSVP to Ruth by Monday 13th December.
Keeping safe from Covid
Sadly there are many reports across the world of church communities being split by Covid, with some prioritizing feeling safe and others individual rights. At Newlife we want to prioritize loving one another and so we want everyone to be able to attend our home gatherings and yet feel safe. After prayer and discussion we have put in place a policy where anyone can attend, and those who are not double vaccinated take a rapid test before joining the meeting. That way nobody is excluded and all feel safe. (We provide the rapid test kits.) See our website at Covid protocol. (Unfortunately we have no control over the School Board for Sunday meetings and their current requirement that everyone be double-vaccinated).
Last Sunday's sermon: "What Storms Reveal"
What is Jesus talking about when he tells people to build their house on the rock?
How do we actually do this?
Because for certain, storms will come!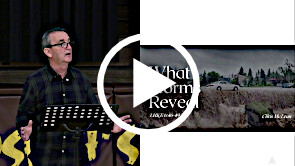 "What Storms Reveal"
This Sunday: live streaming
Join us for our online meeting this Sunday.
Andrew will be speaking on remarkable artistry and truth in the "Parable of the Camel and the Eye of a Needle".
We wish we could all physically meet together, but we can still experience unity in the Spirit!
To join us this Sunday at 11:00am go to our LiveStream channel by typing go.church.to/now in your browser.
It helps our YouTube status if you subscribe to the channel, thanks!
After church fellowship time
After church we have a fellowship time on Zoom. If you've not joined us yet, why not try us out this Sunday? We would love to see you!
You can join us on go.church.to/after
Can we pray for you?
Our prayer team would normally be praying for people after church on Sunday
Since many of us can't gather, they are ready to pray for any personal needs you may have.
A good number of people are emailing in their prayer requests and our prayer team are really glad to pray for them.
Please send them to: prayer@nlife.ca
All requests will be kept in strictest confidence and known only to those praying for you.
Offerings Online
You can give your church offering through Interac very simply by sending it to give@nlife.ca
No password is needed, and you will get a tax receipt, as usual, at the end of the year.
Accommodation available at Queen & Dufferin
There is an opportunity to share an appartment on Queen W. for a professional person, nonsmoking, male, clean, a good person to live with. Price on inquiry. Needed very soon.
For full information, please visit the info page at rksapt.gw.ca or contact Roselyn.
Save the Date
Don't forget to put these exciting events in your calendar
: Men's Brunch
Dec 5 11:00am: Sunday morning church
Dec 7 (Tues) 7:30pm: Downtown East & Central combined homegroup (meeting on Zoom + in person)
Dec 8 (Wed) 8:00pm: Northwest homegroup (meeting on Zoom)
: Women's TTT Christmas party
Facebook and Twitter
---
This Sunday
This Sunday morning 11am, we're meeting online at go.church.to/now
11:00

Worship led by Dan
Andrew will be preaching on remarkable artistry and truth in the "Parable of the Camel and the Eye of a Needle"

12:15
Gathering on Zoom for fellowship
Tuesday Homegroups
| Time | Homegroup | Location |
| --- | --- | --- |
| 7:30pm | Downtown East & Central combined | meeting online + in person |
Wednesday Homegroups
| | | |
| --- | --- | --- |
| 8:00pm | Northwest | meeting online |