Understanding the Bible course tonight, men's brunch on Sat and Thanksgiving bring and share on Sunday
Here's what is coming up in the next few days:
Bible Training Night tonight
Biblical Interpretation pt1: series of 4 Thursday evenings
6:00-6:30 arrive
6:30-7:00 Pizza provided (or bring your own food)
7:00-10:00 Teaching
Tools to help you understand the Bible accurately and hear what God is saying to you and to others.
There will be an assignment each week – each person will be assigned a passage of Scripture for study, and each week will apply the new tools learned.
Everyone is welcome, but if you are planning to come and have not told Andrew, please reply to this email to let him know.
Men's Brunch this Saturday
Speaker: Braden
All Newlife men are welcome!
Suggested contribution: $5
Open to all men who come to Newlife, this is a great opportunity to build relationships and grow as men.
Details:
Date:
Time: 10:30am-12:30pm
Place: Dan & Heather's (St. Clair & Dufferin)
64 Earlsdale Ave
Late Thanksgiving Bring & share meal this Sunday
This Sunday everyone's welcome to stay after church and eat together
Don't forget to sign up to bring something.
If you have something you like to make or a dish that reminds you of home please make it so we can all enjoy.
Contact Anne if you have any questions
Details:
Date:
Time: after church
Place: St. Joseph's Cafeteria
Last Sunday's sermon: "How to have more of God's life in you"
What could be a more important question?
I almost regretted promising to preach on this topic because it turned out to be so huge.
But when I searched the whole New Testament for answers, it boiled down to just two things.
They looked like t-shirt slogans, so here they are on simulated t-shirts.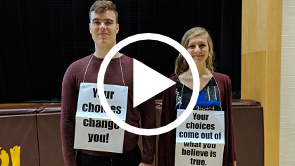 How to have more of God's life in you
See all the whole series.
Save the Date
Don't forget to put these exciting events in your calendar
Check out the planning calendar here
Facebook and Twitter
---
This Sunday
This Sunday morning we're at our regular location, St Joseph's College.
Tuesday Homegroups: Everyone is welcome
More about homegroups: here
Wednesday Homegroups