"Mark in a Month" Part 3, and other upcoming events
Mark in a Month part 3
This Sunday we'll be continuing our 4-week series, hearing what God is saying to us through the book of Mark.
If you didn't get the handout and reading schedule from last week, you can find them here:
Mark in a Month reading Schedule:
Seven steps for hearing God speak to you personally through the Bible:
Last Sunday's sermon: "Mark and the Kingdom of God"
Let Mark's presentation of Jesus engage you, captivate you, and change your life!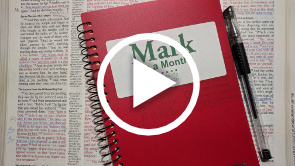 Mark and the Kingdom of God
Misty Edwards—Eternity
There are a few quotes in the sermon from this great talk by Misty Edwards. (Don't be put off by the sound effects & visuals, just listen to her words.)
Eternity by Misty Edwards
Church Prayer Meeting on
Monthly prayer meeting for the whole church.
We have a God who loves it when we talk to him and make requests of him, and he's told us to do it together as a church family—so let's do it! Prayer meetings are always amazing, lively times full of thankfulness and intercession for our church, our city and our world.
Everyone is welcome!
Details:
Date:
Time: 7:30pm-9:30pm
Place: St. Joseph's College at 74 Wellesley St West (just west of Bay) (2nd floor classroom)
Save the Date
Don't forget to pencil these exciting events into your calendar
Check out the planning calendar here
Facebook and Twitter
---
This Sunday
This Sunday morning we're at our regular location, St Joseph's College.
 
Meeting at St Joseph's College, see here for directions
10:30–10:50
Pre-service Prayer Meeting
11:00

Worship led by the worship team
Andrew will be preaching

12:30–1:30
Refreshments
Tuesday Homegroups: Everyone is welcome
More about homegroups: here
Wednesday Homegroups