Prayer meeting tonight and other upcoming events at Newlife Church
The lockdown is creating stress in all of us, increasing anxiety, irritability and darker moods.
As the pandemic drags on, we are all feeling the adverse effect of not seeing each other face to face.
Tonight we bring this matter to God and ask for his strength and comfort for our church community, and for our whole society
We'll hear some uplifting stories of answers to prayer, read some of God's word together, and carry one another's burdens to our Father.
Please join us if you can!
Church Prayer Meeting on Zoom tonight
Monthly prayer meeting for the whole church
Last Sunday's sermon: "The Bible and Archaeology"
Archaeology shows us that Bible history and world history are the same.
We don't need evidence from archaeology to prove to us that God is real but it can be a great encouragement to see where things match up.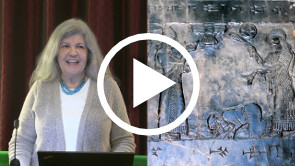 "The Bible and Archaeology"
This Sunday: live streaming
Join us for our online meeting this Sunday.
We wish we could physically meet together, but we can still experience unity in the Spirit!
To join us this Sunday at 11:00am go to our YouTube LiveStream channel: go.church.to/now
It helps our YouTube status if you subscribe to the channel, thanks!
After church fellowship time
After church we have a fellowship time on Zoom. If you've not joined us yet, why not try us out this Sunday? We would love to see you!
You can join us on go.church.to/after
Can we pray for you?
Our prayer team would normally be praying for people after church on Sunday
Since we can't gather, they are ready to pray for any personal needs you may have.
A good number of people are emailing in their prayer requests and our prayer team are really glad to pray for them.
Please send them to: prayer@nlife.ca
All requests will be kept in strictest confidence and known only to those praying for you.
Pray with Vera on March 2
Vera is hosting an online prayer meeting for the International Student Ministry in Poland.
Join her on Zoom at 1PM EST with the zoom id:863 8539 3162
Offerings Online
You can give your church offering through Interac very simply by sending it to give@nlife.ca
No password is needed, and you will get a tax receipt, as usual, at the end of the year.
Homegroups
We are running our homegroups via Zoom – please contact your homegroup leader for details, or reply to this email if you are not connected.
Save the Date
Don't forget to put these exciting events in your calendar
: Church Prayer Meeting on Zoom
: Men's Brunch via Zoom
: Women's Tea, Talk and Truth
---
This Sunday
This Sunday morning 11am, we're meeting online at go.church.to/now
11:00

Worship led by Dan
Andrew will be preaching

12:15
Gathering on Zoom for fellowship
Tuesday Homegroups
| Time | Homegroup | Location |
| --- | --- | --- |
| 7:30pm | Downtown East | meeting online |
| 7:30pm | Downtown Central | meeting online |
Wednesday Homegroups
| | | |
| --- | --- | --- |
| 8:00pm | Northwest | meeting online |