Andrew Fountain - Why I love Jesus
---
Sermon notes - Why I love Jesus
What's your image of Jesus?
My goal today is to improve it.
Jesus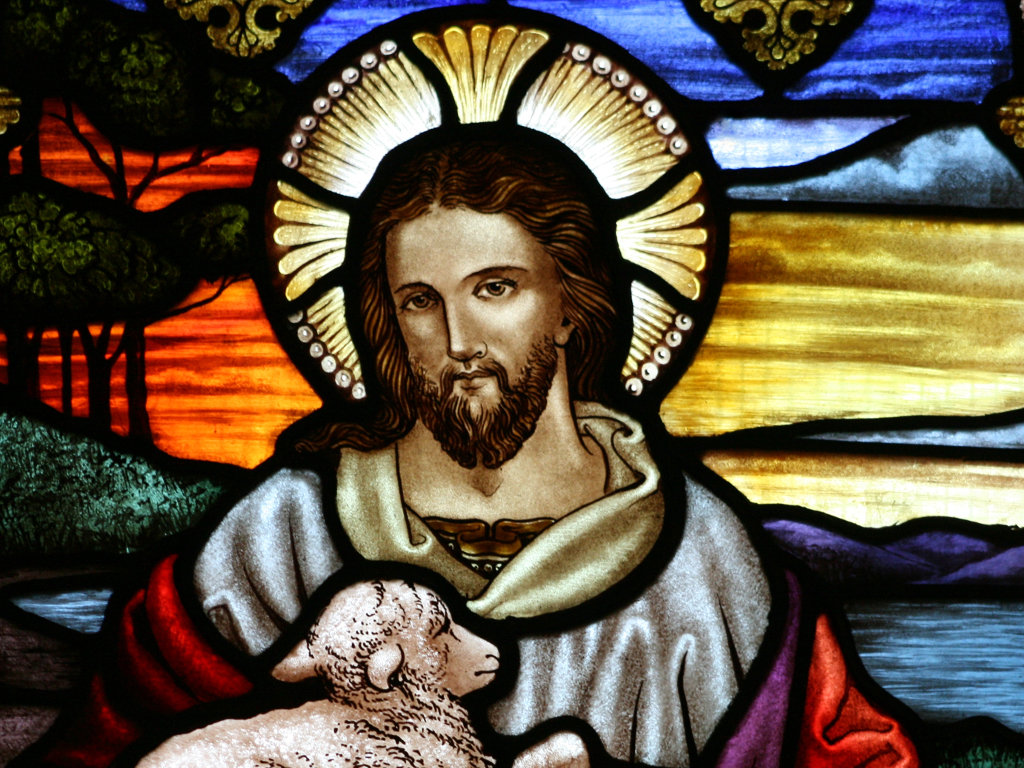 Image source: link
Jesus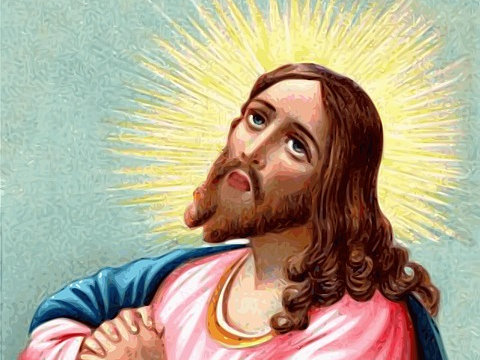 Image source: Jo-B
Jesus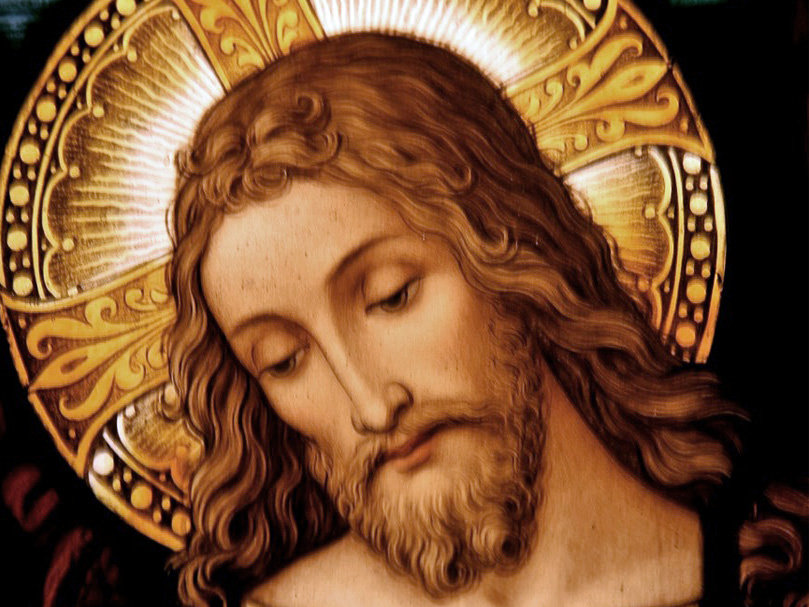 Image source: Waiting For The Word
Jesus' love for us can often become a very abstract concept

we know he gave his life for us 2000 years ago
we know that he has secured a place in heaven for us in the future

When we praise him, we usually focus on what he has done for us, rather than who he is

There is nothing wrong with that—they are not in opposition:

He has done these things because of the reality of his love for us

I want us to focus a little this morning on why Jesus is the altogether lovely one!

He is just such an amazing, lovely and fascinating person whom we want to spend eternity with.
Colossians 1:15–20
He is the image of the invisible God, the firstborn of all creation.
For by him all things were created, in heaven and on earth, visible and invisible, whether thrones or dominions or rulers or authorities—all things were created through him and for him.
And he is before all things, and in him all things hold together.
So you understand everything totally because you made it.

The incredible complexity of the human brain, and life itself
High energy physics and whether dark matter exists—you understand it completely because you designed it

You understand all beauty and art, because it was your idea

You understand me so completely and why I do everything I do
You know every tiny thing that happened to me, and even what I don't remember
Colossians 1:15–20 cont'd
And he is the head of the body, the church. He is the beginning, the firstborn from the dead, that in everything he might be preeminent.
For in him all the fullness of God was pleased to dwell,
and through him to reconcile to himself all things, whether on earth or in heaven, making peace by the blood of his cross.
So you have all the plans for the future of this world in your head

All of these terrible things we see happening, you are somehow going to resolve them for good
You have the answers to all injustice and pain
There is no problem too big for you, not in earth or in heaven

Just imagine meeting someone who is like this, yet loves you with a passion:
Colossians 2:2–3
[I pray]

that their hearts may be encouraged, being knit together in love, to reach all the riches of full assurance of understanding and the knowledge of God's mystery, which is Christ,
in whom are hidden all the treasures of wisdom and knowledge.
But then he had the ability to hang out with ordinary people and they were captivated by him.

woman of Samaria—he took time to just sit with her

Do you know anyone who's a tiny bit boring? —maybe you don't find their conversation very interesting

What do you think it was like for Jesus to chat to people?
He wasn't bored!

Have you ever met someone really famous? (I don't think I ever have)

Can you imagine them saying "hey... can we hang out, I'd love to get to know you"

Dream a couple of years ago about being in the coffee shop and Pres. Obama came in

"Hey, Andrew! I've been hoping to meet you, can I join you (20 min)"

Zachaeus
There was such a love between Jesus and his disciples while he was on earth
Luke 22
And he said unto them, "With desire I have desired to eat this passover with you before I suffer"
Luke 7
and standing behind him at his feet, weeping, she began to wet his feet with her tears and wiped them with the hair of her head and kissed his feet and anointed them with the ointment.
People loved him passionately, like the two women who poured ointment on his feet.

Washed his feet with her tears (Would take a lot of tears.)
Why? because he saw who they really were in their sin, and loved them.

Even Peter, who failed Jesus so horribly, was still loved deeply
Imagine you were having a really significant converstation with Jesus

And someone brought a child for him to see
Hang, on this is the maker of the universe. Don't bother him with little kids!

So we have these two extremes:

Who he is
And yet how kind and gentle and lowly he it

But also he could be very angry (Gospel of John movie—shocking)

Exploitation (like the financial corruption in the Temple)
Bad shepherds!

But even his worst enemies, he prayed for forgiveness
But Paul never met Jesus. How could he have such a love for him?
Romans 8:35–39
Who will separate us from the love of Christ? Will trouble, or distress, or persecution, or famine, or nakedness, or danger, or sword?
As it is written, "For your sake we encounter death all day long; we were considered as sheep to be slaughtered."
No, in all these things we are more than conquerors through him who loved us!
For I am convinced that neither death, nor life, nor angels, nor heavenly rulers, nor things that are present, nor things to come, nor powers, 39nor height, nor depth, nor anything else in creation will be able to separate us from the love of God in Christ Jesus our Lord.
Paul was totally consumed with love for Jesus.

Everthing he says and does is permeated with this love
Philippians 1
For to me to live is Christ, and to die is gain.
If I am to live in the flesh, that means fruitful labour for me. Yet which I shall choose I cannot tell.
I am hard pressed between the two. My desire is to depart and be with Christ, for that is far better.
But to remain in the flesh is more necessary on your account.
See also: 2 Cor 5 (read v.8–9)

So we are always of good courage. We know that while we are at home in the body we are away from the Lord,
for we walk by faith, not by sight.
Yes, we are of good courage, and we would rather be away from the body and at home with the Lord.
So whether we are at home or away, we make it our aim to please him.

So how come Paul loves Jesus so much?

we know he had many visions of Jesus:
Acts 18
The Lord said to Paul by a vision in the night, "Do not be afraid, but speak and do not be silent,
because I am with you, and no one will assault you to harm you, because I have many people in this city."
Acts 23
The following night the Lord stood near Paul and said, "Have courage, for just as you have testified about me in Jerusalem, so you must also testify in Rome."
Was it the visions? If so, can we only love him if we have visions?
What about us?

Visions of Jesus are not that common in my experience—I myself have not had any

That does not mean they don't happen

I saw a video yesterday of a brutal gang leader in Scotland who in one hour went from drugs & killing to spreading the gospel
Paul's visions happened to comfort and encourage him in times of extreme stress

I don't think the visions were the main reason for Paul's love

But I would say the main reason for Paul's love for Jesus was a combination of:

his own story
a revelation through the Holy Spirit

He has a supernatural impartation of love

John Newton was a slave trader, the captain of a ship

He was notorious for swearing in such a disgusting way that even other sailors would be surprised
He was violently opposed to God
About to die in a storm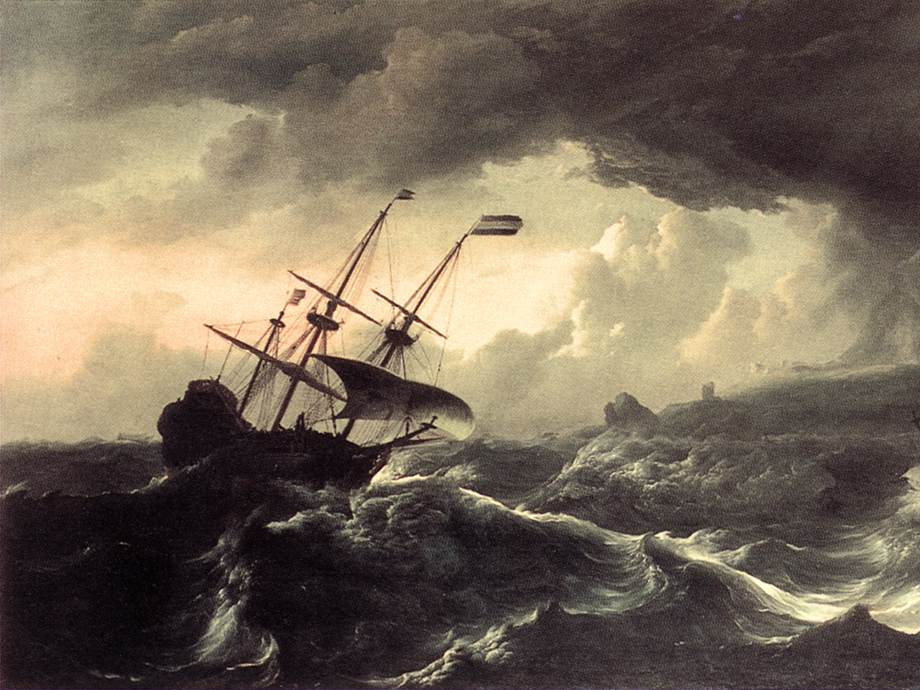 Image source: Ludolf Backhuijzen
In a storm, about to die, he suddenly saw the truth and cried to God for forgiveness

Later he became a pastor and wrote many popular hymns
Amazing Grace is the best known
But this is one of my all-time favourites, especially the 4th verse:
How Sweet the Name of Jesus Sounds
John Newton
How sweet the name of Jesus sounds
in a believer's ear!
It soothes his sorrows, heals his wounds,
and drives away his fear.
 
It makes the wounded spirit whole,
and calms the troubled breast;
'tis manna to the hungry soul,
and to the weary rest.
cont'd
Dear name! the rock on which I build,
my shield and hiding-place,
my never-failing treasury, filled
with boundless stores of grace.
 
Jesus my shepherd, brother, friend,
my prophet, priest and king;
my Lord, my life, my way, my end,
accept the praise I bring.
John Newton was not the only one to receive complete forgiveness

All of us who are Christians have travelled the same route
We don't have to be extraordinarily evil, or get saved in the middle of a storm

But we do have to realize we are going the wrong way and Jesus is our only hope
And if we call out to him, and trust him, he will have compassion on us!

Why do I love him?

Because of what I know of him through these stories
Because of my experience of him

He is so gentle with me, so forgiving,
so committed to me
He loves me so much

We love him because he first loved us
Now lets go back to our verses

You know how fascinating the creation is—all the weird and amazing creatures

How much more fascinating is the person who made it

to spend time with this incredible individual!
Colossians 1:15–17
He is the image of the invisible God, the firstborn of all creation.
For by him all things were created, in heaven and on earth, visible and invisible, whether thrones or dominions or rulers or authorities—all things were created through him and for him.
And he is before all things, and in him all things hold together.
We will have all eternity to explore this being who loves us so much

Do you think you will ever get bored with him?

Often God is portrayed as an old man, white haired and wrinkled, maybe balding.

But why would someone perfect show signs of aging?

Jesus obviously aged in his old-creation body, but his new body would be perfect, with no signs of age

Have you ever wondered why the disciples failed to recognize him ever time
Mary didn't recognise him
The two on the road to Emmaus didn't recognize him

Because his new body looked so youthful and perfect, not a flaw!
I want to end with this song about what Jesus looks like.

N.T. writers tell us that Psalm 110 is about Jesus
Psalm 110
Your people willingly follow you
on the day of your power
On the mountains around Zion, at sunrise,
yours is the dew of your youth.
Do you picture Jesus as a strong young man in the prime of his youth?
Updated on 2016-12-05 by Andrew Fountain
Login to post comments

45 downloads

0 plays