Andrew Fountain - Trusting God in hard times
---
Sermon notes - Trusting God in hard times
0. Historical Setting
First a little bit of background
The second half of Isaiah is addressed to the Israelites in captivity


they have been there a long time
everything looks black
homeland destroyed
home city is burned with fire
the temple is gone

The temptation was to forget about God and the promises he made and to become like the nations


to take on their gods
to forget about following the true God
not to believe that God was going to be faithful in the end to his promises

Isaiah's message was that people should hang on to the promises


There is yet to be a salvation that is brighter than they can imagine
They can see nothing of it
All they can see is hopelessness
But Isaiah calls them to believe in this promise

The only way they can believe is by faith because there is nothing that they can see
And into this context he speaks some of the most beautiful words that are to be found in Scripture:
Isaiah 53
He was despised and rejected by men;
      a man of sorrows, and acquainted with grief;
and as one from whom men hide their faces
      he was despised, and we esteemed him not.
Surely he has borne our griefs and carried our sorrows;
      yet we esteemed him stricken, smitten by God,
            and afflicted.
Isaiah 53 cont'd
But he was wounded for our transgressions;
      he was crushed for our iniquities;
upon him was the chastisement that brought us peace,
      and with his stripes we are healed.
All we like sheep have gone astray;
      we have turned every one to his own way;

and the L

ORD

has laid on him the iniquity of us all.
These people were there because of their sin, justly, and yet these beautiful gospel promises come to them
Isaiah 54
Fear not, for you will not be ashamed!
      Do not be intimidated, for you will not be humiliated!
For you will forget about the shame of your youth;
      you will no longer remember the disgrace of abandonment.
For your husband is the one who made you —
      the L

ORD

who commands armies is his name.
He is your protector, the Holy One of Israel.
      "The God of the entire earth", he is called
Isaiah 54
"Indeed, the L

ORD

will call you back
      like a wife, abandoned and in depression,
like a young wife when she has been rejected,"
      says your God.
"For a short time I abandoned you,
      but with great compassion I will gather you.
These people are suffering, but he says "I'm committed to you!" I your husband, I am wedded to you
Isaiah 54
"Though the mountains be shaken
      and the hills be removed,
yet my unfailing love for you will not be shaken
      nor my covenant of peace be removed,"
says the L

ORD

, the one who has compassion on you.
"O afflicted city, lashed by storms and not comforted,
      I will build you with stones of turquoise,
your foundations with sapphires."
This is the Jerusalem that is burned and rubble. And he says that he is going to...

But this promise hasn't happened yet!

So even though they had fallen awawy from God and were paying the price, God has not stopped loving them.
1. The Call
Read Isaiah 55:1-2

Come, all you who are thirsty,
      come to the waters;
and you who have no money,
      come, buy and eat.
Yes, come, buy without money
      and without price, wine and milk.
Why do you spend money for what is not bread,
and your wages for what does not satisfy?

Theme for these first verses "No Money Required"
Does this remind you of any passage in the N.T.?


Woman at the well.
John 7:37–38 On the last day of the feast, the great day, Jesus stood up and cried out, "If anyone thirsts, let him come to me and drink. Whoever believes in me, as the Scripture has said, 'Out of his heart will flow rivers of living water.'"
Come unto me all you that labour and I will give you rest

How are these people Isaiah is speaking to spending their wages then?


Is it real water? No, spiritual
How was the woman of Samaria trying to satisfy herself?


Outside God, in the things that were around her

This is their temptation—to give up the relationship with God and try to find their life in the things around them
"No-one else is going to help me, I will have to help myself


I can't trust God—look at what he is doing for me now? —nothing!"

Live like the people in the society they are immersed in

These verses are a beautiful invitation, saying "come to me"


We can imaging Isaiah standing up there and calling out these words
We see Jesus Christ on the last day of the feast when he called out


(verses above from John 7)
2. The Response (Obedience)
But what does this actually mean? How does someone actually come and buy?

This is what the next two verses explain:

b. Listen carefully to me, and eat what is good,
      and let your soul delight itself in abundance.
Incline your ear, and come to me.
      Hear, and your soul shall live;
and I will make an everlasting covenant with you—
      the faithful love promised to David.

hear, listen carefully


If you do that, you will have life, everlasting covenant, faithful love!

Does that mean that they just have to hear a few words and go away?


In the Jewish language and culture, to "hear" does not just mean you comprehend the words, but you act on them
Jesus said "He who has ears to hear, let him hear!"


If you don't obey, you haven't really and truly "heard"

These people in captivity hadn't totally given up on the idolatry that had caused them to be sent into captivity.


It was still lurking in their hearts
Isaiah says, "Come and put your trust fully on the Lord!"
Believe these words that I am going to say
You have a choice here:


Listen to yourself and what society around you is saying
Or you can obey me, and obey my words
This is how they are to come

We have the same choice facing us


What is society around us telling us will satisfy us??

Jesus's call was to "come all you who labour..."

What does it mean to come?


The come is to come and serve him as your Lord

So this is what they are actually to do


And in the next 2 verses he talks about the result of doing this
3. The Promise
Indeed I have given him as a witness to the people,
      a leader and commander for the people.
Surely you shall call a nation you do not know,
      and nations who do not know you shall run to you,
because of the L

ORD

your God,
      and the Holy One of Israel; for he has glorified you.
Who is the "him" in these verses

the same one as two chapters earlier is to carry our sins
Here we have this man, this leader, this commander, and he is going to bring the glory

But this didn't exactly happen to Israel


Back in the days of Solomon, all nations of the world came and brought tribute

e.g. the Queen of Sheba from Africa

The prophecy is that this is going to happen again


But it never happened to Israel, so what is it talking about?

It is talking about the "New Israel", the Kingdom of God


From all nations people are coming in the Kingdom

So we see three things in these verses:


v.1–2 The Call
v.2–3 The Response
v.4–5 The Promise

Then once again he gives the call—well known verses.


Summary: Call :: Response :: Promise

Seek the L

ORD

while he may be found,
      call upon him while he is near.
Let the wicked forsake his way,
      and the unrighteous man his thoughts;
let him return to the L

ORD

, and he will have mercy on him;
      and to our God, for he will abundantly pardon.

How were they to seek the Lord and call upon him?


Simply by not trusting what everyone around us is saying, but to trust in the Lord
Even though everything is black I am going to believe this invisible promise

Maybe you have some situation in your life where it seems like it is dark


difficult, you don't see a way out of it, you know its wrong, you know you shouldn't be doing it
God says "just trust me and things will work out"
Its hard to do because there is no visible sign of anything

The problem is that when you are in difficulties, it's hard to put yourself into a situation


Trusting an invisible God
who is making invisible promises


This is exactly the problem they were facing

God says, "just hold on and I will come through


Eventually you will see something so wonderful that you cannot believe it

Something so amazing you can't begin to grasp how wonderful it is

Have you seen darkness in your life?


I have had times of darkness
I can't see how this is possibly going to work out
Jesus simply says "come to me and I will answer your cry"

The problem in a situation like this is that we can't see how God is going to do it.


We can't see how, so we don't think he is going to

Can you imaging these people, far away in captivity, maybe born in captivity


They are told about this land, how the cities are burned

How could they possibly be built up into a nation again

Sometimes we say, there is no way God can help me. It is just too much of a mess


And this is God's answer:

For my thoughts are not your thoughts,
      nor are your ways my ways, says the L

ORD

.
For as the heavens are higher than the earth,
      so are my ways higher than your ways,
      and my thoughts than your thoughts.
For as the rain comes down,
      and the snow from heaven, and does not return there,
            but waters the earth, and make it bring forth,
                  and make it sprout so that it may give seed to the sower
                        and bread to the eater,

and then he gives an illustration about the way that God provides food


(staircase parallelism)
God's ways are sometimes complex and indirect

If you are going to feed someone, isn't that a roundabout way of doing it?


If you said to me, "I am hungry, please give me something to eat"
You would expect me to go to the refrigerator
not like this

God's ways are


complicated & unfathomable

sometimes we pray about something, and God causes this to happen, which makes someone to that, which has that effect, and so on until it eventually comes down to me and solves my problem

This is how God likes to work!
God likes to work in mysterious ways, unfathomable, complex
Like the wind in John 3
e.g. 3 Mormons at the door, right as we are about to start homegroup

secret, mysterious
complex,indirect
In this way he can display his amazing power

His ways are totally different to ours
If his ways were like our ways, then we could say it looked black and it would be black
But because... things can be totally black but about to burst forth in amazing glory


These people were about to see the most remarkable event happen
These people were about to see the Emperor, Cyrus,


allow them to go back home
pay for the rebuilding
offer them military protection


in an extraordinary way
A way that they would never have believed had you told them

God applies this:


So shall my word be that goes forth
      from my mouth; it shall not return to me void,
but it shall accomplish what I please,
      and it shall prosper in the thing for which I sent it.

God's word, God's promises

will inevitably happen
Just as the rain does not go back into the sky, but does God's will

For with joy you shall go out,
      and in peace be led forth;
the mountains and the hills shall burst into song before you,
      and all the trees of the field shall clap their hands.

Then he ends by telling them about the extraordinary result of this word going forth


They will go out of Babylon with joy, such joy that it is as if the mountains themselves are bursting into song
These people are so exuberant at what God has done
"When the LORD brought back the captives to Zion, we were like men who dreamed." (Ps. 126:1)
Not in their wildest dreams could this have happened

Isaiah is saying, "Hold on to God's promises and he will keep the beyond your wildest dreams"


You will be like children, jumping about with glee

Instead of the thorn shall come up the cypress tree,
      and instead of the brier shall come up the myrtle tree;
and it shall be to the L

ORD

for a name,
      for an everlasting sign that shall not be cut off.

Now things are desolate, but there will be..
This nation will not be cut off in captivity coming to a sad and dreary end in captivity


This actually happened to many other nations

Do you believe that God is active in your life


I don't know what your struggles are at the moment
some of us have major ones, and some minor ones


but we are all tempted to doubt God

But he says he hasn't forgotten—he is working
Everest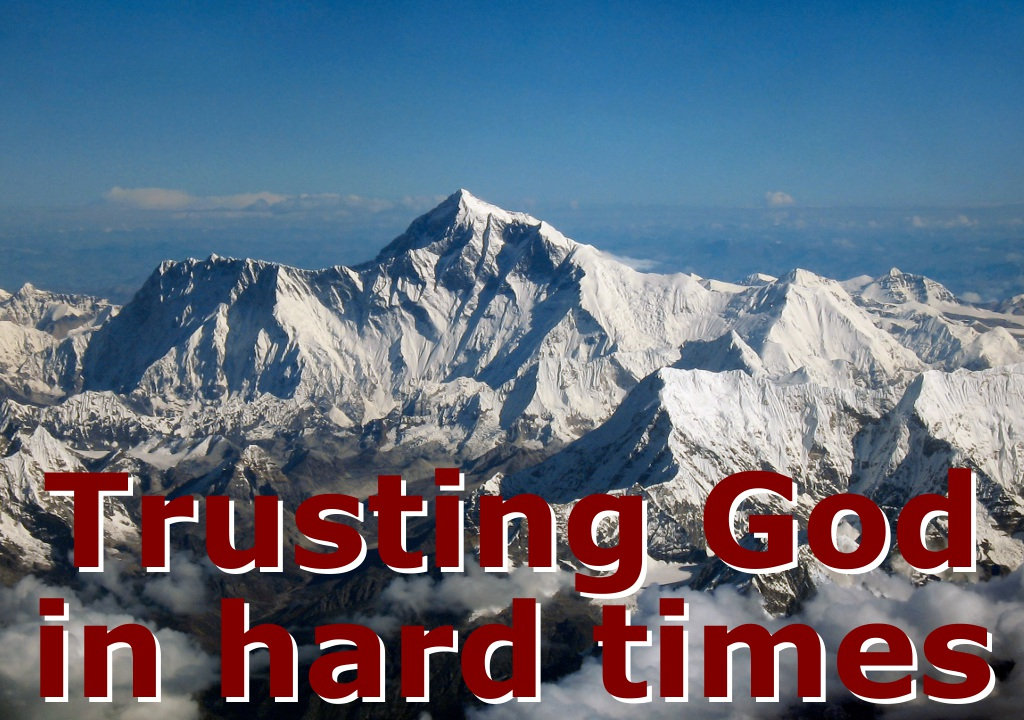 Image source: shrimpo1967
If you put your trust in him

and that means not trying to satisfy yourself with what the world around you suggests
or with God

If you are not a Christian


This is an invitation that is offered to you...

Ask him to forgive you for doubting him


Lord forgive me for trying to solve my problems in a way that I know is not right"

and he will come through, beyond your wildest dreams!


In that day when he comes in Glory, none of us can begin to imagine the joy we will have

Remember, God is working, and he never breaks his promises.
Updated on 2016-08-22 by Andrew Fountain
Login to post comments

51 downloads

4 plays