Andrew Fountain - God's Compassion
---
Sermon notes - God's Compassion
Goal
Understanding God's compassion is vital for living an authentic Christian life
Humans are wired for stories. (The most effective of telling people to boil their water before they drink it.)
God reveals himself in stories
It seems that there are three ways that God reveals his grace:
God's Compassion & Grace
Compassion & grace to everyone

especially those in need
and particularly those who cry for help

Compassion & grace in bringing us into his family
Continuing relationship of compassion and grace
1. Compassion & grace to everyone
Hannah's Prayer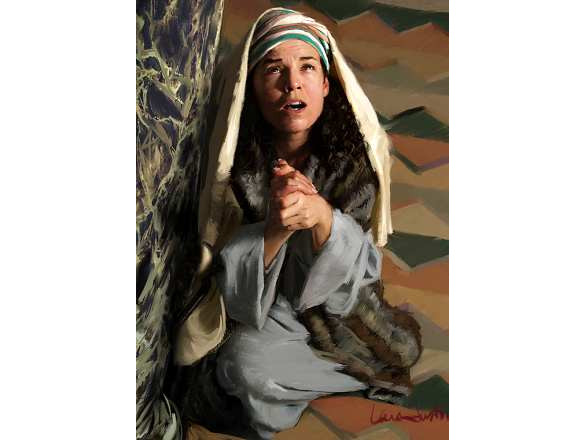 Image source: Arden
Her story

Two wives
She had no children (in that culture...)
She was deeply distressed and prayed to the L

ORD

and wept bitterly.
God heard her prayer and gave her a son, who two books of the Bible are named after
Hannah's prayer: 1 Sam 2:1–8
"There is none holy like the L

ORD

; there is none besides you; there is no rock like our God.…
Talk no more so very proudly, let not arrogance come from your mouth; for the L

ORD

is a God of knowledge, and by him actions are weighed.
The bows of warriors are shattered, but those who stumble find their strength reinforced.
The L

ORD

makes poor and makes rich; he brings low and he exalts.
He raises up the poor from the dust; he lifts the needy from the ash heap to make them sit with princes and inherit a seat of honour…
Jesus exemplified this compassion:

Can you think of any stories?
Jesus' compassion
When he saw the crowds, he had compassion for them, because they were harassed and helpless, like sheep without a shepherd. Matt 9:36
When he went ashore he saw a great crowd, and he had compassion on them and healed their sick. Matt 14:14
Then Jesus called his disciples to him and said, "I have compassion on the crowd because they have been with me now three days and have nothing to eat. And I am unwilling to send them away hungry, lest they faint on the way." Matt 15:32
Compassion not for people who were committed to him but to people in general.
Matthew 20
And behold, there were two blind men sitting by the roadside, and when they heard that Jesus was passing by, they cried out, "Lord, have mercy on us, Son of David!"
The crowd rebuked them, telling them to be silent, but they cried out all the more, "Lord, have mercy on us, Son of David!"
And stopping, Jesus called them and said, "What do you want me to do for you?"
They said to him, "Lord, let our eyes be opened."
And Jesus in compassion touched their eyes, and immediately they recovered their sight and followed him.
One of Jesus's main roles was to reveal to us the essential character of God
Luke 7
As he drew near to the gate of the town, behold, a man who had died was being carried out, the only son of his mother, and she was a widow, and a considerable crowd from the town was with her.
And when the Lord saw her, he had compassion on her and said to her, "Do not weep."
Then he came up and touched the bier, and the bearers stood still. And he said, "Young man, I say to you, arise."
And the dead man sat up and began to speak, and Jesus gave him to his mother.
God's very nature is to have compassion—be like that!

gentleness and tenderness
If someone were to describe you, would they use those words:
compassionate, merciful, gentle, tender, kind

If God is like that in the core of his being, and we are to be like God,

Then that should describe us!
How should we respond to this?
We should be like God in this way

Jas 1:27 Pure and undefiled religion before God the Father is this: to care for orphans and widows in their misfortune and to keep oneself unstained by the world.
Why is it hard for us to think of God as tender & compassionate?
It almost seems like a weakness to be soft-hearted!
In some cultures it is. Some views of "being a man" are about being tough-hearted

Can you find another religion in this world where the god or gods have compassion as one of their main characteristics? I don't know of one!
Some people preach grace, but:

They are so strong on Grace, that you had better not disagree with them
You'll get attacked and condemned if you don't preach grace like they do!
2. Grace in bringing us into his family
God's Compassion & Grace
Compassion & grace to everyone

especially those in need
and particularly those who cry for help

Compassion & grace in bringing us into his family
Continuing relationship of compassion and grace
Jacob's Dream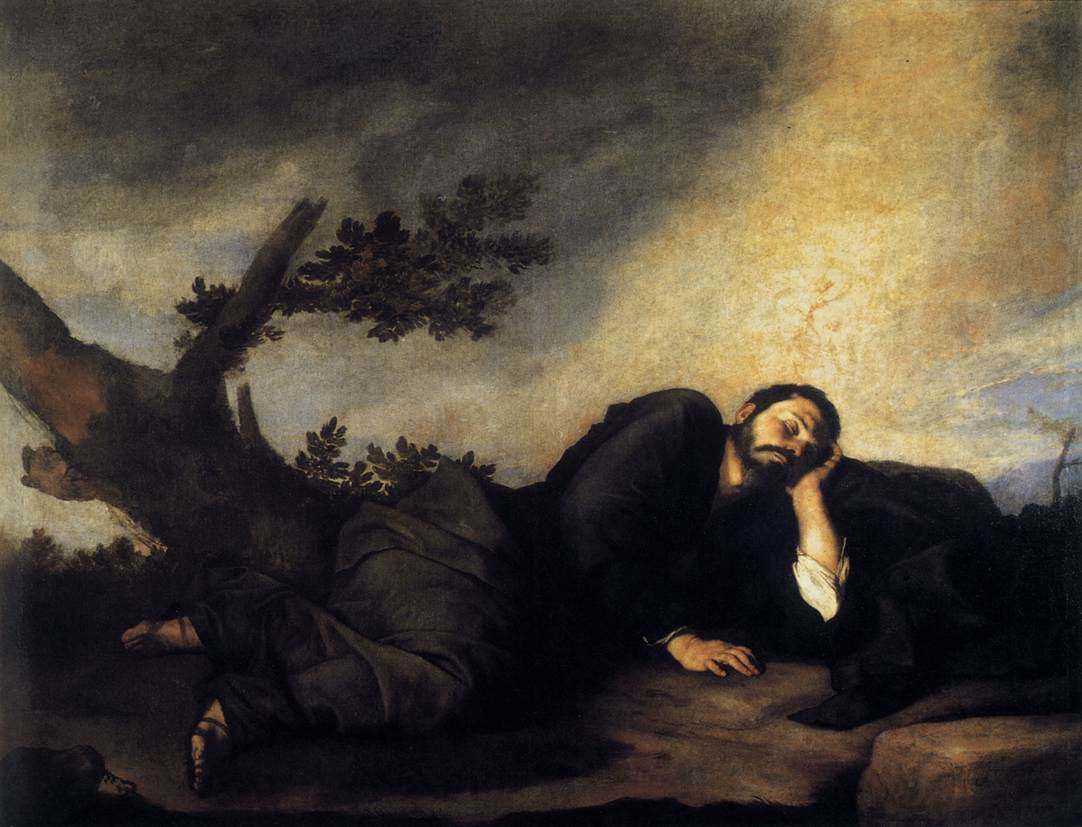 Image source: José de Ribera
Jacob (when his father "made a will" he deceived him)
Gen 28:15 "Behold, I am with you and will keep you wherever you go,
and will bring you back to this land.
For I will not leave you
until I have done what I have promised you."
Then later his descendents go down to Egypt, a nation is born, but it is in slavery and without hope and about to be destroyed, but not serving God!
But once again, Jesus is the full revelation of God's compassionate love
As the Kingdom grows, there's an evil man who Satan is using to attack and kill God's people

One day when this wicked man is travelling to kill even more Christians, God strikes him down dead?
No, he shows his love and grace to this man, Paul, who ends up being one of the greatest apostles.
Jesus: Matthew 11
Come to me, all who labour and are heavy laden, and I will give you rest.
Take my yoke upon you, and learn from me, for I am gentle and lowly in heart, and you will find rest for your souls.
For my yoke is easy, and my burden is light."
How should we respond to this?
A Christian is someone who has received God's compassion and grace
You can receive this so easily!
Admit that you need his forgiveness, you need his help, you can't do it yourself
Trust yourself to his leadership for your life. Surrender control to him, trusting that he will give you life
3. A continuing relationship of compassion and grace
God's Compassion & Grace
Compassion & grace to everyone

especially those in need
and particularly those who cry for help

Compassion & grace in bringing us into his family
Continuing relationship of compassion and grace
City of David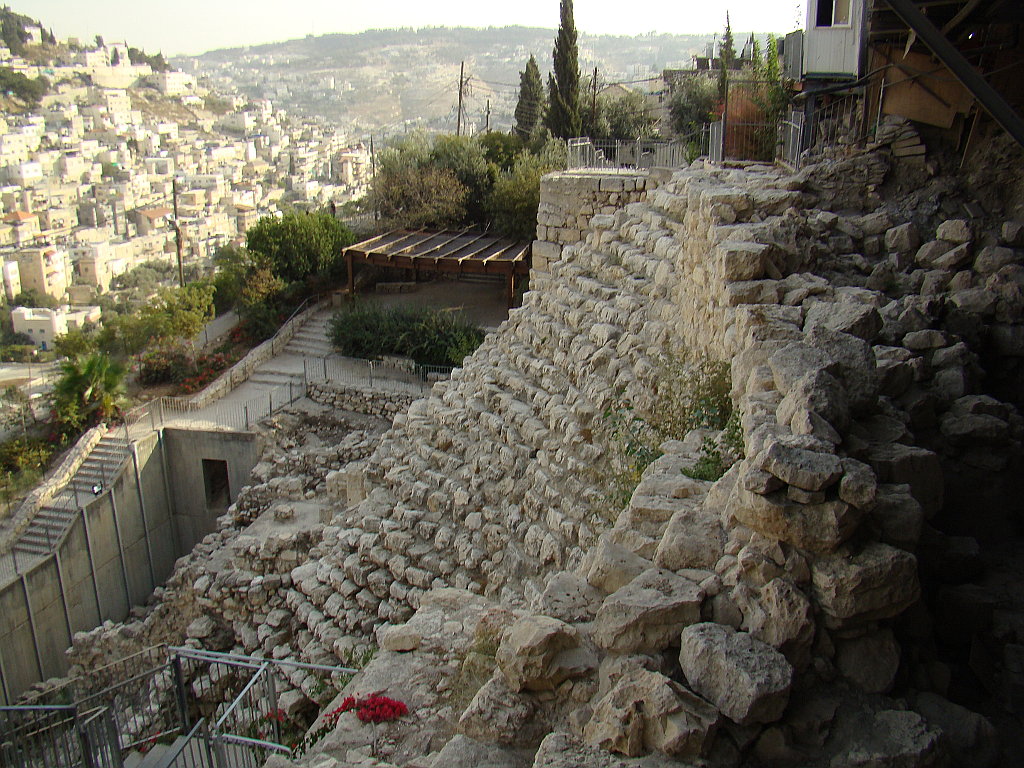 Image source: José de Ribera
Psalm 51
Wash me thoroughly from my iniquity, and cleanse me from my sin!…
Against you, you only, have I sinned and done what is evil in your sight…
Sprinkle me with hyssop, and I shall be clean; wash me, and I shall be whiter than snow.
Hide your face from my sins, and blot out all my iniquities.
Create in me a clean heart, O God, and renew a right spirit within me.
Psalm 116
I love the L

ORD

, because he has heard my voice and my pleas for mercy.
Because he inclined his ear to me, therefore I will call on him as long as I live.
The snares of death encompassed me; the pangs of the grave laid hold on me; I suffered distress and anguish.
Then I called on the name of the L

ORD

: "O L

ORD

, I pray, deliver my soul!"
Gracious is the L

ORD

, and righteous; our God is merciful.
Psalm 118
Out of my distress I called on the L

ORD

; the L

ORD

answered me and set me free.
The L

ORD

is on my side; I will not fear. What can man do to me?
How should we respond to this?
It's very important that we relate to God as someone who is ready to forgive us
Our Response
Many Christians live under a "harsh" God
Our experience of authority is that it is not kind and gentle
Most of us need a huge change in our view of God

need to read the stories, esp of Jesus, and say "This is God"

He is like the father in the parable of the "lost son"
I want to strongly encourage you to work on the image of God in your mind
Nehemiah 9
They refused to obey and did not recall your miracles that you had performed among them. Instead, they rebelled…. But you are a God of forgiveness, merciful and compassionate, slow to get angry and unfailing in your loyal love. You did not abandon them,
even when they made a cast image of a calf for themselves and said, 'This is your God who brought you up from Egypt,' or when they committed atrocious blasphemies.
"Due to your great compassion you did not abandon them in the desert. The pillar of cloud did not stop guiding them in the path by day, nor did the pillar of fire stop illuminating for them by night the path on which they should travel.
There are consequences to sin, but God is ready to hear you any time

We feel he is angry with us, but we need to remember these stories of his compassion
The voice in your head that
Last week when I set off to spend a day in Oakville, I was supposed to have taken a bag with me.

Andrew you are so stupid. What an idiot. How could you have possibly forgotten it. You are so dumb!
What's the problem with talking to myself like that?

What should I have said?

I didn't intend forget it. I always have a million things on my mind as I leave, so how can I avoid it happening again?

Do you ever do it? Would people be shocked if there were a "microphone"?
I'm out of alignment with what God is saying about me.

This is actually very serious because we tend to mix up this inner critical voice with God's voice
If we allow ourselves to do these self-attack, we'll damage our relationship with God

We reduce our effectivness as people
People who don't receive God's compassion, rarely know how to give it to others

Self-critical people are critical of others. (e.g. other drivers)
My grandfather was a very angry man
Conclusion
Be compassionate and grace-filled to others

stepping out in dependence on God's strength

Enjoy God's gentleness and kindness to you

especially in the way you talk to yourself
It's well worth reading Terry Virgo's book on Grace.

You can read the first part of it for free on Google Books:
Updated on 2017-06-12 by Andrew Fountain
Login to post comments

28 downloads

0 plays