Andrew Fountain - The Birth of Jesus (told by Luke)
---
Sermon notes - The Birth of Jesus (told by Luke)
We're coming to a season where there might be lots of opportunities to talk to people about Jesus coming.

So I thought I would take this topic so we are really clear on why he came, and if we have an opportunity to talk about it, we can do so clearly.
Also to encourage ourselves
And to honour Jesus at this time and put the spotlight on him

How accurate is this picture: can you spot anything not perfectly historical?
Nativity Scene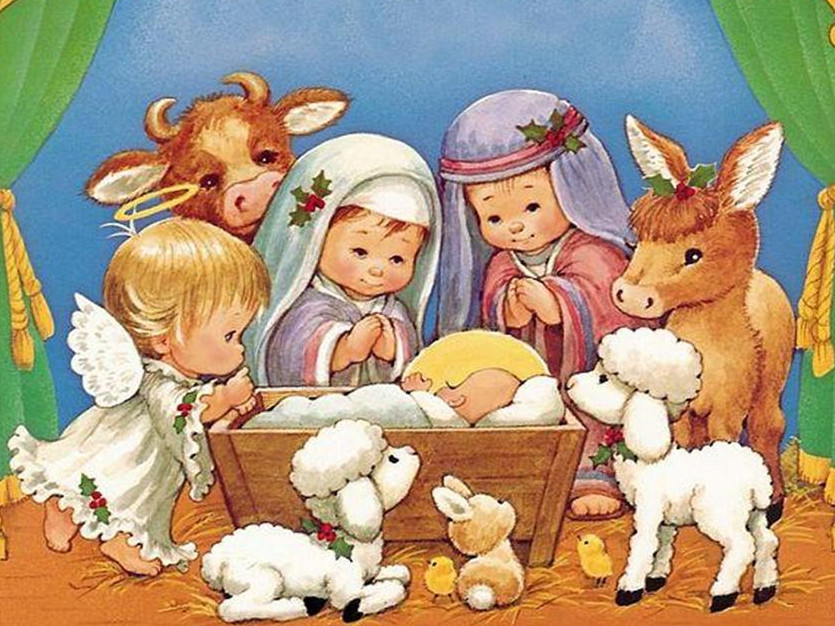 Image source: wallpapersdig.com
1. The Story
Luke's account of Jesus's birth
Read: Luke 2
Luke 2
Now in those days a decree went out from Caesar Augustus to register all the empire for taxes.
This was the first registration, taken when Quirinius was governor of Syria.
Everyone went to his own town to be registered.
So Joseph also went up from the town of Nazareth in Galilee to Judea, to the city of David called Bethlehem, because he was of the house and family line of David.
He went to be registered with Mary, who was promised in marriage to him, and who was expecting a child.
 
While they were there, the time came for her to deliver her child.
And she gave birth to her first-born son and wrapped him in strips of cloth and laid him in a manger, because there was no place for them in the inn.
 
Now there were shepherds nearby living out in the field, keeping guard over their flock at night.
An angel of the Lord appeared to them, and the glory of the Lord shone around them, and they were absolutely terrified.
But the angel said to them, "Do not be afraid! Pay attention: I proclaim to you good news that brings great joy to all the people:
For to you is born this day a Saviour, who is Christ the Lord, in the city of David.
This will be a sign for you: You will find a baby wrapped in strips of cloth and lying in a manger."
Suddenly a vast, heavenly army appeared with the angel, praising God and saying,
"Glory to God in the highest, and on earth peace among people in whom he takes pleasure!"
 
When the angels left them and went back to heaven, the shepherds said to one another, "Let us go over to Bethlehem and see this thing that has taken place, that the Lord has made known to us."
So they hurried off and located Mary and Joseph, and found the baby lying in a manger.
When they saw him, they related what they had been told about this child,
and all who heard it were astonished at what the shepherds said.
But Mary treasured up all these words, pondering in her heart what they might mean.
So the shepherds returned, glorifying and praising God for all they had heard and seen; everything was just as they had been told.
---
Questions
Why go to Bethlehem?
Where did they actually sleep?
Why did God announce it to shepherds?
Why were they afraid of this angel?
Why go to Bethlehem?

The significance of David

Whomever was in the main line from David was the rightful king
There were many prophecies about the Messiah being like David, another King David

Where did they actually sleep?

It was with the animals—incredibly unhygenic and despised by the religious people
We are told that Jesus was laid in an animal's feeding trough (manger sounds nice...)
Christmas cards show them in a wooden stable, but ancient tradition was that it was a cave
The Bible doesn't say, but a cave is much more likely

Near Bethlehem there are many natural caves. It was easier, safer and more economical to block off a cave's entrance to shelter animals than to build a freestanding stable.

Why would God do this?

This is a difficult concept to grasp, but God is humble! (what does he have to be humble about?)
This is astounding! (Missionaries have not always done this well)

Why did God announce it to shepherds?

We have a romanic view! (lamb in their arms...)

Dirty (lived and slept outside with the animals)
Generally considered thieves
They were outcasts from normal society

So why then to shepherds?

The announcement was to them because it was for this kind of person Jesus came
Also, Jesus was humble and not proud

Doesn't the concept of God being humble boggle your mind?

Why were they afraid of this angel?

Here is another description of an angel
Revelation 10:1–3
Then I saw another mighty angel coming down from heaven, wrapped in a cloud, with a rainbow over his head, and his face was like the sun, and his legs like pillars of fire.
…And he set his right foot on the sea, and his left foot on the land,
and called out with a loud voice, like a lion roaring.
Is that the kind you put on a Christmas tree?
Terrifying!
More Questions
Why did the angel say "To you is born"?
What would they understand by "a Saviour who is Christ the Lord"?
But what did they see when they found Jesus?
Why did Jesus have to become a man?
How do we respond?
Why did the angel say "To you is born"?

he is born "to these shepherds" or "for them, their salvation and blessing"
he was born for you people here this morning

What would they understand by "a Saviour who is Christ the Lord"?

Saviour who is Christ —This is the same word as "Messiah"
Here is the one who they had been waiting for, for over 1,000 years!
"the Lord" was the usual name for God in the O.T.

But what did they see when they found Jesus?

Near Bethlehem there are many natural caves. It was easier, safer and more economical to block off a cave's entrance to shelter animals than to build a freestanding stable.
There was nothing special to see—not "the baby who has a glowing light around his head"
There was astonishment—this was not how anyone expected a Messiah
Encouragement to Joseph & Mary
2. This was the event that the ages had been waiting for
Promises had been made to:

Eve
Abraham
Moses ==> a prophet
David ==> a king ==> a priest
Isaiah the prophet
Many other prophets

They had lots of hopes and expectations

Some said there would be a high priest coming.
Some that there would be a prophet like Moses
Some said a king like David

Qumran: 3 messiah's

But none of them remotely imagined that God himself would become a human

That this Messiah would actually be God taking on flesh
On a side-note, this is one of the characteristics of prophecy in Scripture: The fulfillment is way better than you could have guessed.
(This gives me great hopes for heaven—what does God have in store for us)

["Things that no eye has seen, or ear heard, or mind imagined, are the things God has prepared for those who love him."] —1 Cor 2:9
3. Why did Jesus have to become a man?
Actually, how could God become a man?

God is infinite in just about every way ==> power, knowledge, time, space, love, creativity
We are finite and limited in just about every way

Jesus did not lose his Godhood, he just took on something else

Suppose Justin Trudeau decided that he had nothing to do in Parliament over his Christmas vacation
So he would get a job working in Tim Horton's

Just to see how the rest of us lived

Would he cease to be the P.M. ? no

Could he be a genuine Tim's employee, getting paid $7/hour plus tips? sure he could

But although Jesus didn't lose his Godhood, he had to voluntarily limit himself
So why did he have to become a man?

Like when a house is on fire, to rescue someone trapped inside, the fireman actually has to go in
What if someone is way out to sea, drowning?

Someone has to go out there, whether by boat or whatever, they have to actually go

But can't God do anything? Could he not simply decree that all our sins are fogiven?

Jesus accomplished two things by coming to earth and dying on the cross:

He enabled our sins to be forgiven
He sets us free
First: Forgiveness of sins
We know that when Jesus suffered and died on the cross, he was suffering in the place of his people

Isaiah tells us that he was "wounded for our sins, he was crushed for our sins"

We often put salvation like this:

someone has broken the law, let's say for parking in the wrong place and the wrong time demonstrate with a "volunteer"
In the lawcourt, they are fined $20.

Does anyone here have a $20.00 bill —take it :)

But that doesn't work for going to prison—you can't usually go to prison for someone else!

We don't totally understand how God's justice works, but

If Jesus had not become a man, but suffered as a "spirit", we could not have been saved
But God's justice allows another human to pay the price, if they are very closely associated

However, there is more to it than that

The idea of paying a price for us is only part of what happened on the cross

It is not the heart of what happened

The heart of our salvation is being joined to Christ
Get out rope
Have you ever heard of climbers on a mountain being roped together?

Sometimes one falls and drags all of them to their death

But what if one climber is totally immovable? (Like Jesus is)

The only way for God to help us was to literally "get his hands dirty" and become a human

At the moment we become a Christian, we become inseparably connected by that rope to Jesus
Jesus defeated death, and so do we
Jesus is beloved by the Father and so are we
Jesus has been through God's judgement and come out the other side, and so will we.
Jesus is pure and spotless and so are we
Second: He sets us free
What Jesus wants is a relationship with us

Some preachers have distorted the gospel by focussing on scaring people about hell

"Just sign this decision card and Jesus will save you"

Jesus does save from hell, but what he wants from us is a relationship

Being saved is not so much about legal payment for sin, as coming into a relationship

Jesus became a human, lived a perfect life, and actually broke the power that doomed us to constantly sin

Romans 8:2 says that the Spirit of life in Christ has set us free from the forces of sin and death
This would not have been possible if Jesus had not become a man

So why did he become a man?

because to save us, he had to make it possible for us to be united in this close relationship
4. What does it matter to you and me?
He came so far, and suffered so much, in order to save us...

How was he received? —Did they welcome him with open arms?
"He came to his own and his own received him not"
Why do you think not?
Jesus came very humbly, so what did it require to accept him?

This is why people are offended today—I'm doing ok myself thank-you!

Suspicious of something free (Candid-camera: bowl of $1-bills)

The question is, do you receive him this morning?
You ask, "What do I have to do?"

Look at verse 11
You have ask him to be your Saviour, your Lord

To do that you must humble yourself by saying "I need you—I can't make it by myself"
You ask him to join the rope to you.

That will do many things

Your sin will be forgiven, and all your guilt will be gone
You become part of God's family
You will now be joined to Jesus and will want to follow him and do what pleases him

Some people don't like the idea of giving up their freedom

Ridiculous: a drowning man wanting freedom more than a lifesaver "too constricting"

He has come so far, will you reject him?

"what is the catch?"
the only catch is if you don't accept him, because then you will feel God's anger
No, there is no catch, what he offers is the perfect free gift.

Who wants Jesus to be joined to them, to be rescued by him?

Let's pray together that we'll receive Jesus like the shepherd's did, not the religious Jews.

Let's honour Jesus this morning and put the spotlight on him!

What an amazing thing for him to humble himself in the way he did.
Updated on 2016-12-18 by Andrew Fountain
Login to post comments

35 downloads

1 plays