Andrew Fountain - Baptism: Leaving the Old and Entering the New

Sermon Outline - Baptism: Leaving the Old and Entering the New
Goal
To explain baptism, and to encourage and empower all of us as we get hold of it's true meaning.
Outline
Joined to Jesus in his death
Joined to Jesus in his resurrection
So whay get wet?
1. Joined to Jesus in his death
John & Anne Darwin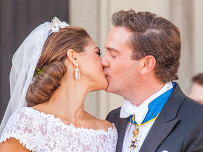 Image source: getty
A few years ago in the UK there was a report about a man called John Darwin

He drowned tragically in a canoe accident in 2002
Five years later he was photographed in Panama with his wife
He gave himself up and was charged with numerous charges of fraud and put in prison

Dying is a very convenient was of getting out of all kinds of problems

Any prosecution against you will immediately be dropped
your debts get wiped out
your police record and driving record are wiped clean
you can no longer be called up for military service or any other kind of duty
no laws of the land even apply to you any more!

Now being dead might not sound so good to you, but if you were immediately re-incarnated

as citizen of another country
maybe the heir of several billion dollars
that could solve a lot of problems, couldn't it!

(Actually the Bible does teach re-incarnation—only one time, but more of that in a minute)
We're going to look at what the Bible teaches about this

The three places where it is taught the clearest are Eph 2, Col 2 & Rom 6
We're going to look at Rom 6 this morning
Romans 6 —Death to the old
We know that our old self was crucified with him
in order that the body of sin would no longer dominate us,
so that we would no longer be enslaved to sin.
(For someone who has died has been freed from sin.)
Here we have the basic idea

in some way (that we can't really explain) if we are Christians, then our core identities were with Jesus when he died on the cross

Two things happened:


The price was paid for our sin. Guilt was removed. We walk free

I have a friend that was involved in some wild stuff in his youth. He served time for bank robbery. But now he is free—he can't be emprisoned again for it because he's paid the price and walks free.

The old dark power inside us that made us a slave to doing wrong things has died

So we are freed from both the
Now we come to the other side of the coin:
2. Joined to Jesus in his resurrection
Romans 6 —Raised in the new
Now if we have died with Christ,
      we believe that we will also live with him.
We know that since Christ has been raised from the dead,
      he is never going to die again;
      death no longer has power over him.
For the death he died, he died to sin once for all,
      but the life he lives, he lives to God.
So you also must consider yourselves dead to sin,
      but alive to God in Christ Jesus.
There are two aspects: present and future. First the future

Jesus received a new physical body—so will we
This new body is immortal, cannot suffer pain or sickness
Because we are joined to Jesus, whatever happens to him will happen to us

But there is also the present in v.11

Even now this new life has started inside us
We have been re-created as something new, and it has started already inside us!

We are JOINED to Christ.

Brothers and sisters, we are joined to him if we are Christians.
United. Inseperable. He in us and us in him.
Luke 15
"What man of you, having a hundred sheep, if he has lost one of them, does not leave the ninety-nine in the open country, and go after the one that is lost, until he finds it?
And when he has found it, he lays it on his shoulders, rejoicing.
And when he comes home, he calls together his friends and his neighbors, saying to them, 'Rejoice with me, for I have found my sheep that was lost.'
Lamb photo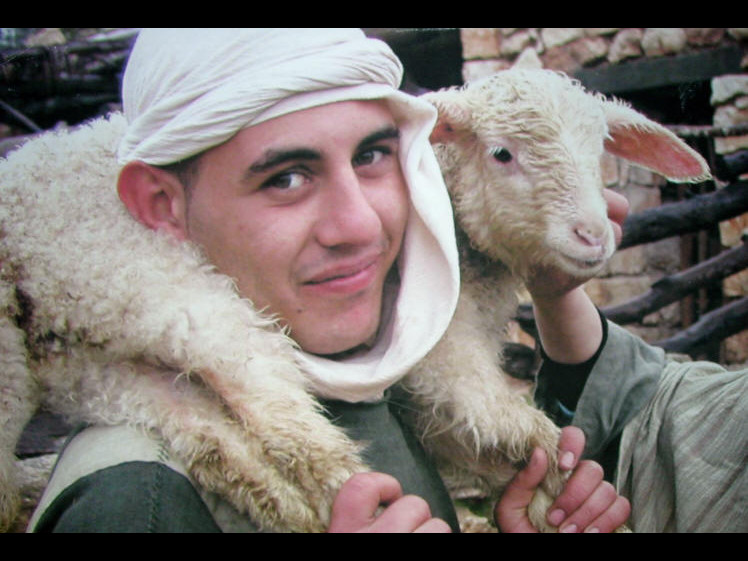 Image source: Gerhardy
The same ideas are in the letters of Colossians and Ephesians

bury—raised

death—life
"Together with him" Paul has actually coined new words here

when someone was crucified, they would nail a list of their crimes to the cross

Our crimes were nailed to Jesus's cross
Not transferred to him, as a separate entity

but he put his arms around us and said "let's do this together" and then he did it all

The core message of the gospel is union with Christ

Once I used to teach the Gospel in terms of scales
I once made a pair of scales to teach this to children
In one side goes our sin (heavy stone) and the other goes our good works (no substance)

Then we take the righteousness of Jesus and it balances it out

However much truth there is in this image, it is not how Paul presents the Gospel

Not a cold, legal transaction with scales,
but union with a living person

Implications of being united with Jesus


Our destinies are inseparably connected
We actually have died

and we have been raised something else
3. So what about Baptism?
Baptism in lake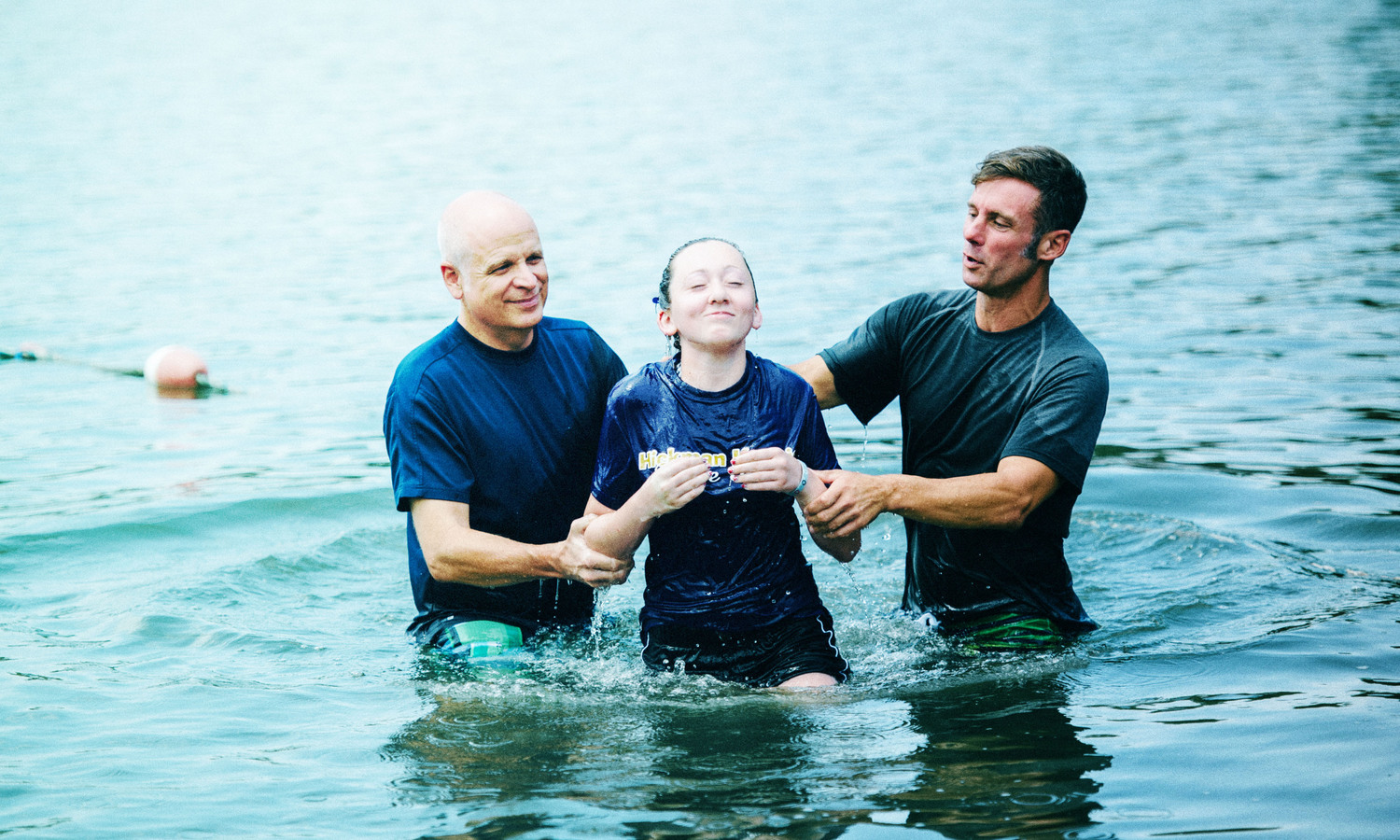 Image source: kevinkeithdesign
What happens...
Why are they going through this?
Baptism is three things:
A public declaration that you are following Jesus
A picture of death and new life
An opportunity to receive more from God
1. A public declaration that you are following Jesus
Declaring yourself as a follower of Jesus

In some cultures to decide to become a follower of Jesus can lead to persecution or even death
This was the case in the early church, 2000 years ago
But Jesus said he was not interested in secret followers
He wanted people who would trust him in life and in death
He promised that he would commit himself to those who were willing to commit to him
He wanted people who would trust him enough to "go public" with it
The way he asked them to "go public" was with an external action that symbolized what had happened inside them

As far as we know it was always done outside

but we have a very different climate in Canada (our last baptism was in March!)
Actually the guys being baptized were all up for breaking the ice on the lake in February
But they were worried that all of you would get cold standing on the shore watching them
So they have kindly and unselfishly agreed to be baptized indoors!
2. So why dunk in water as a sign of committing yourself?
Can you imagine if we did this at weddings?

As a sign that the bride is committed to her husband we are going to dunk her in a tank of water and totally submerge her!
Now we are going to dunk the husband!

So what does it mean?
Romans 6 —Baptism
Do you not know that all of us who have been
      baptized into Christ Jesus
      were baptized into his death?
Therefore we have been buried with him by baptism into death, in order that,
      just as Christ was raised from the dead by the glory of the Father,
      we too might walk in newness of life.
For if we have been united with him in a death like his,
      we shall certainly be united with him in a resurrection like his.
so going down is a picture of dying
v.4 Paul says

["Christ was raised from the dead"]

coming up out of the water is a picture of a new life beginning

["we too might walk in newness of life."]

v.5 There is some invisible bond that has occurred between us and Jesus

Just imagine that you had the opportunity of every bad thing in your past to be re-written
Everything you have done that you regret to be erased
Every mistake or hurt to be just wiped away

That is what this death is—the old is gone, there is a new life that begins

v.6,7 Someone who follows Jesus Christ is not sinless—they will always be imperfect

But they do have a new power available inside themselves to fight against old habits and faults

v8–11 If we are joined to Jesus, and he has defeated sin and will live forever

one day we will rise from the dead, just as he did, and live with him forever
3. An opportunity to receive more from God
Jesus told his followers to be baptized

and he also promised them that he would bless them if they kept his commandments
one of the blessings is the power and presence of Jesus actually available to us and in us

This is through his Holy Spirit

If you are not a follower of Jesus today:

How would you like to have the opportunity of

Every bad thing in your past to be re-written
Everything you have done that you regret to be erased
Every mistake or hurt to be just wiped away

And a new power in your life to live in a new way
If you are not following Jesus, and are interested in finding out more, then I would love to talk with you later

And if you are, and would like to be baptised, then we would like to do some baptisms soon!

Come and talk to me
It is a wonderful occasion of celebration
Updated on 2018-11-11 by Andrew Fountain
Login to post comments

28 downloads

1 plays