Andrew Fountain - Why have you forsaken me?
No video available for this sermon, only audio

---
Full sermon notes - Why have you forsaken me?
"Is God listening?"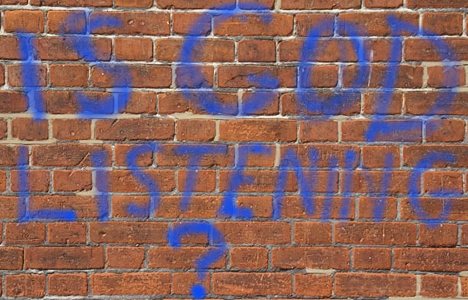 Image source: ++++
First we will have a recap and summarize the problem
The Problem
25 Psalms make some sort of accusation against God
God is not answering prayers
Time is running out
Either circumstances are getting desperate
or we are losing hope
We see several stages in blaming God:
Psalm 10 —God's negligence
Why do you hide yourself, just when you are needed?
Why, O L

ORD

, do you stand far away?
Why do you hide yourself in times of trouble?
Arise, O L

ORD

; O God, lift up your hand;
forget not the afflicted
God, please be involved!
Implication that God has chosen to make himself unavailable
Great personal loss—of their God. Grief is intense and far worse than the wicked could do to them.
What makes it so hard is that there is a relationship that is damaged. He thought he could trust God!

The psalmist is used to going to the sanctuary and seeing the evidence of the presence of God.
Only a God who reveals himself can sometimes be hidden
Psalm 13 —Has God forgotten them?
If God seems to delay too long, then this accusation comes
This is not unintentional, but deliberate!
How long, O L

ORD

?
Will you forget me forever?
How long will you hide your face from me?
How long must I take counsel in my soul and have sorrow in my heart all the day?
How long shall my enemy be exalted over me?
The intensity of this lament is expressed with a broken-off beginning: "How long?"

An intolerable situation that has gone on long enough and must stop.

The Hebrew verbs to forget and to remember when used of God are always about action, not failing memory
When he lapses into "will you forget me forever"

v.1

, despair begins to cloud the picture.
Psalm 22 —God has forsaken him
My God, my God, why have you forsaken me?
Why are you so far from saving me, from the words of my groaning?
O my God, I cry by day, but you do not answer,
and by night, but I find no rest.
But I am a worm and not a man,
scorned by mankind and despised by the people.
"He trusts in the L

ORD

; let him deliver him;
let him rescue him, for he delights in him!"
The question is an implied accusation that God is not faithful

It may seem that way, but this is the cry of a suffering believer who has received no response after a long and agonizing cry for help.
And yet the sufferer maintains his communication with God. He says My God.

This was the Psalm quoted by Jesus on the cross

We'll come back to it because it's very important
Psalm 44 —God is hostile
You have made us like sheep for slaughter and have scattered us among the nations.
You have sold your people for a trifle, demanding no high price for them.
Yet for your sake we are killed all the day long; we are regarded as sheep to be slaughtered.
Awake! Why are you sleeping, O Lord? Rouse yourself! Do not reject us forever!
Why do you hide your face? Why do you forget our affliction and oppression?
For our soul is bowed down to the dust; our belly clings to the ground.
In these cases God is actually the problem!

God is to blame because he is sovereign and all-powerful
So if I suffer and die, it must be his plan!
He is the only one who can do anything about it
Answers
Sometimes our sin's have got us into this mess
how long?
and how severe?
God's anger makes it harder to bear

e.g. Ezekiel explains that the exile was because of God hiding his face because of sin.
Isaiah adds a note of anger:

Is 54:8

"In overflowing anger for a moment I hid my face from you, but with everlasting love I will have compassion on you," says the L

ORD

, your Redeemer.

Ps 30:5

For his anger is but for a moment, and his favour is for a lifetime.


He goes on "you hid your face; I was terrified" —he was full of confusion
but he acknowledges that the reason was his own pride and presumption: "I said in my self-sufficiency, 'I can never be moved.'"

At the time he was terrified, he could have died, but now he sees it was temporary

This experience of anger leads to a focus on the need for repentance, or prayers will be rejected

Ps 80:4

O L

ORD

God of hosts, how long will you be angry with your people's prayers?

Ps 74

is an example of repentance being implicit in the song
Psalm 74
O God, why do you cast us off forever? Why does your anger smoke against the sheep of your pasture?
Remember your congregation, which you have purchased of old, which you have redeemed to be the tribe of your heritage! Remember Mount Zion, where you have dwelt.
Shock imagery of sheep in a pasture being hit by fire. The incongruity was meant to jar God's attention as well
Psalm 38
O L

ORD

, rebuke me not in your anger, nor discipline me in your wrath!
For your arrows have sunk into me, and your hand has come down on me.
"Will the Lord spurn forever, and never again be favourable?
Has his steadfast love forever ceased? Are his promises at an end for all time?
Has God forgotten to be gracious? Has he in anger shut up his compassion?"
I suggested a second answer:
Answers
Sometimes our sin's have got us into this mess
Sometimes it is our own impatience
I had said in my alarm, "I am cut off from your sight." But you heard the voice of my pleas for mercy when I cried to you for help.
We are in time, for God it's just a moment. We can't see the future

e.g. Why does David get so upset about being hunted by Saul for so many years?
Doesn't he know he's going to be king soon?

The complexity of God's world is way beyond our remotest understanding
"I is more important than interwebs"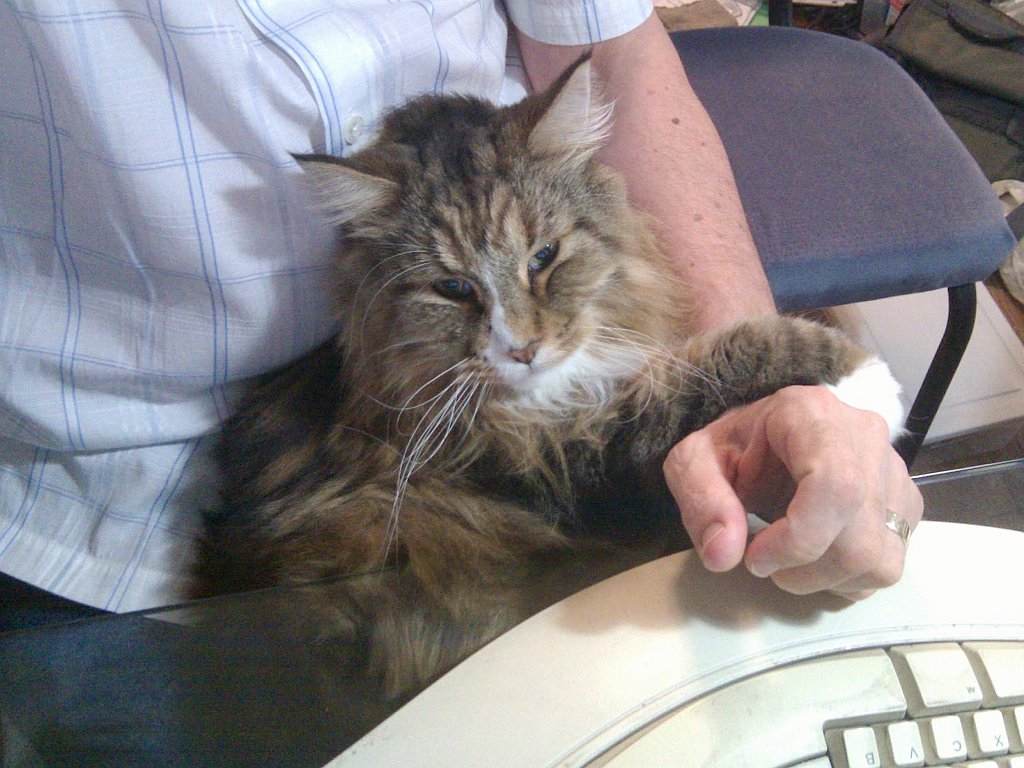 Image source: Andrew Fountain
Conclusions from Pt.1
Honesty as we pray to God
They are still talking to God!

shows they have not given up on him

Where do you take your complaints?
God responds to prayer
I am going to suggest three places were we can look for the ultimate answer:
Finding the answer
from within the Psalms

Psalm 90 is the turning point, answering 88 & 89

From Jesus

He quoted Psalm 22
"My God, my God, why have you forsaken me?"

From Paul
The book of Psalms

It's widely believed among scholars of the Psalms today that the collection of Psalms is not random, but organized to tell a story
One of the stories told is this one about how it feels to be abandoned by God
There are 25 Psalms that complain at God, but they are not evenly distributed

The complaints start off as a low rumble, and then build and build till there is a crescendo in the 70's & 80's
building up to a climax in 88 & 89, the most desperate of the Psalms

Psalm 90 starts in the same way, but in the middle something happens—an answer is found

In the second half of Psalm 90 the pain and desperation is replaced with peace and joy

And that's pretty much finishes the cries and complaints for the rest of Psalms

There is one minor complaint, but apart from that, the question is answered!
---
"Psalm 90"
Before the mountains were born,


or you had formed the earth

from

everlasting to everlasting

you are God.

You turn man back to dust


and say "Return, O children of man."

For a

thousand years

in your eyes


is like

yesterday

that went by

or like a

watch period

in the night.

You sweep them away to death's

sleep




They are like the new grass grown up in the

morning

In the

morning

it is fresh and grows up,


by the

evening

it is withered and dry.
---
Yes, we are consumed by your anger,


and by your wrath we are terrified.

You have set our iniquities before you,


our secret sins in the light of your presence.

All our

days

pass away under your wrath,


we finish our

years

with a moan.

The length of our

days

is seventy

years

,


or if we have strength, eighty;

yet their best is but trouble and oppression;

for they quickly pass and we fly away.

Who knows the strength of your anger


and your fury is what causes fear.

Teach us to count our

days

aright,


that we may gain a heart of wisdom.

Relent O Lord, How long?


and have compassion on your servants!

Satisfy us in the morning with your unfailing love,


that we may sing for joy and be glad all of our

days

.

Make us glad for as many

days

as you have afflicted us,


for as many

years

as we have seen trouble.

May your deeds be shown to your servants,


and your splendour to their children.

May the delight of the Lord our God rest upon us,


and establish the work of our hands for us,

yes, establish the work of our hands.
Version: based on NET Bible
---
The Problem: Can an infinite God really care about mankind?

We are consumed by your anger because of our sin
Days and years of trouble and oppression
God's anger
The heart of our problem—

we are measuring things wrongly

God's compassion is the turning point
Days and years of singing for joy!
God's delight replaces his anger
So what is the answer given?

The problems are real, and are not minimized
but the answer is:

God will turn your sorrow into joy

(v.15, 17)
Your problem is your timescale—you are only counting the small number of days of sorrow
2. Jesus quotes Ps 22
At about three o'clock Jesus shouted with a loud voice, "Eli, Eli, lema sabachthani?" that is, "My God, my God, why have you forsaken me?" Mat 27:46
Was he really forsaken?
The question "Why" implies you don't know the answer...?
He knew the answer, but it was shock
He identified with humanity, so that we would not have to ultimately be forsaken

We will wltimately never have to cry that cry: "Why...

His old body was indeed abandoned. It was finished. What was raised was a new kind of body.
2 Corinthians 5
For our sake he made him to be sin who knew no sin, so that in him we might become the righteousness of God.
As we were united to him in his death, he took on our sin as part of that union
And so was separated from the Father until it was purged away
Hebrews 5:7 In the days of his flesh, Jesus offered up prayers and supplications, with loud cries and tears, to him who was able to save him from death, and he was heard...
Was he heard?
Yes, in the resurrection, but not in this body

This is echoed in the passage
2 Corinthians 5
For the love of Christ controls us, because we have concluded this: that one has died for all, therefore all have died;
and he died for all, that those who live might no longer live for themselves but for him who for their sake died and was raised.
From now on, therefore, we regard no one according to the flesh. Even though we once regarded Christ according to the flesh, we regard him thus no longer.
Therefore, if anyone is in Christ, he is a new creation. The old has passed away; behold, the new has come.
So the answer from Jesus is that regarding him according to the flesh it looks like he failed and was abandoned

but when we see the new creation, everything makes sense.

Paul says that if there is no resurrection, then of all people we are the most miserable

We are living our lives to store treasure in heaven and then there is no heaven

What we learn from Jesus is that the ultimate answer is in the New Creation

This world is like the morning mist that is passing away
The problems that we have now will be distant memories after a billion years in the New Creation
As Moses says, get your numbering right and everything will make sense

But does that mean that there is no answer now? that we have to wait for heaven?

Let's see what Paul has to say.
Psalm 44
Yet for your sake we are killed all the day long; we are regarded as sheep to be slaughtered.
Awake! Why are you sleeping, O Lord? Rouse yourself! Do not reject us forever!
Why do you hide your face? Why do you forget our affliction and oppression?
For our soul is bowed down to the dust; our belly clings to the ground.
Rise up; come to our help!
3. Romans 8 - Psalm 44
Who shall separate us from the love of Christ? Shall tribulation, or distress, or persecution, or famine, or nakedness, or danger, or sword?
As it is written, "For your sake we are being killed all the day long; we are regarded as sheep to be slaughtered."

No, in all these things we are more than conquerors through him who loved us.

For I am sure that neither death nor life, nor angels nor rulers, nor things present nor things to come, nor powers,
nor height nor depth, nor anything else in all creation, will be able to separate us from the love of God in Christ Jesus our Lord.
What is he doing quoting that Psalm?
I think he is summarizing Psalm 45 in v.37

Ps 45 could be called "The conqueror & his bride"
Ps 45 The conqueror & his bride
Strap your sword to your thigh, O warrior!
      Appear in your majestic splendor!
Appear in your majesty and be victorious!

      Ride forth for the sake of what is right, on behalf of justice!

      Then your right hand will accomplish mighty acts!

Hear, O daughter... forget your people and your father's house, and the king will desire your beauty...
All glorious is the princess in her chamber, with robes interwoven with gold.
In many-colored robes she is led to the king, with her virgin companions following behind her.
With joy and gladness they are led along as they enter the palace of the king.
So Paul's answer is this:

The prayer is answered in a different dimension to where it was prayed.
It was prayed expecting a certain kind of answer—external, physical, and limited (it would happen again)
It was answered in a much greater way, but different.
Conclusions
Take your complaints to God and be honest with him

Tell him all the reasons why he should answer your prayers

Psalm 90: Count your days properly

in the end days of joy in God's love will vastly outnumber the suffering

Jesus was abandonded so that you never have to be

He cried that cry so that it will never be true for you (even though it might seem like it)

The King of the Universe loves you passionately

Trust him in the present, because the future is very bright
Updated on 2013-12-18 by Andrew Fountain
Login to post comments

118 downloads

2 plays