Andrew Fountain - A Surprising Invitation to a Banquet

---
Full sermon notes - A Surprising Invitation to a Banquet
"The Banquet is Ready"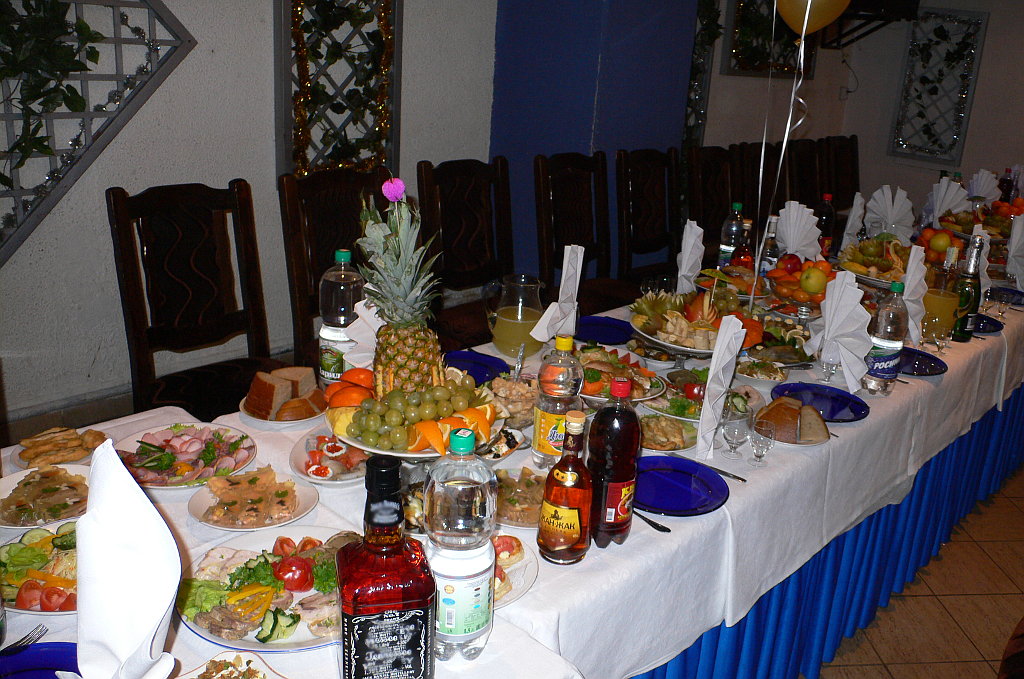 Image source: metalchris
Have you ever invited someone for a meal and they haven't shown up?
Everything is ready, food is about to be served—a beautiful meal
So you call them...

Oh, I can't come, there's some shopping I have to do. (or similar lame excuse)

In Jesus' day you would have two invitations

One, like our wedding invitations, would be some time in advance

If you agreed to this, you were expected to organize your time to keep this commitment

The second invitation would be when the food was ready
Promise of a Banquet
Before we look at Jesus' parable of the banquet:
There is a major Old Testament theme behind this story

God promised that he was going to do something new in this world, and it was pictured as a banquet
---
Isaiah 25:6–9
The

Lord

who commands armies will hold a banquet for all the nations on this mountain.

      At this banquet there will be plenty of meat and aged wine —

            tender meat and choicest wine.

On this mountain he will swallow up

      the shroud that is over all the peoples,

      the woven covering that is over all the nations;

he will swallow up death permanently.

 

The sovereign

Lord

will wipe away the tears from every face,

      and remove his people's disgrace from all the earth.

            Indeed, the

Lord

has announced it!

At that time they will say,

"Look, here is our God!

      We waited for him and he delivered us.

Here is the

Lord

! We waited for him.

      Let's rejoice and celebrate his deliverance!"
Version: based on NET Bible
---
So with that in mind, here is the parable:
---
Luke 14:15–24
When one of those at the meal with Jesus heard this, he said to him, "Blessed is everyone who will feast in the kingdom of God!"

 

But Jesus said to him, "A man once gave a great banquet and invited many guests.
At the time for the banquet he sent his servant to tell those who had been invited, 'Come, because everything is now ready.'
But one after another they all began to make excuses. The first said to him, 'I have bought a field, and I must go out and see it. Please excuse me.'
Another said, 'I have bought five yoke of oxen, and I am going out to examine them. Please excuse me.'
Another said, 'I just got married, and therefore I cannot come.'
So the servant came back and reported this to his master.

 

Then the master of the household was furious and said to his servant, 'Go out quickly to the streets and alleys of the city, and bring in the poor, the crippled, the blind, and the lame.'

Then the servant said, 'Sir, what you instructed has been done, and there is still room.'
So the master said to his servant, 'Go out to the highways and country roads and urge people to come in, so that my house will be filled.
For I tell you, not one of those people who were invited will taste my banquet!' "
Version: based on NET Bible
---
So let's look at the story.
The danger of over-allegorizing. e.g.

First call to the Jewish leaders, second to the common people, third to the gentiles?
Explanation
The Banquet is God's wonderful kingdom

Free, delightful, satisfying, fulfilling all our longings

Those Invited are everyone who hears the Gospel

Some respond and some don't

There is a surprising ending because it's not who you would expect at a banquet

The people in God's kingdom are often not whom you would have expected
To apply this:

Grace is amazing and totally undeserved
God is looking for those who will put a priority on his kingdom and recognize its value
The composition in the Kingdom in Jesus' time was very different to what was expected

Similarly today, God is building his kingdom from unlikely people
1. Amazing Grace
Eating food together was incredibly important in Jesus' time, and it still is today
By inviting someone, you conferred honour on them

e.g. I believe the Queen of England has a garden party every-so-often
who do you think gets invited? —the ones who are chosen to be honoured
If someone told you that ... had been invited last year, and had chatted with the Queen, would it lift her up in your estimation?

Go back to Is. passage
---
Isaiah 25:6–9
Forget the Queen of England—God himself invites us

he has personally prepared the feast

It is forever
No more pain, suffering or death
2. Responding to the Invitation
Is it conceivable that anyone should turn down such an invitation?

The tragedy is that people do!
Maybe even here today, someone is turning it down?

If that is you, I would urge you: Don't delay, don't make God angry with your refusal

The invitation is open now, take it quickly!
How?
3. Unlikely People
One of the most remarkable things about God's Kingdom is that he chooses to build it out of the most unlikely people.
The Twelve Apostles—fishermen and a tax collector

uneducated and unlikely
became the pillars of the Kingdom
Acts 4:13 When they saw the boldness of Peter and John, and discovered that they were uneducated and ordinary men, they were amazed and recognized these men had been with Jesus.

God turned a man called "Legion", a demon-possessed man, into an evangelist
Can God still do that today?

God can take the most unpromising people and make them into the pillars of the church
1 Samuel 22:1–2
David departed from there and escaped to the cave of Adullam. And when his brothers and all his father's house heard it, they went down there to him.
And everyone who was in distress, and everyone who was in debt, and everyone who was bitter in soul, gathered to him.

And he became captain over them. And there were with him about four hundred men.
1 Corinthians 1:26–29
For consider your calling, brothers: not many of you were wise according to worldly standards, not many were powerful, not many were of noble birth.
But God chose what is foolish in the world to shame the wise; God chose what is weak in the world to shame the strong;
God chose what is low and despised in the world, even things that are not, to bring to nothing things that are,
so that no human being might boast in the presence of God.
Story of Gladys Aylward
Story of John Bunyan
In April 2006 we held a prayer meeting to launch the little group that would one day become Newlife Church

We rented St. Luke's church hall, at Carlton & Sherbourne
We gathered people from different churches, including King's Family in Oakville

One of the themes that came out of that prayer meeting was that God would build Newlife church from people who were considered nothing by society

God would build in a way that humanly would be impossible
People would look at Newlife church and say "that must be supernatural because you can't build from those kind of people"
You need movers and shakers, the dynamic and powerful!

Story of Betel
Do you want to be part of a supernatural church, built in an impossible way?

You have to step up to God's call!
Stop telling yourself you are nothing and can't do anything
I can do all things through him who strengthens me!

Many people here who need to step out in faith that God can use them mightily
Is that you?
Updated on 2014-03-09 by Andrew Fountain
Login to post comments

227 downloads

1 plays