Andrew Fountain - The Secret of Victory in the Christian Life

---
Full sermon notes - The Secret of Victory in the Christian Life
Do you ever feel that you are living a defeated life?
How come Jesus told us "I came that they might have life, and have it abundantly"?
This is a topic that Christians have written 100's of books on for the last 2000 years!

What is the secret of the Christian life?
Is there a "golden key" that if you have it, will open the door for you?
Or are we doomed to have no answers?

There is not a one-size-fits-all answer

But there are some answers that people have found
And I am going to tell you how one man found that John 15 transformed his life
The Secret of Victory
What is the secret of Victory in the Christian life?
The "spiritual disciplines" approach

Praying hard enough or hard enough
Fasting
Reading the Bible enough
Worshipping/soaking

The "just stop trying" approach

Give up trying. Let go and let God

Crisis Experience

You need a God-encounter (Spirit-filling, repentance, second-blessing)
All of these have an element of truth
The Secret of Victory cont'd
Missing the key "teaching"

Some new "teaching" has just be revealed to a man of God
Come to this conference and your life will be changed
read this book / pray this prayer
say these words / have these words said over you

Christian Service

As you serve God your problems will go away

Get used to a fallen world

Failure here is to make us long for heaven
Hudson Taylor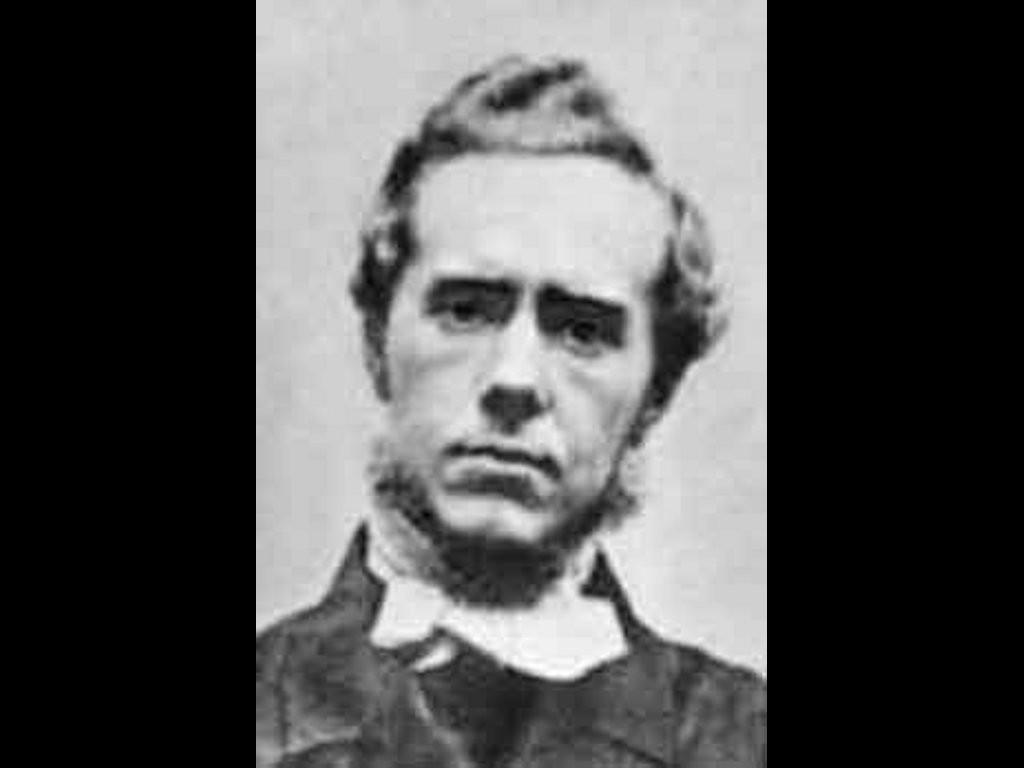 Image source: link
Hudson Taylor was one of the most remarkable missionaries that ever lived
Living in the late 1800s, he radically re-invented missions...
Opened up China to the gospel
Saw amazing fruit
but not all was well...

he was known by his fellow-missionaries as being irritable and hard to work with
All was not well with his inner life

Something happened that transformed this ½ way through his life
You can speak of a "before" and an "afterwards"

A joy for others to work with
An inner peace and joy
---
Hudson Taylor Part 1
Throughout the summer of 1896 Hudson Tayylor's morale was low. Irritability was his "daily hourly failure", and sometimes he even wondered whether someone so dogged by failure could be a Christian as all. Long periods of separation from Maria added to his inner tension and a bout of severe illness in August, probably pneumonia, didn't help.
With all this went a sense of need. He saw that both he himself and the CIM needed more holiness, life and power. He believed the personal need was greater: "I felt the ingratitude, the danger, the sin of not living nearer to God."
He prayed, he agonized, he fasted, he tried to do better, he made resolutions. He read the Bible more carefully, he ordered his life to give more time for rest and meditation. But all this had little effect.
"Every day, almost every hour, the consciousness of sin oppressed me. I knew that if only I could abide in Christ all would well, but I could not. I began the day with prayer, determined not to take my mind off him for a moment; but pressure of duties, sometimes very trying, constant interruptions apt to be so wearying, often caused me to forget him. Then one's nerves get so fretted in this climate that temptations to irritability, hard thoughts, and sometimes unkind words are all the more difficult to control. Each day brought its register of sin and failure, of lack of power. To will was indeed present with me, but how to perform I found not."
He began to ask himself a series of questions:
Is there no rescue?
Must it be thus to the end—constant conflict and, instead of victory, too often defeat?
How can I preach with sincerity that to those who receive Jesus, "to them gave he power to become the sons of God" (i.e. Godlike) when it is not in my own experience?
Instead of growing spiritually stronger, he seemed to be growing weaker and giving in more to sin. He hated himself, he hated his sin.
I felt I was a child of God: his Spirit in my heart would cry, in spite of all, 'Abba, Father': but to rise to my privileges as a child I was utterly powerless… I began to think that, perhaps to make heaven the sweeter God would not given it down here. I do not think I was striving to achieve it in my own strength, I know I was powerless. I told the Lord so, and asked him to give me help and strength; and some times I almost believed he would keep and uphold me. But on looking back in the evening, alas! there was but sin and failure to confess and mourn before God.
This wasn't his state of mind and spirit every minute or even every day of those summer months. Rather, he said, it was a "too frequent state of soul; that toward which I was tending, and which almost ended in despair. And yet never did Christ seem more precious—a Saviour who could and would save such a sinner! … And sometimes there were seasons not only of peace but of joy in the Lord. But they were transitory, and at best there was a sad lack of power."
J. Hudson Taylor—A Man in Christ by Roger Steer, (Wheaton: OMF, 1990) p232f.
---
So let's look at our passage for today and see if we can find any hope for Mr. Taylor
Simply read the passage
---
John 15:1-17
"I am the true vine and my Father is the gardener.
Every branch in me that does not bear fruit he takes away, and every branch that does bear fruit he prunes, that it will bear more fruit.
You are clean already because of the word that I have spoken to you.
Abide in me, and I in you. As the branch cannot bear fruit by itself, unless it abides in the vine, neither can you, unless you abide in me.
I am the vine; you are the branches. Whoever abides in me and I in him bears much fruit, because apart from me you can accomplish nothing.
If anyone does not abide in me he is thrown away like a branch and withers; and the branches are gathered, thrown into the fire, and burned.
If you abide in me, and my words abide in you, ask whatever you wish, and it will be done for you.
My Father is honored by this, that you bear much fruit and so prove to be my disciples.
As the Father has loved me, so have I loved you. Abide in my love.
If you keep my commandments, you will abide in my love, just as I have kept my Father's commandments and abide in his love.
These things I have spoken to you, that my joy may be in you, and that your joy may be complete.
This is my commandment, that you love one another as I have loved you.
Greater love has no one than this, that one lays down his life for his friends.
You are my friends if you do what I command you.
No longer do I call you servants, for the servant does not know what his master is doing; but I have called you friends, because I have revealed to you everything I heard from my Father.
You did not choose me, but I chose you and appointed you to go and bear fruit, and that your fruit should abide, so that whatever you ask the Father in my name he will give you.
This I command you—to love one another.
Based on the NET Bible with some phrases taken from the ESV
---
Did Hudson Taylor know of this chapter?
---
Hudson Taylor Part 2
Throughout the period, he recalled, "I felt assured that there was in Christ all I needed, but the practical question was how to get it out." With the biblical picture of Christ as the vine (John 15) on his mind, he wrote, "He was rich, truly, but I was poor; He strong, but I weak. I knew full well that there was in the root, the stem, abundant fatness; but how to get it into my puny little branch was the question."
Gradually he began to gain insights which were to bring him through this period. First, he saw that faith was the precondition for gaining what he wanted—it was "the hand to lay hold of his faithfulness and make it my own." But he didn't have this faith. He struggled for it, but it wouldn't come. He tried to exercise it, but in vain.
Seeing more and more the wondrous supply of grace laid up in Jesus, the fulness of our precious Saviour—my helplessness and guilt seemed to increase. Sins committed appeared but as trifles compared with the sin of unbelief which was their cause, which could not or would not take God at his word, but rather made him a liar! Unbelief was, I felt the damning sin of the world—yet I indulged in it. I prayed for faith, but it came not. What was I do do?
J. Hudson Taylor—A Man in Christ by Roger Steer, (Wheaton: OMF, 1990) p232f.
---
It looks like he has read this passage and not been helped.
What could the problem be?
One of the difficulties of this subject is that we can have a "one size fits all answer"
Hudson Taylor did find an answer, and people tried to turn it into a formula
It ended up being distorted and very unhelpful to a lot of people
Let's look at who he was

Very highly motivated
Very hard working, energetic, driving force
Passionately devoted to Jesus and willing to do anything for him

A friend of his, John McCarthy, was going through the same struggles

Many others in his inner circle were as well

McCarthy discovered an answer and wrote to him
The light suddenly dawned and very quickly Taylor felt like a new man
---
Hudson Taylor Part 3
As I thought of the vine and the branches, what light the blessed Spirit poured into my soul! How great seemed my mistake in having wished to get this sap, the fulness out of him. I say not only that Jesus would never leave me, but that I was a member of his body, of his flesh and of his bones. The vine now I see, is not the root merely, but all—root, stem, branches, twigs, leaves, flowers, fruit: and Jesus is not only that: he is oil and sunshine, air and showers, and ten thousand time more than we have ever dreamed, wished for or needed. Oh, the joy of seeing this truth!
…It is a wonderful thing to be really one with a risen and exalted Saviour; to be a member of Christ! Think what it involves…
The sweetest part, if one may speak of one part being sweeter than another, is that rest which full identification with Christ brings. I am no longer anxious about anything as I realize this; for he, I know, is able to carry out his will, and his will is mine.
"Oh, Mr Judd," Taylor said, walking up and down the room as he so often did with his hands behind his back, 'God has made me a new man! God has made me a new man! I havn't got to make myself a branch, the Lord Jesus tells me I am a branch. I am part of him, and have just to believe it."
J. Hudson Taylor—A Man in Christ by Roger Steer, (Wheaton: OMF, 1990) p232f.
---
So what Hudson Taylor learned is that it is all about really believing what Jesus said

He didn't say "try hard to be a branch" but "you are a branch"
Part of his problem was a view of Jesus as being like a gas station where you go to fill up with gas

Rather, he travels with us in the car, and supplies gas constantly

So let's go back to our passage

One of the problems with this truth is that it's difficult to say it in a way that doesn't sound obvious.
Look at John 15:1-17 again
---
John 15:1-17
It is clear that we need to do something to abide, it is not automatic (in our sleep)
We can accomplish nothing

Jesus uses the same language for his realtionship with his father

Abiding in Jesus has something to do with abiding in his love
This is done by keeping his commandments
And this is the commandment.
Is this circular reasoning?

It is the gift of the Spirit
It all happens together
but there is one more factor...
What do we actually do?
Then they said to him, "What must we do, to be doing the works of God?"
Jesus answered them, "This is the work of God, that you believe in him whom he has sent."
I need to believe that what he says he has done for me is true

He says that I am joined to him
He says he has won the victory
He says he will never leave me nor forsake me

The truth that transformed HT was that he didn't need to get something out of Jesus—Jesus himself was with him all the time.

He was irrevocably joined to Jesus
Abiding in him was through believing the truth of this

The truth that transformed HT was that we simply need to believe this is true
This is one of the most important teachings in the N.T. and we find it in many places. e.g.:
Union with Christ: Ephesians 2
But God, being rich in mercy, because of the great love with which he loved us,
even when we were dead in our trespasses, made us alive together with Christ—by grace you have been saved—
and raised us up with him and seated us with him in the heavenly places in Christ Jesus,
so that in the coming ages he might show the immeasurable riches of his grace in kindness toward us in Christ Jesus.
For by grace you have been saved through faith. And this is not your own doing; it is the gift of God,
What we have to do is to ask the Spirit to reveal this truth to us
HT's Example of a bank account

All that is ours is his, and all that is his is ours.
Give our struggles over to him
A peace came over his life. From restlessness he came into rest.

All of Jesus' power was his
It transformed his missionary movement

This belief is not passive, it steps out in faith

but we have to believe his love

Most of all, to believe that we are connected to Jesus
Let's pray for the Spirit to show us what this means for us.
Updated on 2014-07-06 by Andrew Fountain