Andrew Fountain - Looking for Pleasure in All the Right Places

---
Full sermon notes - Looking for Pleasure in All the Right Places
"Treasure"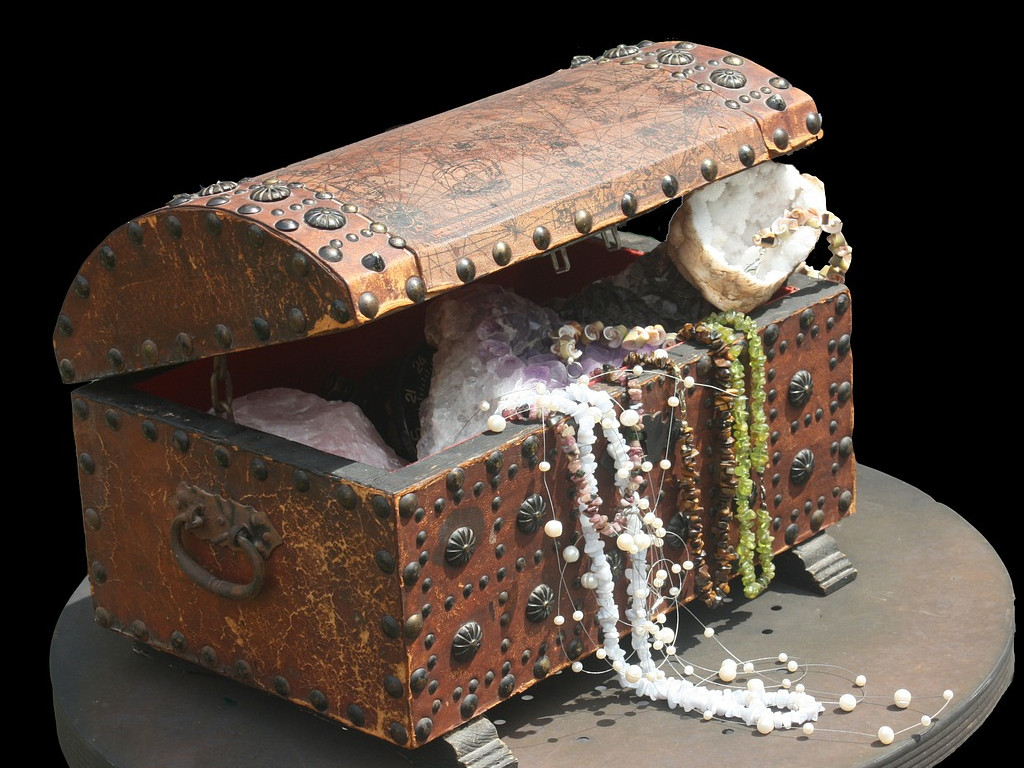 Image source: steinchen
Eph 3:7-4:6, esp 3:16-19
Why is it that many Christians seem to struggle for years against chronic sins, with little or no progress?
There can be a number of reasons, but one of them is a false idea of enjoyment.

Idea: "to be a Christian is

to renounce enjoyment and pleasure
to live a life of joyless obedience

This lie gives Satan a great advantage over us:

"Your only hope of being happy is to sin"
1. Is it wrong to want to be happy?
we are created to desire satisfaction and joy
This desire is not wrong

what is wrong is when we satisfy it in the wrong places

The lie of Satan is that

real pleasure is only found outside of God
God does not want us to have it
following God is a renouncement of pleasure
the choice is between

having pleasure and facing God's anger
abstaining from pleasure and having peace with God
"Outside God's Will"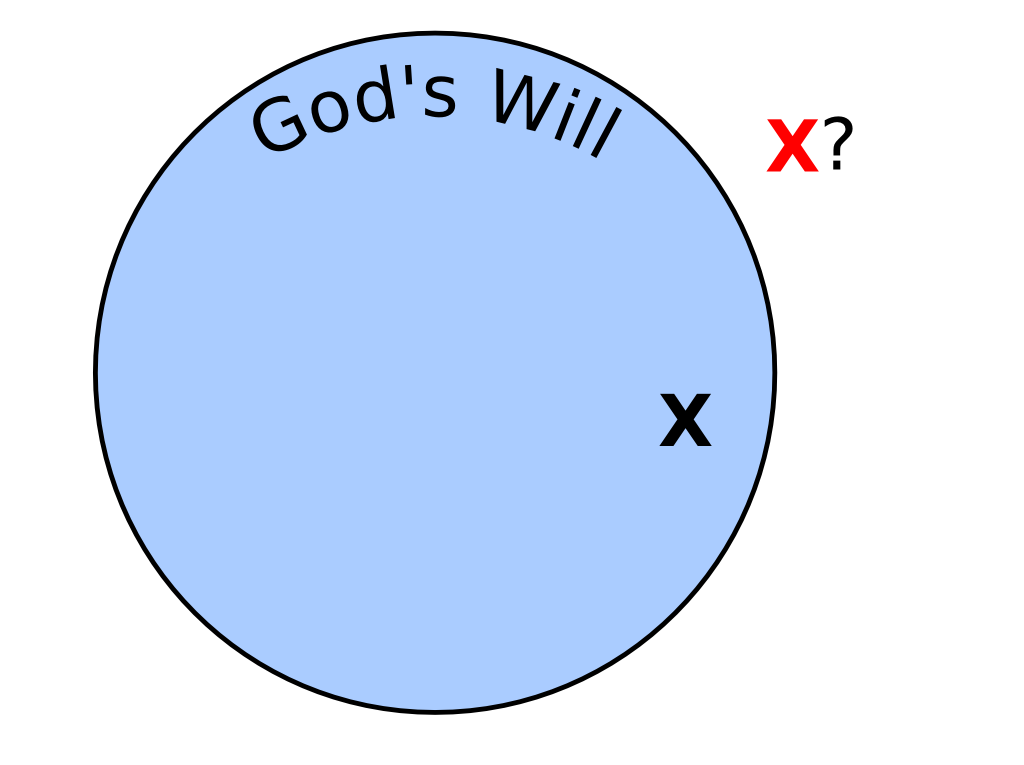 Image source: amf
Matthew 13
"The kingdom of heaven is like a treasure, hidden in a field, that a person found and covered up. Then because of joy he went and sold all that he had and bought that field.
"Again, the kingdom of heaven is like a merchant searching for fine pearls.
When he found a pearl of great value, he went out and sold everything he had and bought it."
Psalm 16:11 "At your right hand are pleasures for evermore"
Do you remember the first question of the catechism?
Many years ago the main way that children were taught was by memorizing questions and answers

Churches did the same thing, and the standard set of questions and answers they would teach was called the catechism

Question1: What is the main purpose of mankind?

Answer: to bring glory God and enjoy him forever
1. First we will look at some People in the Scriptures that talk about delighting in God
Paul
---
Ephesians 3:7–21
I became a servant of this gospel according to the gift of God's grace that was given to me by the exercise of his power.
To me—less than the least of all the saints—this grace was given, to proclaim to the Gentiles the unfathomable riches of Christ
and to enlighten everyone about God's secret plan—a secret that has been hidden for ages in God who has created all things.
The purpose of this enlightenment is that through the church the multifaceted wisdom of God should now be disclosed to the rulers and the authorities in the heavenly realms.
This was according to the eternal purpose that he accomplished in Christ Jesus our Lord,
in whom we have boldness and confident access to God because of Christ's faithfulness.
For this reason I ask you not to lose heart because of what I am suffering for you, which is your glory.
For this reason I kneel before the Father,
from whom every family in heaven and on the earth is named.
I pray that according to the wealth of his glory he may grant you to be strengthened with power through his Spirit in the inner person,
that Christ may dwell in your hearts through faith, so that, because you have been rooted and grounded in love,
you may be able to comprehend with all the saints what is the breadth and length and height and depth,
and thus to know the love of Christ that surpasses knowledge, so that you may be filled up to all the fullness of God.
Now to him who by the power that is working within us is able to do far beyond all that we ask or think,
to him be the glory in the church and in Christ Jesus to all generations, forever and ever. Amen.
Version: based on NET Bible
---
Look particularly at verses 17-19
Paul wants the joy of this love to so totally fill them that it "surpasses knowledge"
We will see in a minute that it is this love that gives the power for a new life
Peter
Love and joy are closely intertwined

Peter writes about this in:
1 Peter 1
Though you have not seen him, you love him. Though you do not now see him, you believe in him and rejoice with joy that is inexpressible and filled with glory
Is Peter talking about here and now, or not till heaven?

Does it sound better than sin?

It does sound pretty amazing doesn't it!!

Let's go back to Ephesians:

turn over to Chapter 5 where Paul begins to explain this love a bit more:

The main image in Scripture of Christ's love for us is a bridegroom for his bride

It begins in the O.T. with the relationship between God and Israel being pictured in this way
God uses the metaphor husband and wife for the way he cared about the nation of Israel:
---
Bride of Christ
Ephesians 5:25-32
Husbands, love your wives just as Christ loved the church and gave himself for her
to sanctify her by cleansing her with the washing of the water by the word,
so that he may present the church to himself as glorious—not having a stain or wrinkle, or any such blemish, but holy and blameless.
In the same way husbands ought to love their wives as their own bodies. He who loves his wife loves himself.
For no one has ever hated his own body but he feeds it and takes care of it, just as Christ also does the church,
for we are members of his body.
For this reason a man will leave his father and mother and will be joined to his wife, and the two will become. one flesh.
This mystery is great—but I am actually speaking with reference to Christ and the church.
"For your Maker is your husband, the

Lord

of hosts is his name;" (Isaiah 54:5)
"Return, O faithless children, declares the

Lord

; for I am your husband" (Jeremiah 3:14)
Ezekiel 16
Then I passed by you and watched you, noticing that you had reached the age for love. I spread my cloak over you and covered your nakedness. I swore a solemn oath to you and entered into a marriage covenant with you, declares the sovereign

Lord

, and you became mine.
Then I bathed you in water, washed the blood off you, and anointed you with fragrant oil.
I dressed you in embroidered clothing and put fine leather sandals on your feet. I wrapped you with fine linen and covered you with silk.
I adorned you with jewelry. I put bracelets on your hands and a necklace around your neck.
I put a ring in your nose, earrings on your ears, and a beautiful crown on your head.
You were adorned with gold and silver, while your clothing was of fine linen, silk, and embroidery. You ate the finest flour, honey, and olive oil. You became extremely beautiful and attained the position of royalty.
Your fame spread among the nations because of your beauty; your beauty was perfect because of the splendor which I bestowed on you, declares the sovereign

Lord

.
But you trusted in your beauty and capitalized on your fame by becoming a prostitute. You offered your sexual favors to every man who passed by so that your beauty became his.
You took some of your clothing and made for yourself decorated high places; you engaged in prostitution on them. You went to him to become his.
Revelation
At the end of the book of Revelation there is a wedding between Jesus, the "lamb of God" and all his people.
Then the angel said to me, "Write the following: Blessed are those who are invited to the banquet at the wedding celebration of the Lamb! (Rev 19)
Then one of the seven angels… came and spoke to me, saying, 'Come, I will show you the bride, the wife of the Lamb!' (Rev 21)
Version: based on NET Bible
---
When then nation turned its back on God and went after false gods, he said: Jermiah 3:14
This is told in a very graphic way in Ezekiel 16
This image continues right through to the very end of the Bible
So as we look through the Scriptures, we see a picture of enjoying and delighting in God

particularly with the metaphor of being married to him
Of course this is not the same as human marriage, but in some ways even more intimate
2. I want to talk about our Experience of this
Sometimes talk of God's love for us can become very intellectual

"I know in my head that God loves me"
"in theory I believe that I enjoy him"

but our hearts are dry as dust and cold as ice

I want to take a few moments to look at some examples of people experiencing of this joy

in the Scriptures
in history
---
Joy in God
David
Psalm 16:11 "In your presence is fullness of joy
At your right hand are pleasures forevermore.
Paul
Phil. 3:7-11

But whatever gain I had, I counted as loss for the sake of Christ.
Indeed, I count everything as loss because of the surpassing worth of knowing Christ Jesus my Lord. For his sake I have suffered the loss of all things and count them as rubbish, in order that I may gain Christ
and be found in him, not having a righteousness of my own that comes from the law, but that which comes through faith in Christ, the righteousness from God that depends on faith—
that I may know him and the power of his resurrection, and may share his sufferings, becoming like him in his death,
that by any means possible I may attain the resurrection from the dead.

Paul goes on to say in 2 Corinthians 5:14


For the love of Christ compels us...

In Acts 16:25, Paul and Silas are in prison
---
Samuel Rutherford
A pastor in Scotland

spent many years in prison
wrote many letters and told of the extremes of joy he had in Christ
A hymn was written from his words in prison

 

O Christ he is the fountain, the deep, sweet well of love.

The streams on earth I've tasted, more deep I'll drink above.

There to an ocean fullness his mercy will expand,

with glory, glory dwelling in Immanuel's land.

 

The bride eyes not her garment but her dear bridegroom's face.

I will not glaze at glory but on my king of grace;

not at the crown he gives me but on his nail-pierced hand;

the Lamb is all the glory of Immanuel's land.

 

Sarah Edwards, The wife of Jonathan Edwards:

 

"Last night… was the sweetest night I ever had in my life. I never before, for so long a time together, enjoyed so much of the light and rest and sweetness of heaven in my soul, but without the least agitation of body during the whole time.
Part of the night I lay awake, sometimes asleep, and sometimes between sleeping and waking. But all night I continued in a constant, clear, and lively sense of the heavenly sweetness of Christ's excellent love, of his nearness to me, and of my dearness to him ; with an inexpressibly sweet calmness of soul in an entire rest in him.
I seemed to myself to perceive a glow of divine love come down from the heart of Christ in heaven into my heart in a constant stream, like a stream or pencil of sweet light. At the same time my heart and soul all flowed out in love to Christ, so that there seemed to be a constant flowing and reflowing of heavenly love, and I appeared to myself to float or swim, in these bright, sweet beams, like the motes swimming in the beams of the sun, or the streams of his light which come in at the window.
I think that what I felt each minute was worth more than all the outward comfort and pleasure which I had enjoyed in my whole life put together. It was pleasure, without the least sting, or any interruption. It was a sweetness, which my soul was lost in ; it seemed to be all that my feeble frame could sustain of that fullness of joy, which is felt by those who behold the face of Christ, and share of his love in the heavenly world."
Version: based on NET Bible
---
In Acts 16:25, Paul and Silas are in prison

At midnight, what are they doing?
Can you imagine Paul saying "Silas, I don't feel like singing, but I guess we aught to as a good testimony!" ??
Moses
Hebrews 11:24-26 tells us that Moses

saw more enjoyment and reward in following God than all the pleasures of wealthy Egypt

We could look at many other Scriptures, especially in the Psalms, but now I want to take a couple of examples from history
---
I am not saying that every Christian will experience the same level of joy that Rutherford and Sarah Edwards did, but we can do!
There is a lie that says

Experience is to be distained, what is important is knowledge
No, what is to be distained is false experience

What we have with God is a relationship of love

and in any such relationship, nothing is more important than the actual experience of relating
Luke 10:41-42

And Jesus answered and said to her, "Martha, Martha, you are worried and troubled about many things. But one thing is needed, and Mary has chosen that good part, which will not be taken away from her."
Without knowledge there is no experience

Our relationship is based on facts: forgiveness, reconciliation, justification, holiness, repentance, faith
Without the knowledge of salvation, there is simply no relationship

Knowledge is necessary to guard us against false experience

Timothy Leary: Celebrate the Lord's supper using LSD. —Sure, you will get an experience!!!
Conclusion:

Knowledge is absolutely essential, but only as a means to an end, not an end in and of itself.
The final goal must be true experience of a relationship with God"
For some Christians, knowledge can tragically become an end in and of itself
3.Application
First:

A deep and rich enjoyment of God will make us so satisfied it will be easy to resist sin

Second:

A joy in God will energise us to living lives for him

Can you imagine a wedding ceremony like this:

The Bride and Groom are obviously in passionate love with each other
They have been waiting months for this day
They are longing to be living, not as two separate people, but with lives melded together
As the ceremony concludes, the preacher turns to the groom and says, "I have some duties for you!"


You must follow the discipline of kissing her at least twice a day
You must talk with her for a minimum of 10 mins/day
Regarding physical contact—at the very minimum you must discipline yourself to hug her from time to time

What would the reaction be?

They would laugh at him—this must be a joke :-)

But I am convinced that for many of us in our relationship with God this is not a joke.

For many of us we treat it as a duty, not a pleasure.
When I started thinking about this, it changed my whole attitude to reading the Bible and praying—you mean I'm supposed to be doing this for pleasure?

I remember I set myself a task of reading so much of the Bible by such a date.
I would feel a sense of accomplishment, even though I had to rattle through it.
Thank you for your love letter, my dearest, I managed to read it all in 10 mins and will discipline myself to do the same every day this week !!!
Someone suggested to me that I should spend time lying down, listening to Christian music and just resting and enjoying it

a shock
changed how I read the Bible and how I prayed
He actually wants us to enjoy it!!!

Ps 27:4

"One thing I have desired of the

Lord

, that will I seek: that I may dwell in the house of the

Lord

all the days of my life, to behold the beauty of the

Lord

, and to inquire in His temple."
Is there no place for self discipline?
Yes there is, but listen very hard

It is the discipline that makes the husband or wife run for the bus so as to be home 5 mins earlier to be with their loved one.
It is the discipline of spending hours choosing or making a gift, just for anticipation of the moment of delight on seeing the beloved open it.

What is it that divided good discipline from bad? simply the motive

bad self-discipline is trying to earn God's favour

self effort, in the flesh, manipulative

good self-discipline is secure in God's love, but hungry for more of him
But what if all this is totally outside your experience?
I don't ever have that kind of experience of God
My spiritual life is dry and mechanical

How can I know more of God's love?
Matthew 13
"The kingdom of heaven is like a treasure, hidden in a field, that a person found and covered up. Then because of joy he went and sold all that he had and bought that field.
"Again, the kingdom of heaven is like a merchant searching for fine pearls.
When he found a pearl of great value, he went out and sold everything he had and bought it."
Story of Roy Wetstine

Be a treasure-hunter today!

Here are some suggestions for how you can enter into this joy:
Suggestions
You have to be hungry. Be unsatisfied. There is so much more!!!!
Seek his presence
God has planned it so that we need one another and cannot get there alone
The greatest delight is to experience how much he love us, so think especially of his love
Maybe you do not have a living connection with Jesus this morning
You have to be hungry. Be unsatisfied. There is so much more!!!!
Seek his presence:

God is a rewarder of them that diligently seek him (Heb 11:6)
Draw near to God and he will draw near to you (James 4:8)
Spend time enjoying his presence. "In your presence is fullness of joy" (Ps 16:11)

God has planned it so that we need one another and cannot get there alone

God is especially present when Christian gather in his name
"where two or three are gathered together in My name, I am there in the midst of them." Matt 18:20
be sensitive to God's presence among his people and seek out such opportunities

The greatest delight is to experience how much he love us, so think especially of his love

Think especially about what Jesus did for you on the cross and how that is proof of his love
He gave his life so that you could be forgiven
When we think about what it means that we are forgiven and free, it can unlock the joy and allow it to flow

Maybe you do not have a living connection with Jesus this morning

If Jesus is not living inside you, then you cannot experience any of this
You need to come into a relationship with him
5. There is no other way to victory in the Christian life
Updated on 2014-02-16 by Andrew Fountain
Login to post comments

218 downloads

5 plays