Andrew Fountain - How to have more of God's life in you

---
Full sermon notes - How to have more of God's life in you
It's not about us gradually becoming "gods" by a hard and arduous ascent to the top of the mountain
The Ladder of Divine Ascent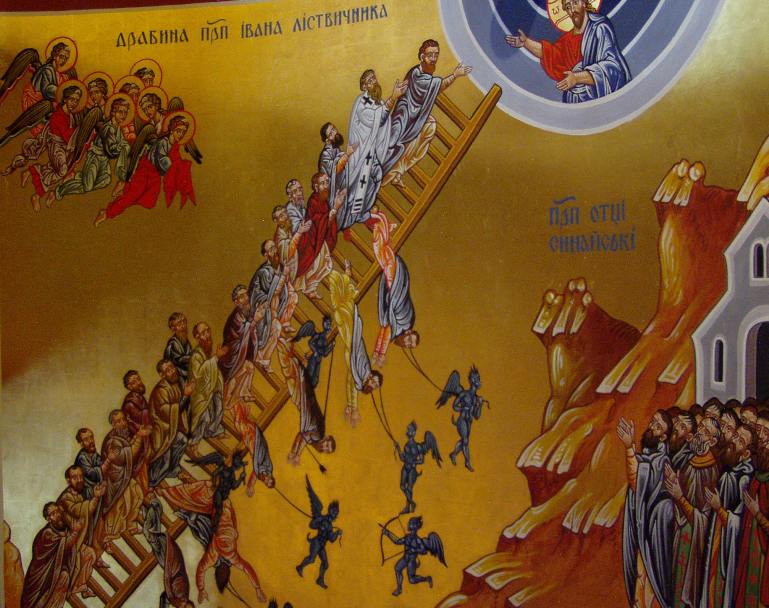 Image source: orthodoxwiki
It's about an exchange with Jesus:

He became flesh and blood, so that we could shine with his glory
He died on our cross so we could sit with him on his throne
Summary of the first two parts of this short series
Two key ideas
Some fun playing around with some metaphors for these ideas
1. Summary of last 2 weeks
John 17:21–23
that they may all be one, just as you, Father, are in me, and I in you, that they also may be in us, so that the world may believe that you have sent me.
The glory that you have given me I have given to them, that they may be one even as we are one,
I in them and you in me, that they may become perfectly one, so that the world may know that you sent me and loved them even as you loved me.
Quote
"We will always remain creatures, but we are destined to become creatures so filled with God that his very glory radiates from us." —Carl Mosser
Living "God-filled"
Switching to dependence on him
Working with his strength
Sharing his throne
Glowing with his glory
2. Two T-shirt slogans
Your choices
change you!
Your choices
come out of
what you believe
is true.
---
John 14:23; 15:1–17
Jesus answered him, "If anyone loves me, he will keep my word, and my Father will love him, and we will come to him and make our home with him.
"I am the true vine, and my Father is the vinedresser.
Every branch in me that does not bear fruit he takes away, and every branch that does bear fruit he prunes, that it may bear more fruit.
Already you are clean because of the word that I have spoken to you.
Abide in me, and I in you. As the branch cannot bear fruit by itself, unless it abides in the vine, neither can you, unless you abide in me.
I am the vine; you are the branches. Whoever abides in me and I in him, he it is that bears much fruit, for apart from me you can do nothing.
If anyone does not abide in me he is thrown away like a branch and withers; and the branches are gathered, thrown into the fire, and burned.
If you abide in me, and my words abide in you, ask whatever you wish, and it will be done for you.
By this my Father is glorified, that you bear much fruit and so prove to be my disciples.
As the Father has loved me, so have I loved you. Abide in my love.
If you keep my commandments, you will abide in my love, just as I have kept my Father's commandments and abide in his love.
These things I have spoken to you, that my joy may be in you, and that your joy may be full.
"This is my commandment, that you love one another as I have loved you.
Greater love has no one than this, that someone lay down his life for his friends.
You are my friends if you do what I command you.
…
These things I command you, so that you will love one another.
based on NET Bible
---
The logic goes something like this:

I can't do anything without God's power flowing into me

This is called "abiding" (but how do I "abide"?)

By keeping the commandments, especially love

So is this not a catch-22? Chicken and egg?

As I chose to love, it open's the channel to God, who fills me with more love.
T-shirt #1
It is a constant choice
Choosing makes it stronger
This is not simply practice, but positioning ourselves to receive the Spirit
not choosing it makes it die
This is exactly what happens when someone first becomes a Christian

They make a choice, and that opens up the channel for the life of God to flow into them

If you are not a Christian, then this how you move from death to life—you chose to make Jesus your Lord, which means you make the decisions that he wants you to.

Suddenly you will be transformed as the life of God flows into you, and those choices will become more and more natural.

Paul says the same thing in Ephesians 5:

Become filled with the Spirit!

by submitting to one another in love like Christ did,

So you live like Christ, you get more of the Spirit, which makes you live like Christ more
Our response
"I so need Jesus flowing into me through the river of the Spirit that I'll follow him with all my strength so as to get more of his strength and presence."
Story of Amy Carmichael and the old woman
Does this make sense?
Now for the second slogan:
T-shirt #2
Your choices
change you!
Your choices
come out of
what you believe
is true.
Believing who you are and will be seems to be a very important idea.
Humans always act in what they think are their best interests —is that true?
Our actions always flow from our beliefs at some level

if I shout "the building is about to explode, get outside as fast as you can!
if Kingsley shouts it, wearing his superman costume...
if a uniformed fireman with full breathing gear runs it...
Choices flowing out of belief
Col 1:9–10 "be filled with the knowledge of his will... so as to walk in a manner worthy of the Lord, fully pleasing to him, bearing fruit in every good work and increasing in the knowledge of God."
Col 3:9–10 "you have put off the old self with its practices and have put on the new self, which is being renewed in knowledge after the image of its creator."
Eph 3:17–18 "so that Christ may dwell in your hearts through faith—that you, being rooted and grounded in love, may have strength to comprehend…"
Eph 4:20–24 "But that is not the way you learned Christ!—assuming that you have heard about him and were taught in him, as the truth is in Jesus, to put off your old self… and to be renewed in the spirit of your minds, and to put on the new self, created after the likeness of God"
Go through verse by verse
If you believe something is true, you will follow that out in your life
If you are convinced that the best way for your future career is to go to UofT then you'll try to get in
If are convinced that your girlfriend or boyfriend is the right person for you, you will work hard on the relationship
So why do we do bad things if we know they will harm us?

e.g. Why do people eat things they know are not good for them??
Because actually we do things that we think will bring us most pleasure, not what is merely good for us
sometimes we way things up and go for better long term happiness:

"I love chocolate but I know it will bring me out in a rash", so...

Colossians 3:

Your new life is hidden with Jesus
But one day he will appear and you will be in glory
So don't wasted your life when you have such a destiny

e.g. my salvation
1999 had to preach a sermon to take the church into the next millennium

God please show me what is really important in your Bible
this led me into a study on loving one another
I became convinced that this was the pinnacle of what God wanted us to be
This profoundly affected choices I made in my life and my career
Our response
"I so need Jesus flowing into me through the river of the Spirit that I'll follow him with all my strength so as to get more of his strength and presence."
"I am so convinced of the truth of the new reality that I'll encourage the new me to walk over the old me."
3. Fun with Metaphors
Feed the good dog, starve the bad dog
Put off the Adam clothes, put on the Jesus
Be connected to the main trunk of the vine
Learning to touch-type
Awaking from sleep and getting up (see Eph 5)
Learning Mandarin
Good as emphasizing the first point

bad dog, good dog. Problem: "new me", separate to me

Putting on and putting off (aspect of choice, but not so much of choice being reenforced)
Mainly the first, some of the second
Who here can type without looking at the keyboard?

Does anyone know how you learn?

Very similar to first t-shirt

Why might you learn?

Very similar to second. Tell my story about learning

Mostly second. Wake up to the new reality!
Who here has learned a second language well enough to function?

Why?
Has both t-shirts: to learn you have to keep making choices: to speak in that language and think in it

That choice will change you

What might motivate you to learn it?
Ephesians 5:14–15
Awake, O sleeper, and arise from the dead, and Christ will shine on you.
Look carefully then how you walk, not as unwise but as wise, 16 making the best use of the time…
Conclusion: What does it look like to wear the t-shirts this week?
How do I wear the T-shirts?
Your choices
change you!
Your choices
come out of
what you believe
is true.
Think of each chose as a destiny choice (ex. of TTC streetcar driver)

To follow Jesus or not
To ask for his help—his energy working in you
To do #2 you have to receive the truth

soak in the Scriptures
Let Jesus's words become part of you
John Bunyan "Bibline"
Updated on 2015-01-18 by Andrew Fountain
Login to post comments

42 downloads

1 plays