Andrew Fountain - God's Joy over You

---
Full sermon notes - God's Joy over You
Lamb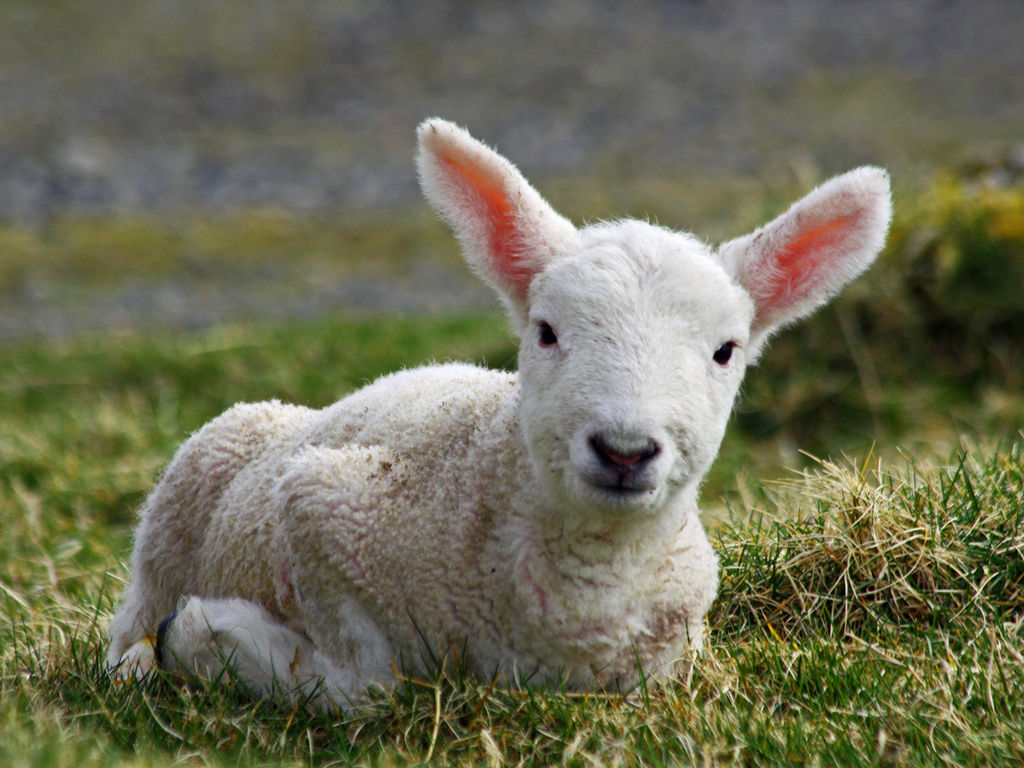 Image source: Donald Macleod
Luke 15:1–10
Now all the toll collectors and sinners were coming to hear him.
But the Pharisees and the experts in the law were complaining, "This man welcomes sinners and eats with them."
toll collectors were seen as collaborators with the Romans

they were often corrupt and would take more than they should
hated and resented
Traitors to God's name! (and they actually were)

Sinners literally means those who are living outside of God's covenant

They have chosen to reject God's laws and are spiritually "outlaws"

No rights to God's promises. Outside of his kingdom

They would include prostitutes and those whose lifestyles ignored God's law

But the Pharisees would probably include a lot of others, like all those who worked with animals
or worked on the Sabbath

What do you think of this reasoning:
God is pure:
God is pure
Habakkuk 1:13 "You who are of purer eyes than to see evil and cannot look at wrong"
Is this still true?
A Godly person will therefore want to keep themselves pure and holy

These people are disgusting and filthy (actually they were pretty bad)

Someone who loves God will want to reflect his character and purity

God is too pure to even go near those disgusting people,
So we should not go near them, let alone eat with them
is that correct??
But Jesus came to reveal to us the character of God.

He was being accused of behaving inappropriately

If Jesus is supposed to be reflecting the character of God, how could he spend time with these people as if they had not done anything wrong?

Even treat them as his friends

So it is all about the character of God
But it turns out there is more to God than that "He is pure"

He loves mercy
He loves to demonstrate his love and compassion

This is a very important subject, because it reflects on how we view our relationship with God

What does God think of you right now?
I confess that I often feel:

I don't deserve your love God
I fail you all the time!
You must be very disappointed in me!

We need to hear this message of Grace again and again

We so easily feel he is disappointed in us?

What does God think of you right now, this moment?
So Jesus needs to teach us about the Father
Luke 15: Lost sheep
So Jesus told them this parable:
Which one of you, if he has a hundred sheep and loses one of them, would not leave the ninety-nine in the open pasture and go look for the one that is lost until he finds it?
Then when he has found it, he places it on his shoulders, rejoicing.
Returning home, he calls together his friends and neighbours, telling them, 'Rejoice with me, because I have found my sheep that was lost.'
Issues:

None of them would be a shepherd—they were disgusting thieves (they often were)

Sometimes accused of steeling sheep or taking them onto other people's land

Not a direct equivalent today
Maybe the guys who come and rummage through your recycling to find bottles they can return to the beer store

borderline illegal, and certainly not a prestige job

but let's think of an entry-level job

e.g. Say a McDonald's server. Nothing wrong, but not what these religious leaders would ever do

Imagine saying to a proud religious person:

Which one of you, if you were a server in McDonald's,

and a homeless person left his wallet behind,

wouldn't spend hours trying to locate him to give it back?

Probably not me!

Very confrontational to their view of God

So imaging how offensive they would have found the parable if it were something like this:
If God were a server at McDonald's, and a homeless person left his wallet behind, would not God spend hours searching for him so he could return it?
It would have sounded wrong and offensive in so many ways to their view of God.
These people were worse than worthless!

What's more, there is a big party afterwards!

(Big Mac combos for everyone!)
But notice "repent"
I tell you, in the same way there will be more joy in heaven over one sinner who repents than over ninety-nine righteous people who have no need to repent.
So Jesus is not condoning them continuing their behaviour—the assumption is that they will come into relationship with him.
What is the joy about?

restoring the relationship!
God loves to restore, and to mend what is broken.
Some people have difficulty with the idea of God having emotions, but he is the Father of emotions!
Luke 15: Lost coin
Or what woman, if she has ten silver coins and loses one of them, does not light a lamp, sweep the house, and search thoroughly until she finds it?
Then when she has found it, she calls together her friends and neighbours, saying, 'Rejoice with me, for I have found the coin that I had lost.'
In the same way, I tell you, there is joy in the presence of God's angels over one sinner who repents.
What do these teach us about God?

He is a seeking God—he wants us very much
We are of great value to him
He celebrates us coming back to him
Jesus reveals the Father
Three things that it's hard for us to grasp:
You are very valuable to God!
He has put, and will put, a lot of effort into you!
You bring him great joy!
What if I am not a Christian?

Jesus is offering that you be that lost sheep!
Just ask him!

Is it hard for you to believe these three things?
John Newton
Let's go back to the question of God's purity
How can a pure God be in a close relationship with us who keep failing?
Jesus talked about forgiveness, but didn't explain how it would happen until near his death
Luke 5
Jesus answered them, "Those who are well don't need a physician, but those who are sick do.
I have not come to call the righteous, but sinners to repentance."
Then just before he died:
Mat 26:28 for this is my blood, the blood of the covenant, that is poured out for many for the forgiveness of sins.
Now here is the main problem
So you have a dirty, sinful tax-collector, and a pure spotless God
All his sin is forgiven and washed away
But he still does bad things—so how can he be close to a pure God?
Some people teach "dirty dog with a clean covering..."

So the only reason God can love us is because he's not looking at us?

No, actually the opposite is true

this is the essential you, the core you
old habits that die hard
New Creation
Right at your core you are a new creation, made like Jesus Christ

"So then, if anyone is in Christ, he is a new creation; what is old has passed away—look, what is new has come!"

2Cor 5:17

You have a new nature inside, formed by the Spirit, that only wants to do good
but you still have the old behaviours like a zombie. Dead but not gone

"Now those who belong to Christ have crucified the flesh with its passions and desires."

Gal 5:24

All the sins of this old flesh were dealt with on the cross, so God doesn't even look at it
He looks at the core you, his new child, his beloved, his perfect one!
Updated on 2014-03-24 by Andrew Fountain
Login to post comments

242 downloads

2 plays